New Zealand is well known for its spectacular mountain ranges especially during the winter when they are covered in a fresh layer of snow. It is not usual to see that snow level dropping down below the mountains but when it does it can cause disruption to New Zealand's public travel networks.
The MetService team work alongside various agencies including the Ministry of Civil Defence and Emergency Management, Regional Councils and NZTA to warn about any potentially severe snow fall events. Warnings for heavy snow in New Zealand are issued for different criteria in each Island.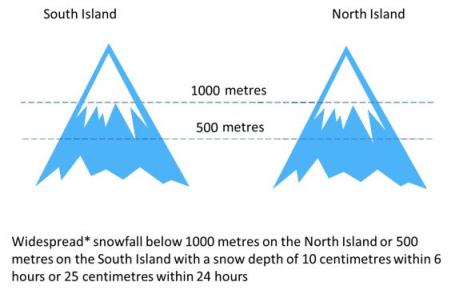 The term "widespread" means over an area of 1000 square kilometres or more. Find out more about the different warning criteria at Metservice Warnings and Watches There are three main factors that need to combine for snowfall to occur:
- Cold temperatures
- Abundant moisture
- Upward motion
The cold air is important to keep the snowfall frozen as it reaches the ground while moisture and upward motion are needed to allow precipitation to form.
The heaviest snowfalls in New Zealand occur in two main situations. Let's have a look in a little more detail at them.
 Southerly blasts or cold convection snow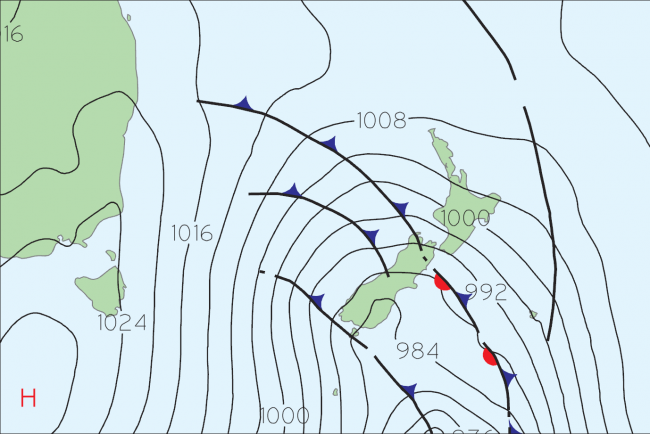 An example of southerly winds bringing snowfall from April 2015.
This example from April 2015 shows a southerly feed across the country. The air that arrived in New Zealand came right up from the Antarctic bringing an influx of cold and showery conditions across the South Island and about the higher ground of the North Island. You can see the result of this southerly in this news story from Stuff These events have all the ingredients needed for snowfall.
The cold air moving over the warmer seas can give enough instability (the upward motion) to generate a steady stream of showers. However, cold air cannot hold as much water vapour as warm air, leading to relatively low moisture levels in situations like this.
The persistent nature of the snow showers and cold air can however lead to some long lasting events. One of these events was the cold polar blast of August 2011, when snowfall was even reported in Wellington! You can find out more about this event in this blog post
Over Running or Warm advection snowfall
When we think of cold and snow we tend to think of those cold southerly winds, but some of our heaviest snowfalls occur when cold southerlies meet warm northwesterlies. In these events, like the early snowfall event of October 2009,  the source of the snow is the combination of warm moist air at upper levels running over cold air beneath it.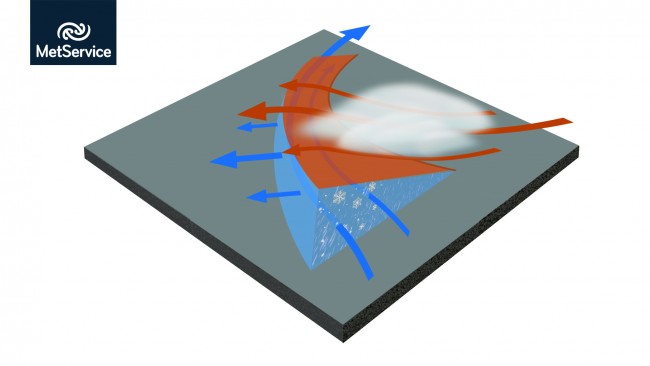 Warmer, moist air rides over a layer of colder air close to the surface. The feed of moisture coupled with the cold temperatures can result in significant amounts of snowfall.
An atmospheric temperature profile for these situations assists the meteorologist in identifying different air masses present during a snow event. The profile depicted below indicates cold air in the low levels underneath a warmer layer of air in higher levels of the atmosphere.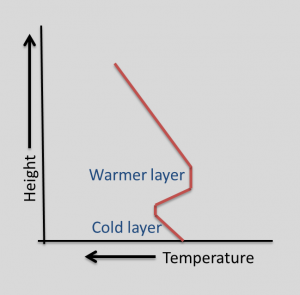 An example profile showing changes in temperature with height.
These situations can provide large amounts of snowfall over a wide area thanks to the plentiful supply of moisture from the warm upper levels falling into the colder layer near the ground.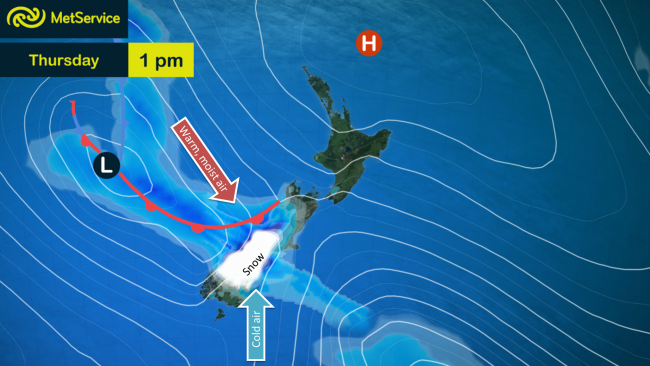 An example of forecast showing over running snow from 17th June 2015
In this example the low pressure system over the Tasman Sea is bringing warm, moist air down across the South Island. In the lee of the Southern Alps cold air remains over Southland, Otago and parts of Canterbury turning the rainfall (shown in blue) into snow (shown in white). In either case, snowfall forecasting is interesting with so many ingredients needing to come together in order for snow to form and fall.