This article was written in November 2015 and relates to the El Niño conditions at that time
 
There's been a lot in the news in recent months (2015) about El Niño. See an ABC news story. Here's a 'back-to-basics' description of El Niño. To start, the chart below shows a climatological average of air pressure at Mean Sea Level over the central and South Pacific. The chart is like isobars on an ordinary weather map, but instead of looking at a single time such as midday today or midnight last night, we're averaging over a long duration – I've chosen 20 years.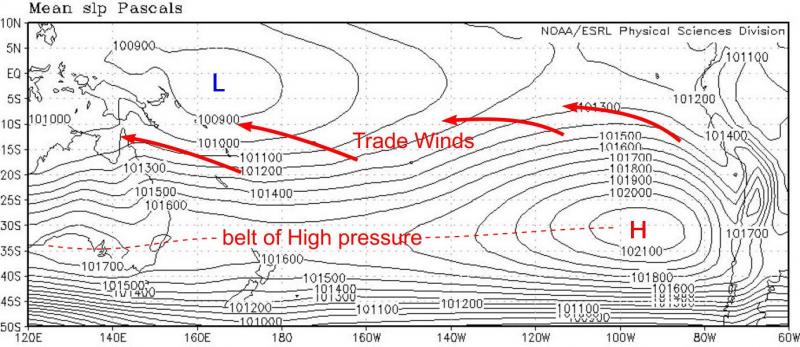 (Image courtesy U.S National Oceanic & Atmospheric Administration Earth System Research Laboratory)  
Sea level pressure averaged over 18 October 1995 to 18 October 2015 (contours in Pa rather than hPa, so 102200 Pa = 1022 hPa). The spacing between the isobars is 1 hPa.
El Niño phase.   The Trade Winds lose most of their strength in an El Niño phase, and may even reverse into a westerly wind (west to east) direction. As a result, warm surface water flows from tropical South-East Asia along an equatorial corridor towards the coast of South America, where it increases the depth of the warm top layer of the ocean.
New Zealand Impacts.    Although each El Niño affects New Zealand differently, the general characteristics are:
• More southerly winds in winter (June-August), leading to a cooler than usual winter
• A stormy spring (September – November), with more frequent southwest winds
• For ALL regions of New Zealand, a large increase in the chances of a COLD spring
• Winds typically turn westerly in summer (December – February), with an increased risk of dry conditions for eastern regions of both Islands
• Cooler than usual seas around the New Zealand coastline across all seasons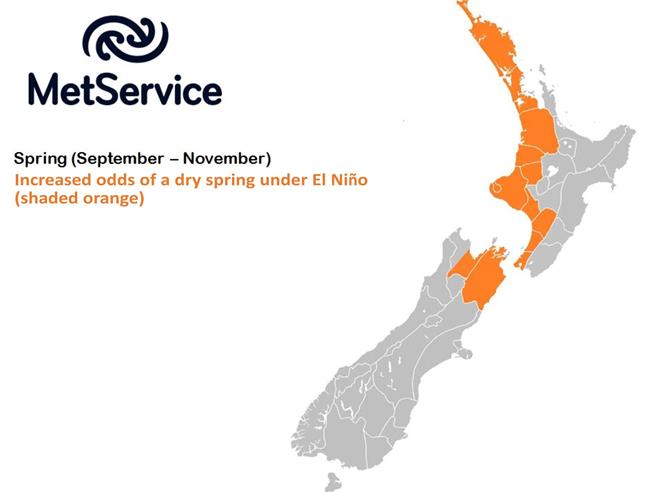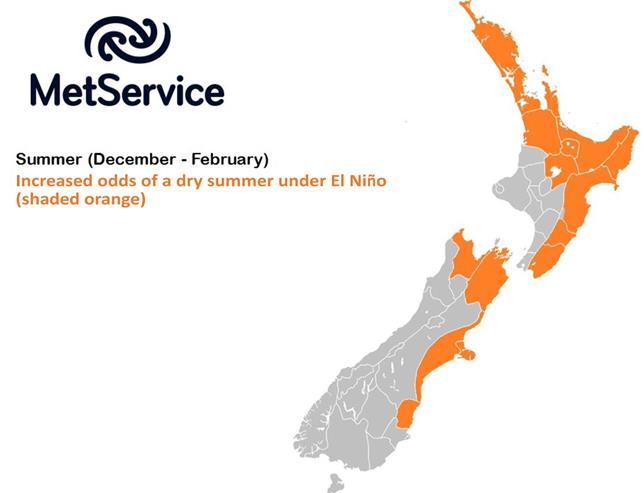 You can monitor the state of ENSO by following the regular MetService commentary in the monthly outlook or by visiting the Australian Bureau of Meteorology website. This blog was co-authored by Chris Webster and Georgina Griffiths.