Written by Erick Brenstrum and originally published in the New Zealand Geographic Issue 111 Sept-Oct 2011 
There is a lot of weather tied up in New Zealand place names. The screaming northwest gales of Canterbury are celebrated with names like Windwhistle, near the Rakaia Gorge, Mount Blowhard, near Oxford, and Nervous Knob, near Castle Hill, where gusts of 240 km per hour have been measured. Fine weather gets a mention with Sunnynook and Sunnyvale, both near Auckland. We have a Misty Peak and a Cloudy Bay and rainbows are well represented, being used to name an island, a mountain, a lake and a pass. Rain itself is harder to come by but can sometimes be found in the story that gave rise to a name.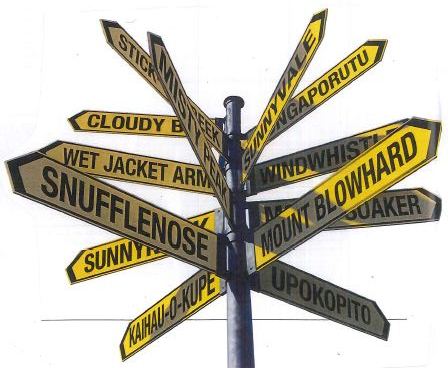 Photo courtesy of New Zealand Geographic
Fittingly, several of these occur in rainy Fiordland. Monkey Creek, for example, commemorates a downpour that flooded a creek and washed away a surveyor's dog, called Monkey, who fortunately made it back to camp the next day. Also in Fiordland Stick-up Creek was named by Martin's Bay settlers, who were held up by a flood, while Mount Soaker speaks for itself. In May 1773 James Cook laconically named Wet Jacket Arm in Dusky Sound after a storm forced an exploring party to stay out overnight. In Lieutenant Pickersgill's words "On the 7th I went with the Pinnance to explore a Sound, expecting to get back on the same Night but was disappointed for it came on a very violent storm of Snow Hail and Thunder with a meer Hurricane of wind which confined us in a little Cove, and what was worse we had nothing to eat but a few Mussels which we gathered from the Rocks and nothing to drink but spring water; in this situation we were kept for 36 hours, quite wet and the woods so wet we could not get a bit of fire to burn and being entirely exposed to the inclemency of the weather." The naturalist, Forster, was rattled by the ferocity of the storm " it seemed as if all nature was hastening to a general catastrophe … our hearts sank with apprehension lest the ship might be destroyed by the tempest and its aetherial fires, and ourselves left to perish in an unfrequented part of the world."
There is also a storm hidden behind Cook's naming of Hawke's Bay. First Lord of the Admiralty, Edward Hawke, rose to fame as the only naval commander in the age of sail to initiate a battle in a full gale.  In November 1759, Hawke ordered his fleet to pursue the French as they retreated into Quiberon Bay seeking a safe harbour. The English ships crammed on so much sail in the chase that some of them sustained damage. The seas were so large that water entered some ships through their gun-ports. One of the French ships capsized and sank in a squall when this happened while the English ships managed to right themselves and shed the water. Caught off balance by the audacity of Hawke's attack the French Admiral never regained the initiative. The result was a crushing victory, which ended all hope the French had of transporting their large army of invasion to England. Had the English not won the war, some historians speculate that the USA might be speaking French today and not English.
There are also a host of Maori weather stories in New Zealand place names, as a trawl through A.W. Reed's excellent Place Names of New Zealand will show. Kaihau-o-Kupe near Wanganui remembers a time when Kupe was held up by persistent westerly gales and rough water and had to "eat the wind" as he had no food with him. Tongaporutu near Waitara translates as "driving into the south wind at night" and was given by the explorer Whatonga when he was sailing down the west coast searching for his grandfather Toi. Upokopoito near Wanganui translates as "calabash heads". The story goes that a red-headed chief heard that fishermen had mockingly compared him to a red gurnard. A tohunga obliged the chief by calling up a gale that swamped the fishermen, whose heads bobbing in the water looked like calabashes. The Maori name for Wellington's Mount Victoria is Tangitekeo, literally "the sound of the peak" as this was where the taniwha Whaitaitai screamed, a sound like the howling of the wind. As befits a country astride the roaring forties, many names reference the wind. The Maori name for Solander Island in Fovueax Strait is Hautere, or flying wind while elsewhere there is a Hauiti, or little breeze, a Haunui, big wind or frequent wind and a Haumoana or sea wind.
Quite a few names commemorate misfortune, such as the numerous coastal features named after ships wrecked in storms: Benvenue Cliffs near Timaru; Buffalo Beach in the Coromandel and Union Bay near Auckland. Mount Paske is named after a surveyor who lost his life in a snowstorm while Canterbury's Jason's Creek remembers a man who got severe frostbite cutting firewood and had both legs amputated at the knees. Graveyard Gulley near Alexandra is named for two travellers killed in a snowstorm while Deadmans Terrace, on the Shotover River, is where eleven gold prospectors were killed in a horrendous flood. A touch of humour is evident in The Gluepot, which occurs in Otago and Westland for places where carts were regularly bogged down after rains turned to roads to quagmires.
Among the many names bestowed during the voyage of the survey ship HMS Acheron in the 1840s was Blanket Bay in Fiordland, after a blanket of fog encountered there. Acheron made its way into several place names and was originally the name of a river in the Greek Underworld. Interestingly, some scholars believe the syllable ach goes back thousands of years further and is an Indo-european root word associated with streams that gave rise to the latin word aqua. Perhaps the most delightful discovery in Reed's book concerns a place on Banks Peninsula called Snefellness by a Danish whaling captain in 1840. It means a promontory surrounded by a snowfield and is now mispronounced as Snufflenose.