This blog post was written by Wayde Beckman from the Health Sponsorship Council (HSC).
New Zealanders have access to an easy-to-use tool that tells them when they need to protect their skin from the sun, with specific reference to which regions of Aotearoa New Zealand they live. Using extensive research as well as audience and media feedback, the HSC has worked with the MetService and NIWA, in consultation with the Cancer Society, to produce a UV radiation public communications tool – called the Sun Protection Alert to replace the UV Index.
The Sun Protection Alert is used in Aotearoa New Zealand over the summer months and conveys simple information that's specific to each area of the country for that day.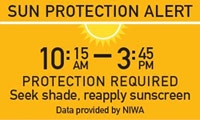 The Sun Protection Alert graphic as displayed on metservice.com
Name: It's called the Sun Protection Alert and tells you what to do when the sun is at its strongest.
Time: The Sun Protection Alert advises you of the actual time when you need to protect yourself from the sun. The time can change in 5-minute increments from one day to the next.
Simple: The Sun Protection Alert conveys simple information that is easy to understand and act on.
Relevant: Sun protection times indicate when the UV Index reaches 3 or above. The times and ultraviolet radiation levels will differ up and down the country as they are based mainly on latitude
Sun safety messages: Sun safety messages have been incorporated into the tool e.g. seek shade or reapply sunscreen. These messages will change regularly to maintain interest and in some cases will reflect the forecast weather e.g. if it's a cool or cloudy day the sun safety message will be "Even on cloudy days" or "even on cooler days".
Some things NZers ought to know… The NZ lifestyle, the envy of many other countries, has given us the highest melanoma rates in the world – even higher than our mates across the ditch. In recent years, our melanoma death rates have been on a par with the NZ road toll.
Sunburn is a big concern because it is linked to melanoma, the most deadly form of skin cancer. Skin cancer is largely preventable by taking simple measures to protect ourselves from the sun.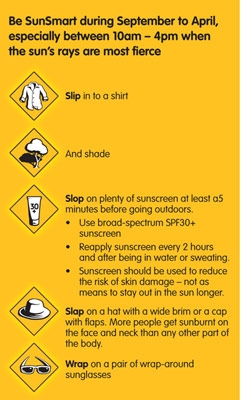 Sun Protection Advice to use from September to April
For more information on Sun Protection go to http://www.sunsmart.org.nz