Written by Wayde Beckman from the Health Sponsorship Council, on 11 November 2010
Who would have thought in November, when temperatures struggle to get over 20 degrees in some New Zealand places, that ultraviolet (UV) radiation levels are already high enough to cause sunburn and put Kiwis at risk of developing melanoma skin cancer?
You may have noticed there are already some red faces, not to mention shoulders and arms. But how can this be when summer hasn't even arrived yet? Lots of people think there is a connection between air temperature and UV radiation from the sun – and that sun protection for our precious skin is only needed on hot days.
The real truth is that temperature and UV radiation are not related. New Zealand is good evidence of this – by global standards, our climate is relatively cool but we have high levels of UV radiation during daylight saving months, and sadly we lead the world when it comes to having the highest rate of melanoma.
So how do we know what the UV radiation levels are? The ultraviolet radiation index (UVI) is a standard way of measuring the level of UV radiation in our environment. The higher the UVI number, the stronger the UV radiation from the sun. When the UVI is at 3 or higher (which happens in most parts of New Zealand from September to April) we need to protect ourselves. And at this time of the year (November) the UVI levels are always above 3 between 11am and 4pm.
So avoid becoming red in the face – remember to slip, slop, slap and wrap before heading out to enjoy the outdoors. If you want to know more about how to be SunSmart, visit www.sunsmart.org.nz/ or check out the UVI at www.sunsmart.org.nz/being-sunsmart/uv-index
The graph below shows the average midday UVI values over the year. Even in the cooler parts of New Zealand, the UVI gets high enough for people to need to use sun protection during daylight saving months.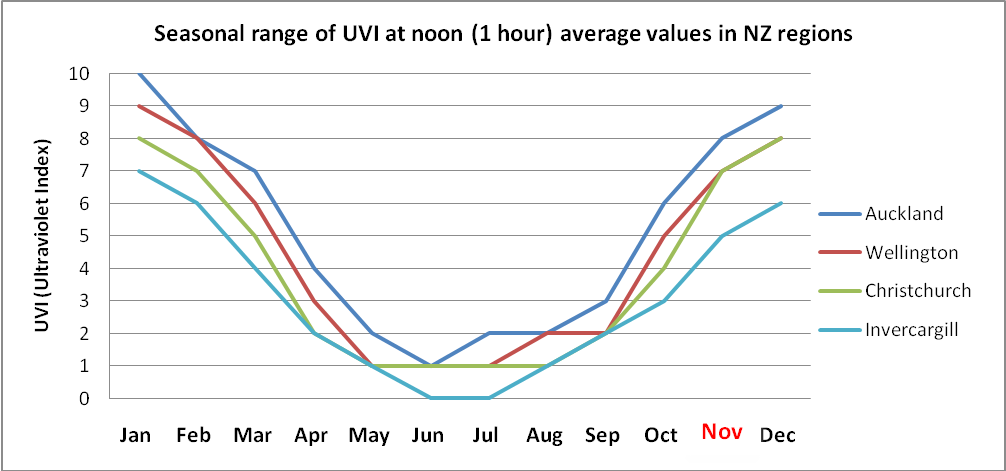 Graph based on data from a National Institute for Water & Atmospheric Research (NIWA) report on Climatology of UVI for NZ by Richard McKenzie (May 2008).
About the author:
Wayde Beckman – Marketing and Communications Adviser
Wayde began his career in the health promotion when he joined HSC (The Health Sponsorship Council) in 2000.
He has an extensive background in performing arts, events management and media communications design. He has worked across several HSC programmes including Tobacco Control, Walking and Cycling. Wayde has worked in the area of skin cancer prevention and sun safety since 2008 as a project manager and advising on the SunSmart public communications campaign. Among other things, he is currently focussing on the redevelopment of the New Zealand UV Index.
Wayde used to run about the rugby league field but is now mostly seen running around after his kids.