A story titled "Massive storm heading for New Zealand" went viral in the online media overnight Wednesday 15 September.
The expression "Massive storm heading for New Zealand" didn't come from MetService. It conjures up impressions of a huge low swooping down on the country. Today, Thursday 16 September, we've had calls from media, business people and members of the public expressing their concerns about a "massive storm" and seeking more information. We've advised some of the media outlets covering this story of our dislike of the emotive language being used and asked that they attribute the source of these quotes.
For the next few days, the weather over New Zealand is expected to be severe in some places, at some times. But not everywhere. Early on the afternoon of Wednesday 15 September, MetService issued a media release about this. Finer details - the what, where and when - of the expected severe weather are described in the various Watches and Warnings routinely issued by MetService.
Take a look at the weather maps below. The first is the situation as it was at 6:00am Thursday 16 September. There's a low over the eastern Tasman Sea; it's moving quickly southeastwards and will be well out to the east of the country by midnight Thursday 16 September (see second map). This low is neither massive nor particularly deep. Over the last few months, many like this one have crossed New Zealand from the Tasman Sea.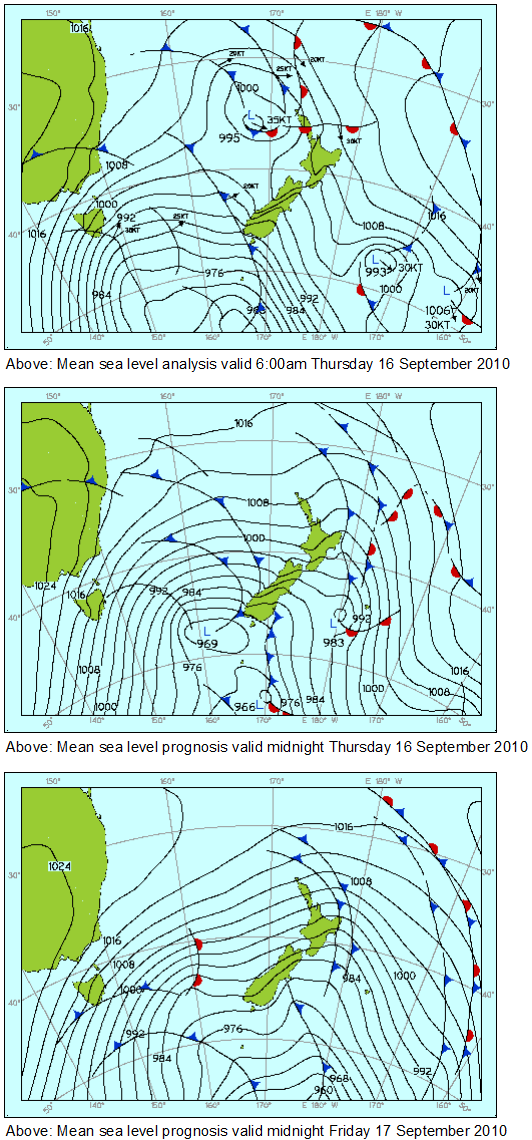 The important things on the second and third maps (midnight tonight and midnight tomorrow, respectively) are:
The broad belt of tightly packed westerly isobars covering the country; this is the source of strong winds expected in many places over the next few days.
The way that these westerlies extend right back across the Tasman Sea and then over the Southern Ocean. This broad area of strong winds is generating big sea waves which are expected to arrive on New Zealand's western coasts on Friday 17 September and then last for a few days, easing off slowly.
The way that the "source air" in the westerlies is from the Southern Ocean. This is why snow to low levels is being forecast over western and southern parts of the South Island.
Not obvious from the weather maps are the squally showers and thunderstorms that we expect will be carried into western parts of the country by these winds. However, you can see these in the satellite picture below: they're in the circled area, still (at the time of posting this) out over the southern Tasman Sea.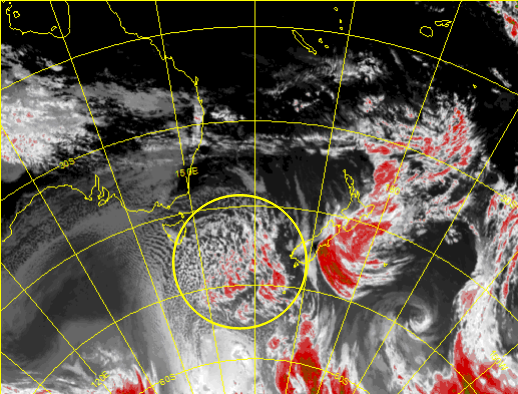 Infra-red satellite image for 1:00pm Thursday 17 September 2010. Courtesy of Japan Meteorological Agency.
Stay tuned to the MetService forecasts and warnings.