On Friday, Mount Smart stadium in Auckland's Onehunga becomes once again the site for the Big Day Out - a whole day devoted to music and dancing.
MetService hopes that all involved in this year's bash have fun, and as I look at the MetService data for the day I can see that the weather is likely to come in two parts.
Part One should be sunny and dry -- as seen in the rain map below taken from the MetService site here showing the scene at 10 am as proceedings start.   A cold front is expected to wander over the Auckland area overnight and you can see the remains of it over Northland.  Since the winds following the front are forecast to come in from the southeast, this is likely to be a sunny dry clearance.  So during the early afternoon full sunshine can be expected and the air temperature is likely to rise to 24C.  If you are in the full sun it will feel 6 degrees warmer than that, so just add water to keep your cool.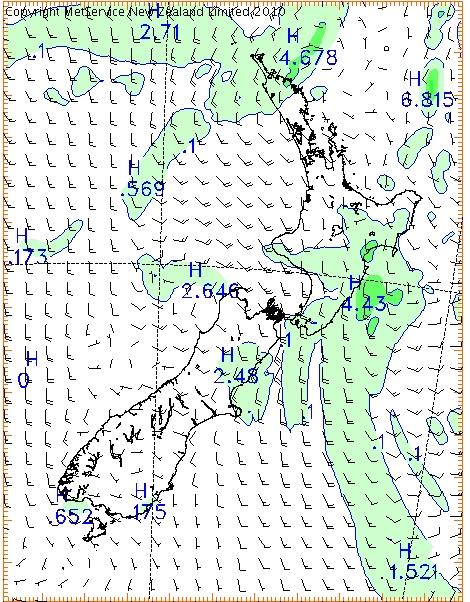 10am Friday 15 January 2010
Twelve hours later, by 10 pm, weather conditions will have noticeably changed, as shown in the map below.   That cold front mentioned before is expected to stall in the area east of northern New Zealand and that will allow a family of small weak low pressure centres to form on the weather map.  Winds go clockwise around lows,  so the wind direction over Auckland is likely to switch and come from the southwest late in the day. The onshore wind and falling pressure will help to make the atmosphere more unstable, and set the scene for showers to form, especially around western parts of Auckland.   Temperatures are likely to drop to around 18C and the humidity is likely to noticeably increase.  The mosh pit may become moshier.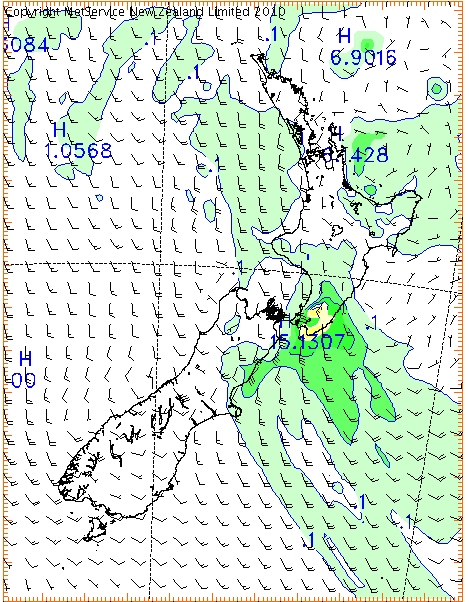 10pm Friday 15 January 2010
These weather maps get updated often so click here for the latest.
Bob McDavitt