MetService is currently working on a brand new metservice.com – it is being overhauled from top to bottom and is due for the big launch in early December.
This follows a major review where we have considered user feedback, met with metservice.com user testing groups and had a look at best practice around the world.  The MetService website is one of the most visited in the country and dear to the hearts of Kiwis, we know, so we have made changes carefully.  It has been five years since the last redesign.  We hope you will agree that the designs are a huge improvement in many ways.
Please note it is the website's design and usability that has been reviewed, not the actual content.  All the information you know and love will still be available (however - just quietly - there are a few bonuses thrown in too!).
The new website will:
•    Effectively deliver important weather information to the New Zealand public
•    Provide a fresh new look and feel
•    Improve the ease of finding information on the website
•    Enable faster page loading
A lot of research and testing has been undertaken to ensure any changes make sense to you, the user.
This follows a 'back-end' rebuild which was completed earlier this year which has enabled exponentially more traffic at any one time.
Below are some sneak preview screen shots of the new design (things may still change a little though).
Home Page: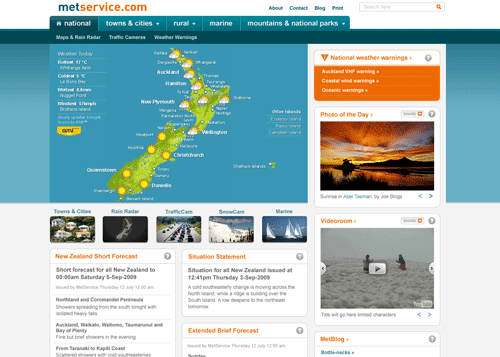 Auckland City Page: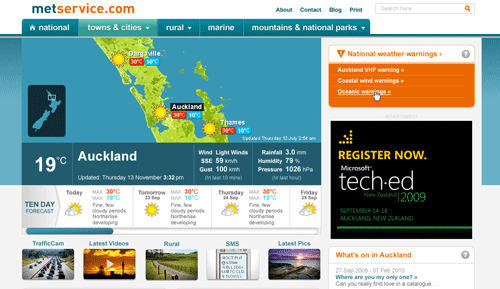 We look forward to bringing you the real thing in the coming weeks!