After a week of sunny weather, it appears that rain will dampen Waikato Stadium before this weekend's Tri Nation rugby game starts there at 7:35pm on Saturday.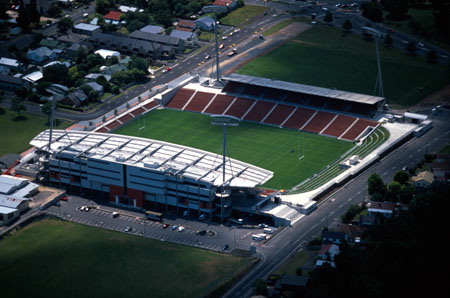 Waikato Stadium
This clash between the Springboks and the All Blacks is the first Tri Nations game to be held at Waikato Stadium (capacity 25,800).
If the All Blacks win this game and score four tries and the bonus point, there is still a chance of their winning this year's Tri Nations.  The game is likely to be played in wet conditions, with perhaps 20mm of rain falling in Hamilton on Friday and Saturday.  This equates to something like 20 litres per square metre  of water  – that's around 10 tonnes falling on the half-hectare of  playing surface inside Waikato Stadium.
20mm of rain will be worth a bonus point as far as Waikato farmers are concerned. After a week of dry weather, that's about the right amount of water to keep the soil moisture levels up and running, producing optimum pasture growth.
So if the All Blacks can score two points for every millimetre of rain delivered to Hamilton by this front, we will all be smiling.
Will it be raining during the game? Quite possibly. But with a light northerly and an air temperature of around 12 degrees, it won't be too cold. Scarves are optional.
When it comes to an important event such as this, you can check out TWO of the weather models we use  here (3-day) and here (7-day). These models have different calculation schemes and treat the physics of the atmosphere diifferently, which is why their predictions don't always agree. Our skilled meteorologists take these and other data into account to produce a forecast that is the most likely one to replicate the real world.
For Hamilton go here, or for your place go to www.metservice.com and click on your place-name.