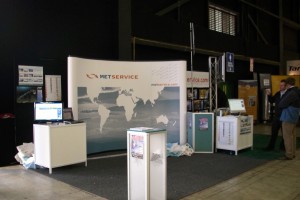 MetService forecaster James Lunny (second from right) manning our trade display at last week's National Fieldays.
MetService has been attending Fieldays for the past 15 years, and this year our display proved as popular as ever, attracting several thousand people.
This year we had a prize draw for a wireless weather station inviting people to subscribe, for free, to our new auto-email service for our seasonal outlook.
This service is almost ready to be launched so keep an eye out for it.  You can access this on our website here
There were 250 entries into the draw and the winner was CRAIG BROWN OF MORRINSVILLE. Congratulations Craig, your new wireless weather station should help on the farm.
Also available at our show stand, as you can see on the floor in the image, were show bags containing full colour posters with information on winds and clouds, as seen on the wall to left.  These are available here.  During the show we got to see in the sky almost all of the cloud types shown on cloud poster, and it was great to discuss the clouds with other cloud watchers, commenting on bumpy bottoms and bumpy tops.
There were occasional wet periods at Fieldays this year, and we noted that when it rained more people came inside and chatted with us.  Since we had online access to our weather radars at the show we knew exactly when the rain would be coming and going  :)
Attending Fieldays gives us an opportunity to speak with rural people whose livelihood depends on the weather, and listen to theirs wants and needs.  This helps MetService as we plan to change things on our website, concentrating on doing what we can to match what you want.  Our Rural Weather section started out as the result of a survey we held at National Fieldays 2006 and has been tweaked following feedback from last year's National Fieldays and Royal Show.  As Weather Ambassador, I gave several talks at Fieldays about weather maps and how the winning formula for using a weather forecast involves tweaking our ideas with your own local knowledge.  In similar fashion, our winning formula is to tweak our web site with the valuable feedback we picked up at this show.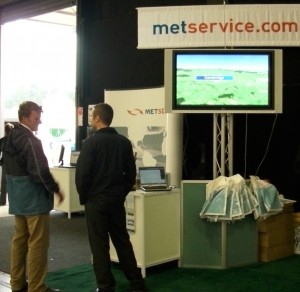 MetService forecaster James Lunny showing Weatherscape and www.metservice.com at Fieldays 2009.
Bob McDavitt