The arrival of colder southerlies over the past few days has made many of us move into our winter mode ... turning up the home heating, putting an extra blanket on the bed, etc. It has certainly put an end to the golden weather that Waikato, Bay of Plenty, Gisborne and Hawke's Bay have been experiencing.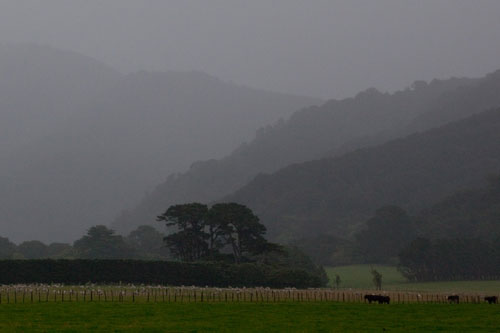 Image from Neil Gordon: Winter mood near Featherston, Wairarapa, Fri 8 May 2009
My barometer here in Auckland is reading 988 hecto-Pascals and our latest weather map shows that much of the country has values below 1000. What has happened is that this low pressure centre has filled itself with air that has come from as far as 55 South....brrrr.... that's cold air. At those latitudes it is a dry cold, but when the southerlies shovel this air towards New Zealand it picks up moisture and drops this as flurries of snow on places exposed to the south. As the cold air moves north across the Tasman Sea it encounters warmer temperatures and bubbles up, making bands of squally showers that affect places exposed to the south.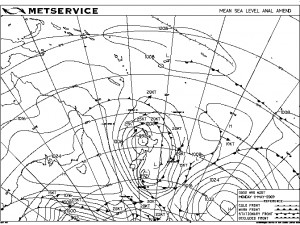 Click image to expand
The large, complex and multi-centred low took several days to build to this extent and will take a few days to weaken. One of the reasons this large low is here is to do with the gap between Highs --- there is a large High out at 140 West and another weaker High in the Australian Bight, and so New Zealand is caught between two Highs at present.
Today's weather map shows that this link to the southern ocean is now weakening, and so this large area of cold air should now start to gradually warm up.
Bob McDavitt