Tropical Cyclone Hola Update - 10/3/2018
By Meteorologist, Andy Best
This blog is a look at what has changed from yesterdays update which can be found at  https://blog.metservice.com/TC-Hola-9-3-2018 on this blog site. You can find further information on the Tropical cyclone page at http://bit.ly/TropicalCycloneActivity
Severe Tropical Cyclone Hola remains at Category 3 TC at 2:10pm today New Zealand time with winds close to its centre of around 130km/h with gales extending up to 260km from the centre. The TC is currently moving southeast at 25km/h. By 1am Sunday morning (NZ time) it is expected to weaken to a category 2 TC and still lie north of Latitide 25S. This means that the winds near the centre are expected to weaken to around 120km/h and by 1am Monday morning to around 90km/h.
TC Hola will continue southeast out of the Tropics, and is expected to pass close the the upper North Island as a deep low during Monday and Tuesday.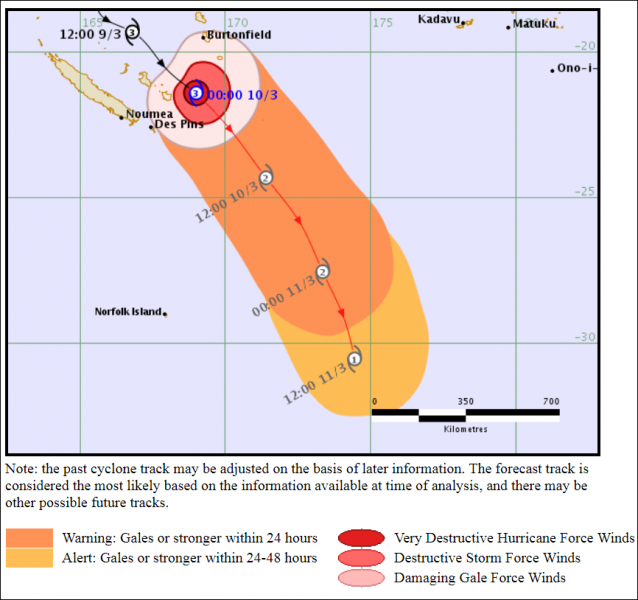 There is still some uncertainty with respect to Hola s focecast track. The affected areas and associated confidence levels depicted are highly dependent on Hola s track. Relevant authorities and the public are advised to keep up to date with the latest forecasts from MetService. Hola will cause significant damage and disruption if it tracks across, or very near, to the North Island. This includes wind damage to structures and powerlines, large amounts of rain causing flooding, slips and damage to roads, and large waves affecting low-lying coastal areas.
Based on Hola s current forecast track, there is high confidence of heavy rain and severe gales in Northland, Auckland, Coromandel Peninsula, Waikato, Bay of Plenty and Gisborne from on early Monday through to overnight Monday.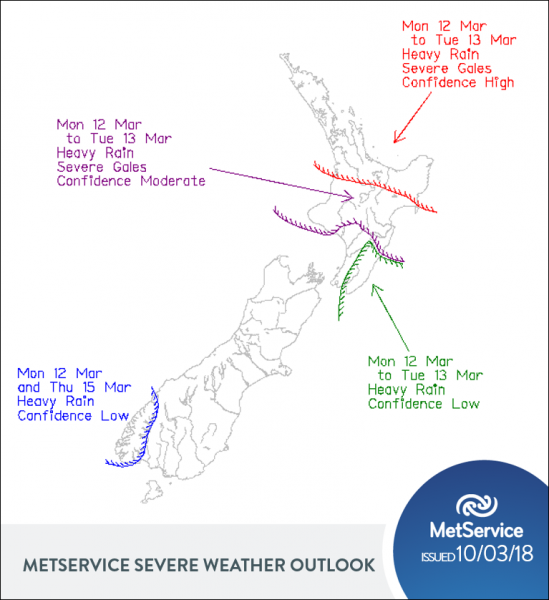 The confidence for heavy rain and severe gales is moderate during Monday and early Tuesday for the central North Island from Waitomo, Taranaki across to Hawkes Bay,including the Tongariro National Park and the Whanganui Hill Country, while the confidence is low for heavy rain in Wairarapa over the same period.
It is very likely that Warnings and Watches associated with Hola will be issued tomorrow (Sunday March 11th).
The Severe Weather Outlook Map at http://bit.ly/SWOutlook on metservice.com shows the areas we are currently concerned about.
The MetService TC Bench are keeping a close eye on developments 24/7 and will issue Severe Weather Watches and Warnings for any areas which could see any severe weather associated with this event, along with press releases and updates on social media. We'll post further updates on TC Hola in the coming days, and as always, you can keep up to date with the latest forecasts and warnings at metservice.com
You can also watch the latest Tropical Cyclone video at  http://bit.ly/metservicetv