By MetService Meteorologist Claire Flynn
Please note: all times listed below are in New Zealand local time.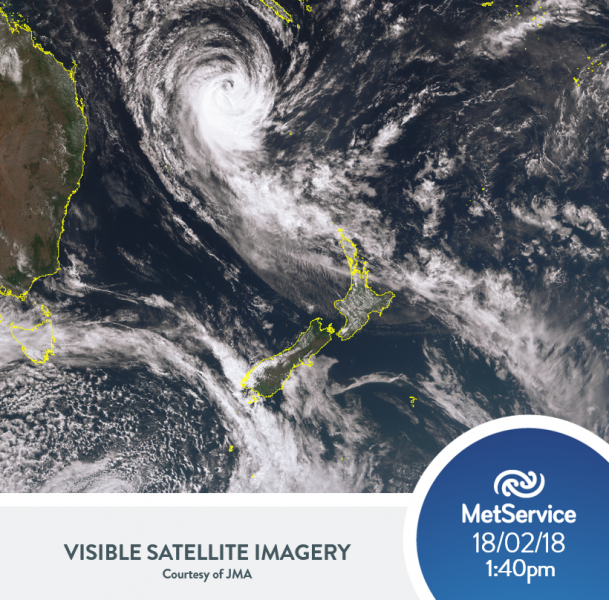 As of 1pm today, TC Gita was a Category 2 Tropical Cyclone, with estimated wind speeds of 111 km/hr near the centre, and a central pressure of 975 hPa. It was located over the waters southwest of New Caledonia at 26.8S, 163.3E, as shown in the latest forecast track map below. The latest track maps can be found here.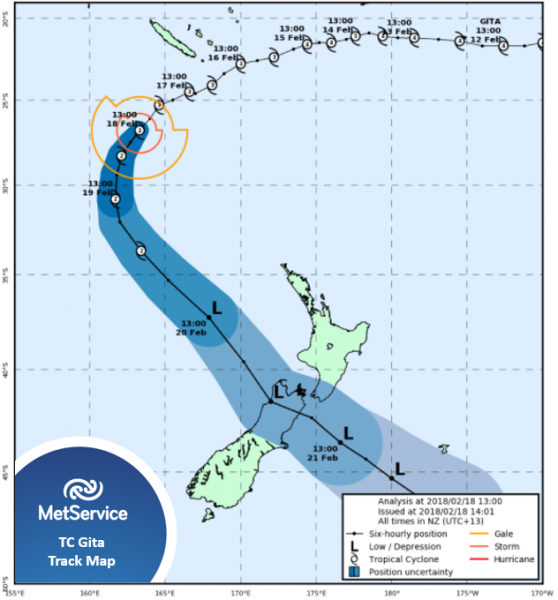 Future track
TC Gita is forecast to continue moving southwards as a Category 2 Tropical Cyclone for the next 36 hours, and the track will gradually start to tilt southeastwards. Once it reaches approximately 35S, TC Gita is expected to undergo a transition into an extra-tropical cyclone. Although it will lose its status as a tropical cyclone, Gita will still be a significant low pressure system, bringing severe weather to many parts of the country. It will maintain storm force winds around the centre of the storm, and possibly reach hurricane force. While it will no longer be a tropical cyclone, that does not mean it will have weakened or dissipated. Once it undergoes this transition, it will no longer be referred to as Tropical Cyclone Gita – instead, it will become simply Cyclone Gita. You can read more about extra-tropical transition here. 
Looking ahead, over the next few days, after curving towards New Zealand and becoming an extra-tropical cyclone, Cyclone Gita will start to move more quickly. It is expected to pass over the upper South Island overnight Tuesday/Wednesday. There is still some uncertainty regarding exactly where the cyclone will cross the country, as shown by the shaded area on the forecast track map. This area shows the range of possibilities for the track of Cyclone Gita, but severe weather associated with Gita could reach areas much further afield.
Impact on New Zealand
Cyclone Gita is expected to bring severe weather to many parts of New Zealand during Tuesday and Wednesday, with the centre of the cyclone passing over the upper South Island overnight Tuesday/Wednesday. On Sunday morning, MetService has issued the first batch of Severe Weather Watches, giving details on which areas are most at risk of severe weather during the passage of Cyclone Gita. A Watch for heavy rain is in force for Horowhenua, Kapiti Coast and Wellington, and the South Island as far south as North Otago. A Watch for severe gales has been issued for parts of the central and lower North Island, as well as the upper South Island, Westland and Canterbury High Country. The full details of these Severe Weather Watches can be found here.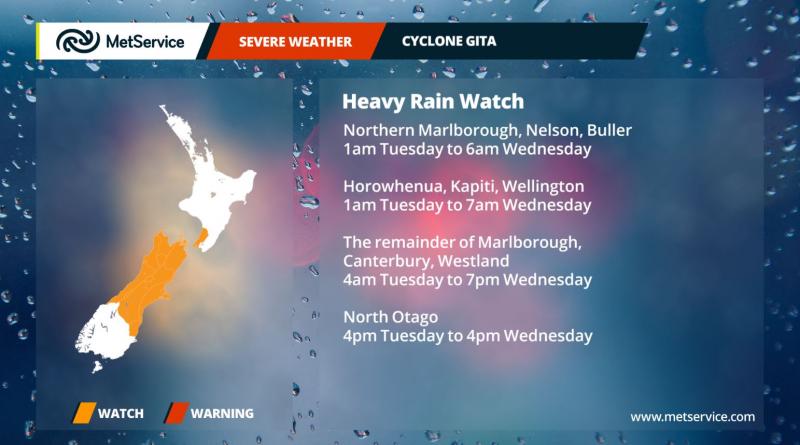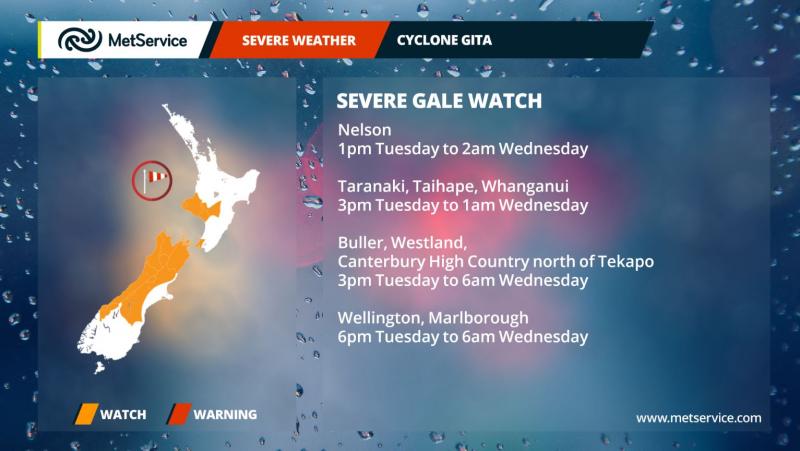 Many of these Severe Weather Watches are likely to be upgraded to Severe Weather Warnings, and more areas could be added. MetService Severe Weather Forecasters review and re-issue all Warnings and Watches every 12 hours, and more often when necessary. People are advised to keep up to date with the latest issues of the Watches and Warnings, in case their area is added to the Watch, or upgraded to a Warning.
In addition, people should be aware of the potential for coastal inundation, in areas where strong onshore winds, large swells, high tides and low surface pressure combine. The areas at greatest risk are northern facing coasts from Port Taharoa southwards to northern Taranaki, Kapiti Coast, Marlborough Sounds, Nelson and round to Westport, from Tuesday afternoon to Wednesday morning. On the opposite side of the country, southeasterly facing coasts are also at risk during Tuesday and Wednesday.
There are a number of steps people can take to prepare for severe weather, including checking guttering, tying down unsecured items outdoors or moving them inside, checking moorings of boats, and making sure you have an emergency plan in place. And of course, keep up to date with the latest issues of Severe Weather Watches and Warnings at metservice.com . You can find further tips on how to prepare on the Get Ready Get Thru website.
For the history of this system and more about TC Gita, see yesterday's blog post, here.