By Emma Blades, Meteorologist
Tropical Cyclone Tuni was located 270km south of Samoa today at 1pm (New Zealand local time). It remains a category one cyclone, although the central pressure has deepened slightly in the past six hours to 991hPa. Winds close to the centre are still expected to be a sustained 75kph.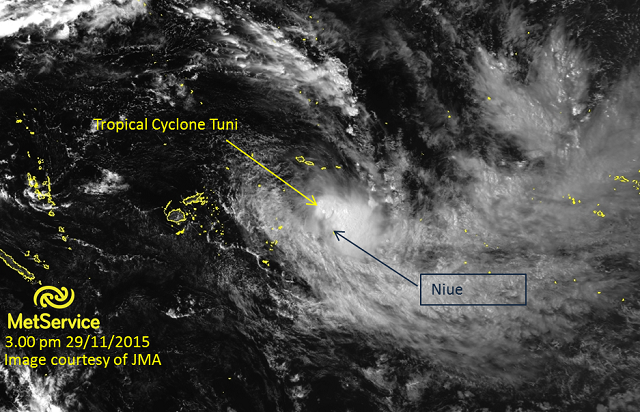 Visible satellite image at 3.00pm 29 November 2015 courtesy of JMA
TC Tuni is tracking southeast at a speed of around 17 kph. The updated track from the Fiji MetService below shows that TC Tuni is forecast to pass northeast of Niue on Monday, still maintaining its class of a category one cyclone. A tropical cyclone alert has been issued for Niue.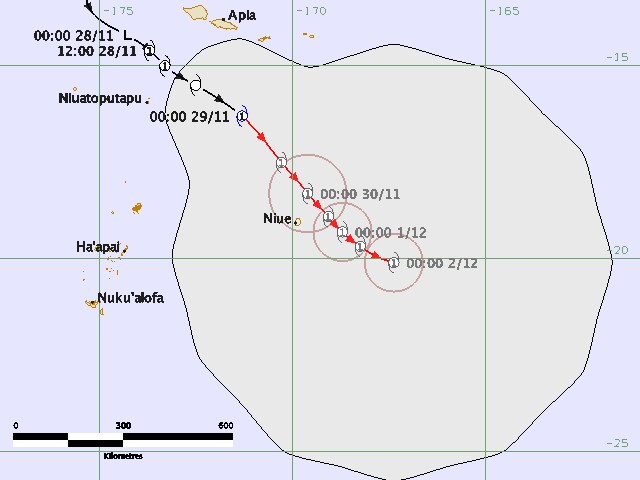 Forecast path of the Tropical Depression near Samoa produced by the Fiji Met Service in Nadi. The path shown above is the Nadi's best estimate of the cyclone's future movement and intensity. There is always some uncertainty associated with tropical cyclone forecasting and the grey zone indicates the range of likely tracks. More details can be found here:
http://www.met.gov.fj/aifs_prods/65661.html