By Emma Blades, MetService Meteorologist
A tropical depression, identified as TD03F, is gradually deepening near Samoa and could be upgraded to a tropical cyclone later today. You can see the location of TD03F at 11am 28 November 2015 in the infrared satellite image below.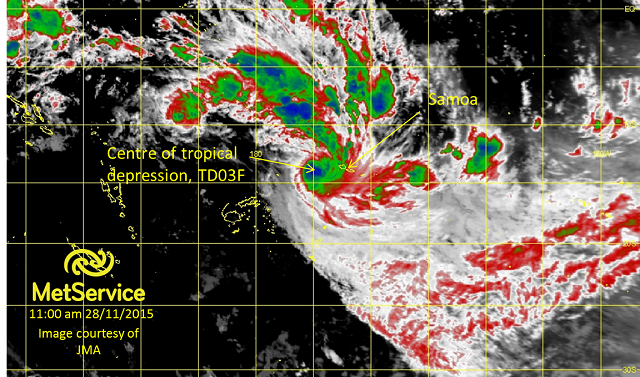 Infrared satellite image at 11.00am 28 November 2015 courtesy of JMA. Higher cloud tops are blue and green indicating areas of heaviest rainfall.
The centre of TD03F was located 240km to the west of Samoa at 7am this morning, with a central pressure of 997hPa. The tropical depression is gradually deepening as it slowly tracks southeast.
You can see on the tropical cyclone forecast track map below, that TD03F is likely to pass just to the southwest of Samoa, potentially bringing heavy rain and strong wind to the country. It is likely that TD03F will be named a category one tropical cyclone later today.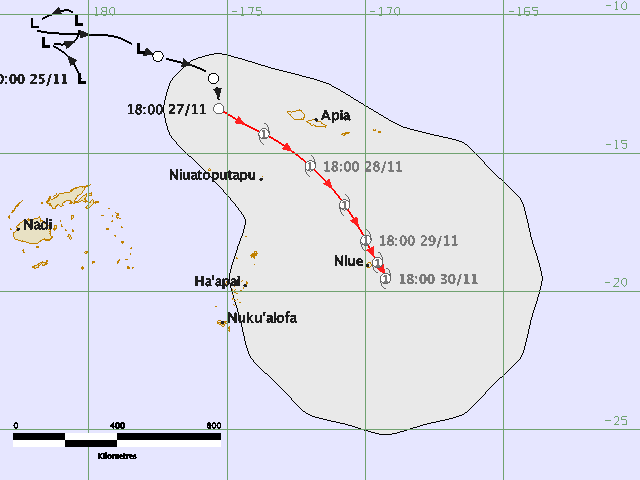 Forecast path of TD03F near Samoa produced by the Fiji Met Service in Nadi. The path shown above is the Nadi's best estimate of the cyclone's future movement and intensity. There is always some uncertainty associated with tropical cyclone forecasting and the grey zone indicates the range of likely tracks. More details can be found here:
http://www.met.gov.fj/aifs_prods/65661.html
MetService will continue to monitor the progression of TD03F with our colleagues at the Fiji Met Service.