Tropical Cyclone Raquel was named at 6am on 1 July 2015, located at 5.8° South 159.3° East, some 410km north-northwest of Honiara, the Capital of the Solomon Islands. The maximum winds near the centre were estimated at 35 knots (65km/h). Whilst the consensus of computer models suggest Raquel will track slowly southwest over the Solomon Islands during Thursday and Friday, some models move the system towards the southeast, possibly affecting Vanuatu and/or New Caledonia in the coming days. At this stage, due to strong upper level westerlies over the northern Tasman Sea, it's very unlikely Raquel or its remnants will affect New Zealand. However, MetService Meteorologists will be keeping a close eye on developments.
The Brisbane Tropical Cyclone Warning Centre (TCWC) is currently responsible for issuing warnings on Tropical Cyclone Raquel, as well as forecast track maps. For the latest information on Raquel please visit the Australian Bureau of Meteorology's Tropical Cyclone page http://www.bom.gov.au/cyclone/index.shtml
At this time of year Tropical Cyclones are very rare in both the Australian & South Pacific regions. Historically, there have only been two previous systems, which both occurred off the coast of Western Australia. This is the first Tropical Cyclone to be named off the east coast of Australia by Brisbane TCWC during July.
A number of environmental conditions need to be satisfied for a Tropical Cyclone to form. Firstly, the upper atmosphere was in a highly favourable state, which allowed a convective cluster (group of thunderstorms) northeast of the Solomon Islands to grow and become more organised. Secondly, at the surface, a ridge of high pressure built over the Tasman Sea earlier this week resulting in a strengthening of the southeast trade winds over the Solomon Islands, helping to "spin up" the system at low levels. Lastly, the sea surface temperature (SST) needs to be greater than 26.5°C to allow tropical cyclone formation, and the SST near Tropical Cyclone Raquel is currently around 29°C.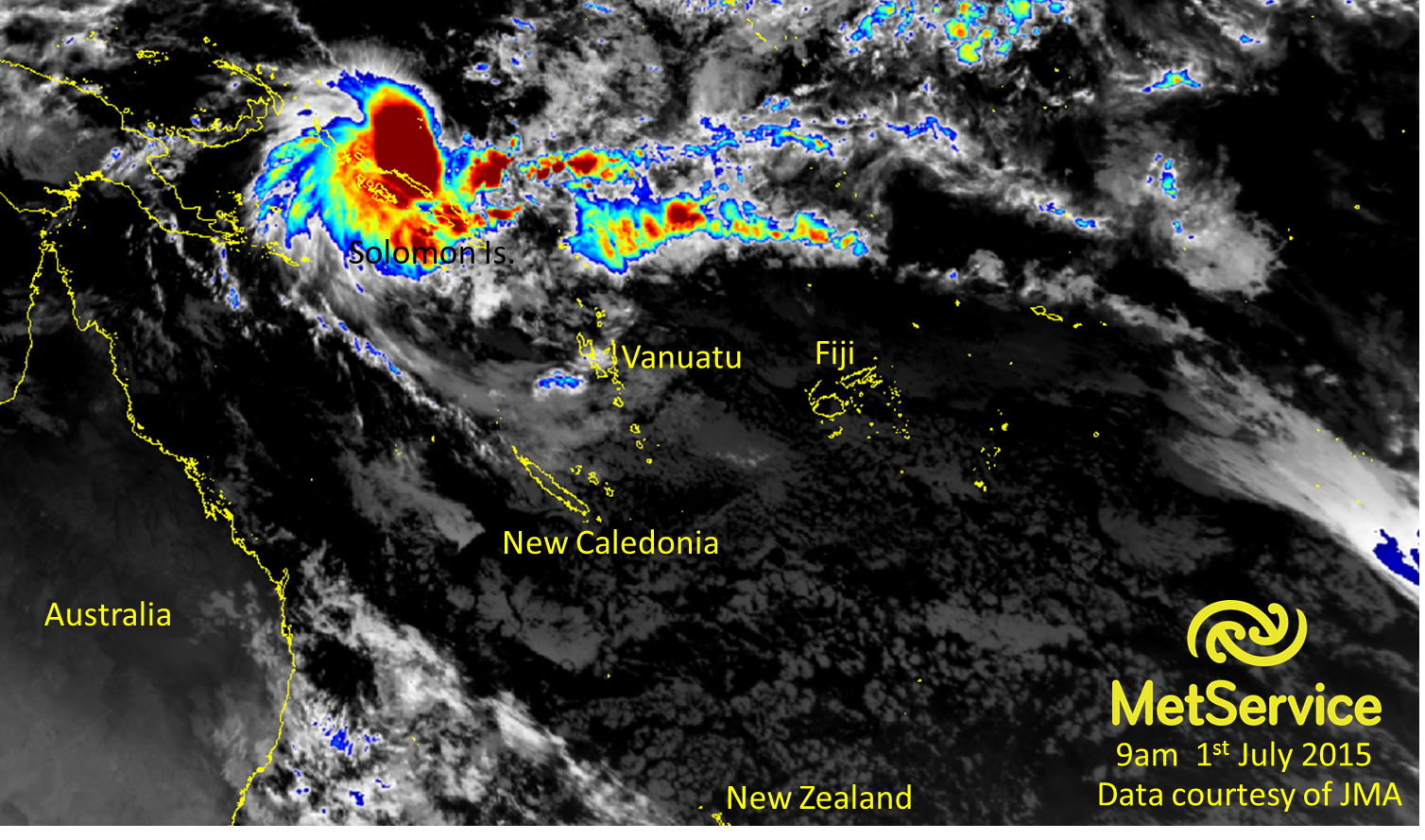 Enhanced infra-red satellite image showing TC Raquel just to the north of the Solomon Islands