A burst of cold air originating from the Antarctic ice sheet is expected to affect New Zealand on Monday and Tuesday. Unseasonably cold temperatures, strong winds and snow to low levels are expected over the South Island where this event is likely to have a high impact. Snow is forecast down to around 200 to 300 metres in Fiordland, Southland and Otago but 400 to 500 metres in Canterbury. Hail and snow flurries could penetrate even lower. People in places such as Invercargill and Dunedin may see some snowflakes that melt as they hit the ground.
Livestock could be affected and there will probably be an effect on higher roads where significant snow accumulations may make driving conditions difficult and could lead to some road closures. The coldest air is expected to make its way north to the North Island on Tuesday bringing strong winds and unusually low temperatures. For further details, please check forecasts for your specific location and keep up to date with watches and warnings issued on our website, www.metservice.com. Please keep safe and warm.
It is not all bad news since ski field operators and winter sports enthusiasts are sure to welcome this first significant snow of the winter.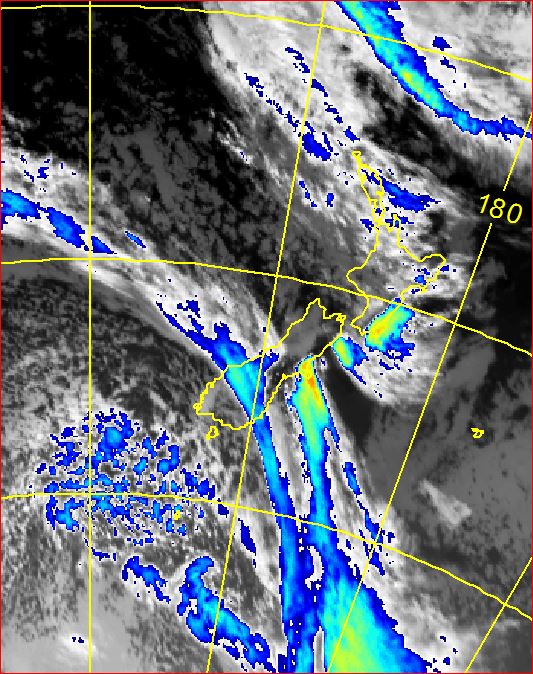 Infra red satellite image from Sunday morning
The infra red satellite image from Sunday morning clearly shows the cold cloud tops south of New Zealand, associated with the cold unstable air moving north towards the country.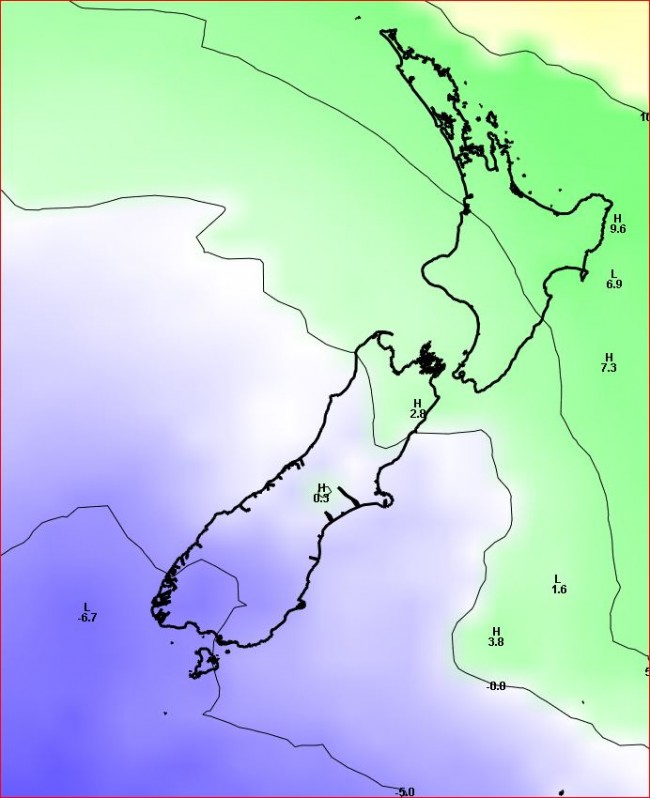 Forecast temperature at 1500 metres above sea level
The image above shows the expected temperature at 1500 metres above sea level at noon on Tuesday. The temperature at that height is close to -5C in the far south and 0 degrees over the upper South Island.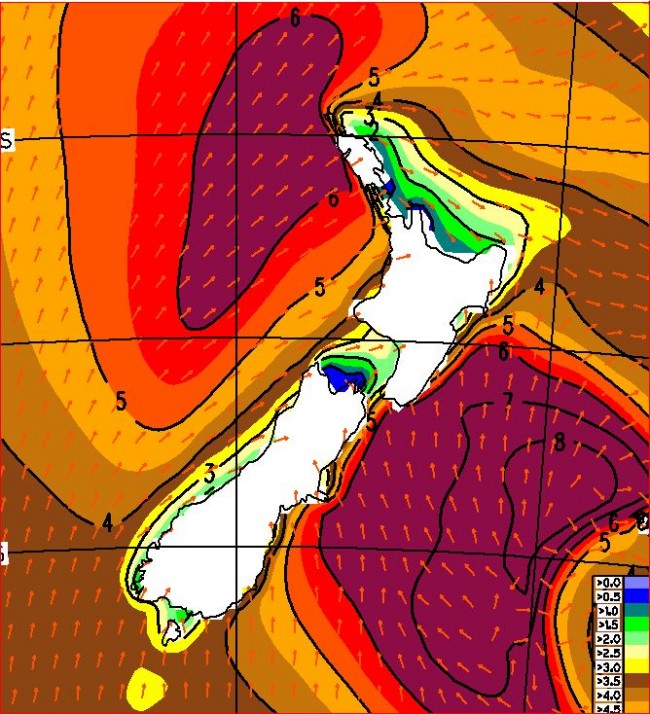 Forecast wave heights at noon on Tuesday, courtesy of ECMWF
In addition to the strong winds and cold temperatures on land, large south to southwest swells are expected to affect much of the New Zealand coastline on Monday and Tuesday. When the strong to gale southerly winds are combined with these swells, waves greater than 6 metres are likely – possibly reaching 6 to 8 metres along the east coast for a time on Tuesday. If you're planning to head onto or near the water over the next few days, make sure you check out the latest marine forecasts and warnings on metservice.com