MONDAY UPDATE
Cyclone Reuben crossed latitude 25 South overnight last night, with the Wellington Tropical Cyclone Warning Centre assuming high seas warning responsibility for the system this morning. As Reuben continued to move southwards it weakened, and at midday today (NZDT) was re-classified as an extra-tropical low.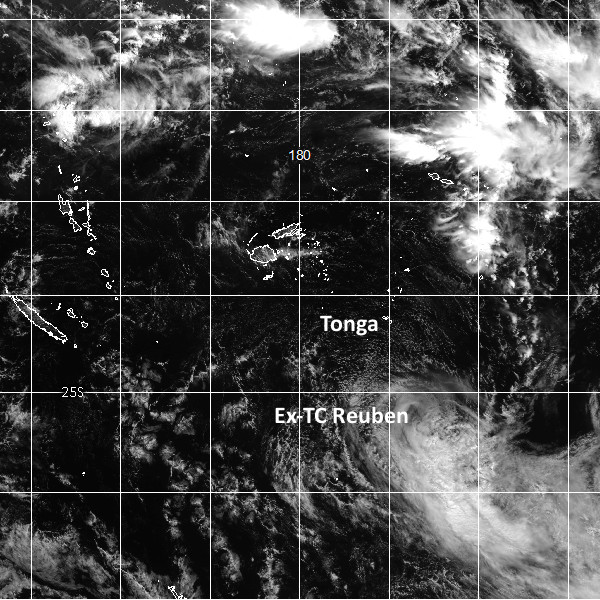 Visible satellite image of ex-TC Reuben at midday NZDT. (Satellite image courtesy JMA)
The deep convection surrounding the cyclone has now sheared away from the low level circulation - a key feature of the extra-tropical transition that cyclones go through as they exit the Tropics. A high seas gale warning remains in force near the low centre, which is expected to linger in the sub-tropics and may even drift northwards again in the coming days as a weak feature.
---
SUNDAY AFTERNOON UPDATE
At 1pm today (Sunday 22nd March) RSMC Nadi named the 4th tropical cyclone of the season in the South Pacific basin for which they are responsible. TC Reuben was located near 23.2S 175.6W at 0000 UTC today (1pm NZDT), which is about  220km south of Nuku'alofa in Tonga. At that time, the central pressure was 995hPa making Reuben a category 1 cyclone.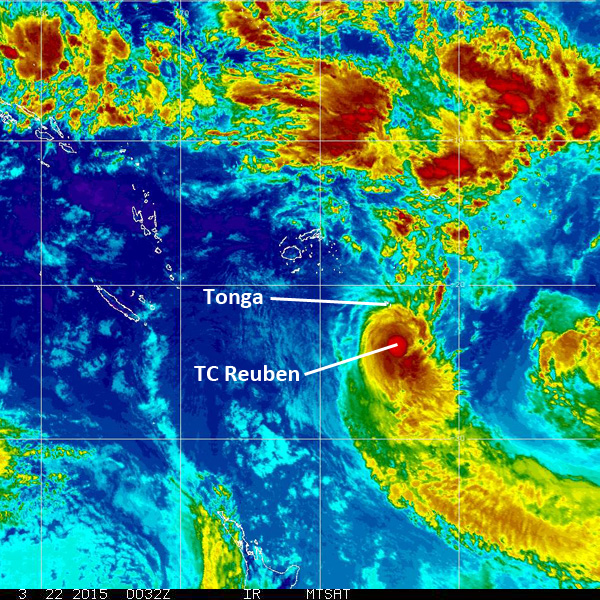 Satellite image from 1:30pm NZDT today (Sunday 22nd March) showing the location of TC Reuben. (MTSAT image via NOAA)
TC Reuben is moving slowly south-southeast over the open ocean and is forecast to intensify a little in the next 24 hours. Current computer model guidance shows the system posing no threat to New Zealand in the coming days.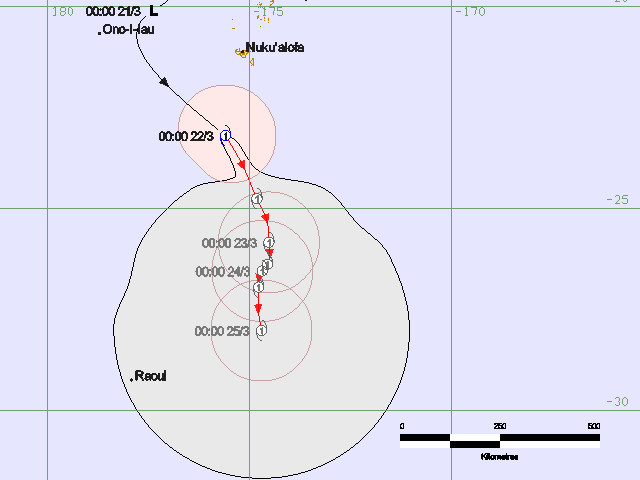 Track map for TC Reuben issued by RSMC Nadi based on the 0000 UTC (1pm NZDT) position.
MetService meteorologists will continue to monitor Reuben closely and will be liaising with colleagues in Fiji at RSMC Nadi as the system approaches the Wellington Tropical Cyclone Warning Centre area of responsibility.
We'll post further updates for TC Reuben on Monday.