Update for Monday evening, 9 March 2015
Tropical Cyclone Pam
Earlier this evening, RSMC Nadi named the third cyclone of the 2014-15 season in their area of responsibility. As of 7pm NZDT, Tropical Cyclone Pam had a central pressure of 995hPa (Category 1 on the Australian intensity scale) and was located near 8.4S 169.8E – that's around 600km north-northeast of Vanuatu and 1,300km northwest of Fiji (not far from the position of TD11F marked in the satellite image below). At this stage the cyclone is moving slowly east-southeast and is forecast to gradually intensify in the next day or two.
Check back tomorrow for the next update.
Update for Monday 9 March 2015
While late in the season, the tropics are again becoming active to the north of New Zealand where Tropical Depression 11F (TD11F) continues to develop to the north/northeast of Vanuatu.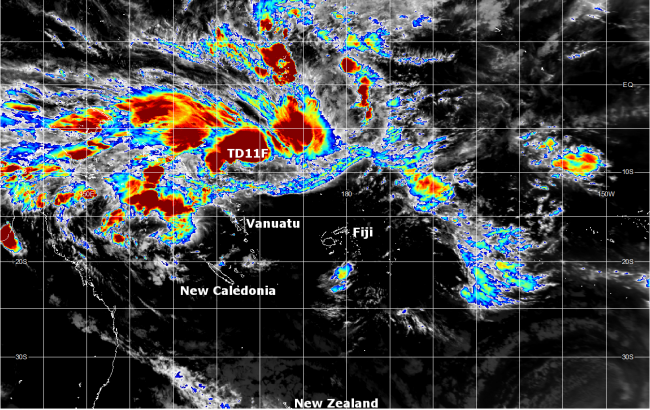 Infrared satellite image from 11am Monday 9th March, 2015, showing widespread convective clouds over the tropics northwest of Fiji and Vanuatu. Red/brown areas show the coldest cloud tops where the strongest and deepest convective lies. Image courtesy JMA.
For all systems north of latitude 25S, RSMC Nadi-Tropical Cyclone Centre is responsible for monitoring, naming and tracking lows and/or cyclones in the tropics. However, given the expected movement of this system (more on that in a minute), it is being closely watched by meteorologists in both Fiji and New Zealand.
This particular depression lies in a favorable environment to develop into a full Tropical Cyclone. As such, RSMC Nadi are already publishing track maps, such as the one below based on data at 7am this morning: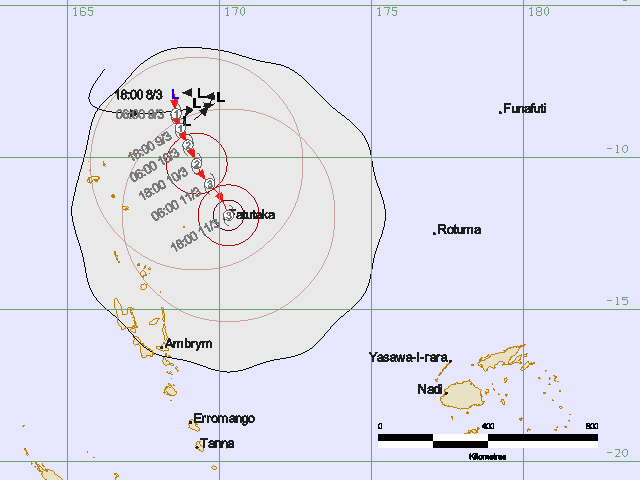 Forecast track map for TD11F issued by RSMC-Nadi based on the analysis position at 7am, 9th March 2015.
As you can see in the track map above (times in UTC), this low is forecast to develop into a cyclone today (9 March), with an initial movement southeast towards Fiji.
Looking further ahead, MetService meteorologists will continue to monitor this system and will be in daily contact with colleagues in Fiji to discuss the future track of the cyclone and high seas warnings. Once the centre crosses 25 degrees south, tracking and warning responsibility switches to the Wellington Tropical Cyclone Warning Centre operated by MetService.
At present, the selection of global models routinely used by MetService meteorologists suggest the low/cyclone will continue to track south/southeast well offshore from the North Island. For example, here's a multi-model snapshot for 12UTC on Saturday 14th March (1am Sunday 15th March NZDT):

A selection of global models showing mean sea level pressure for 12UTC on Saturday 14th March (1am Sunday NZDT). Note the ridge of high pressure affecting most of New Zealand, while the low sits well to the north of the country. Pressures lower than 1000hPa have been coloured blue. While the central pressure differs between models, all have a general agreement on the position and movement to the south/southeast.
Where will the low move next?
Beyond next weekend there is still considerable uncertainty about the exact track of the low. MetService meteorologists will continue to assess developments and we'll post updates here.
For more about MetService's role in monitoring tropical weather, check out this blog: MetService in the Tropics.