Update Wednesday 11th March, afternoon
JOHN LAW, METSERVICE METEOROLOGIST
From the Severe Weather Outlook issued at 2.34pm today, here's the latest view on Pam's potential effects on New Zealand: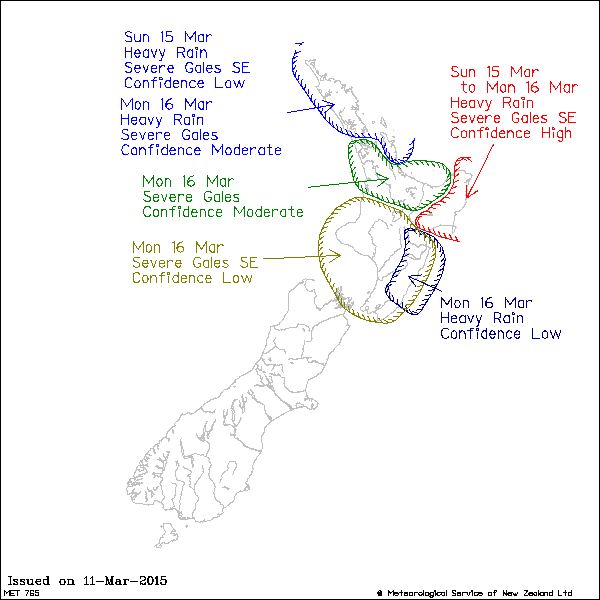 For the latest information head to
http://metservice.com/warnings/severe-weather-outlook
A weak front should cross southern New Zealand on Friday, followed by a ridge of high pressure. The ridge should remain over the South Island until Monday. A southeast flow should develop over the North Island on Saturday and strengthen on Sunday as TC Pam moves out of the tropics and southeastwards.
TC Pam is expected to remain east of New Zealand, but parts of the North Island are likely to be affected by severe weather on Monday, especially Gisborne and northern Hawkes Bay, where there is a high confidence of warning amounts of heavy rain and severe southeast gales, possibly starting late Sunday.
For Northland, northern Auckland and the Coromandel Peninsula there is a low confidence that rain could become heavy late Sunday and southeast gales could become severe. However, the confidence increases to moderate on Monday, for both warning amounts of heavy rain in these areas and also severe gales. Southeasterlies are expected to turn southwest as the low tracks further south on Monday and there is also a risk of severe southwest gales.
Further south, there is a low confidence of rainfall accumulations reaching warning criteria in central and southern Hawkes Bay and also Wairarapa on Monday.
In addition, strong southeasterlies are likely to affect the remainder of the North Island and there is a moderate confidence that these could become severe about Auckland City, Waikato and Bay of Plenty. Winds may turn southwest later Monday about Auckland, and these southwest gales could also be severe. There is a low confidence of severe southeast gales for the rest of the North Island and the Marlborough Sounds on Monday.
Also of significance, unusually heavy northerly swell is expected to affect exposed coastlines from Cape Reinga to East Cape from later Sunday and during Monday. This swell has the potential to cause coastal damage and dangerous sea conditions.
The Chatham Islands are also likely to be affected by gales, heavy rain and unusually large swell from later Monday.
There is still considerable uncertainty regarding the track of TC Pam and severe weather watches and warnings will be issued as the situation evolves.
[end]
Update Wednesday 11th March, morning
JOHN LAW, METSERVICE METEOROLOGIST
Tropical Cyclone Pam continues to move southwards across the Pacific around 170E. The current track of the cyclone, which strengthened to a category 3 overnight, is between Vanuatu and Fiji.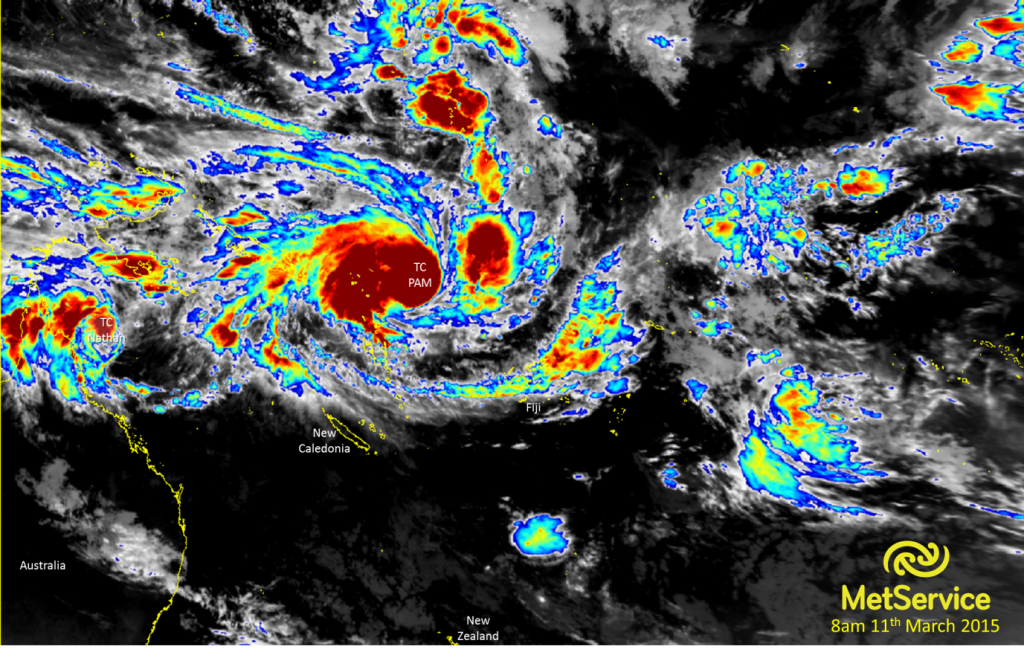 The meteorological service division of the Solomon Islands government has now issued a tropical cyclone warning for Temotu, Malaita and Makira provinces. For the latest information check their website http://www.met.gov.sb/
The latest forecast track for TC Pam from RSMC Nadi (based on data at 7am NZDT this morning) shows a maintained southerly movement and an expected intensification to category 4 during tomorrow (Thursday).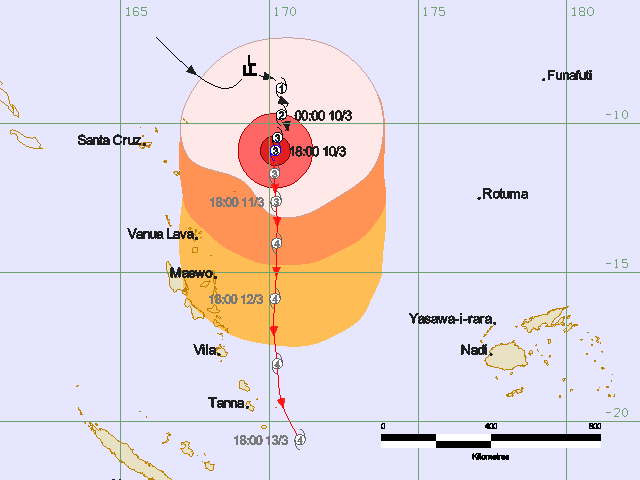 For more information about the different categories head to this previous blog post.
The longer range forecast for the system continues to keep the centre to the north of the North Island before moving southwards to the east of New Zealand at the start of next week.

An updated selection of different global models showing mean sea level pressure for 12UTC on Sunday 15th March (1am Monday NZDT) from the 1am model run from this morning (11/03/2015). Pressures lower than 1000hPa have been coloured blue.
Although the windiest and wettest weather looks likely to be offshore, there is still the possibility of southeasterly gales and rain affecting the northeast of the North Island. Strong winds and heavy rain may also be an issue for Raoul Island on Sunday and the Chatham Islands during the start of next week. For impacts over New Zealand, keep up to date with the latest Severe Weather Outlook over the next few days: http://www.metservice.com/warnings/severe-weather-outlook
As well as windy and wet weather, the system is also likely to bring high swells to the northern and eastern facing coasts during the weekend and into Monday. As always, please make sure you stay up to date with the latest forecasts before heading out onto the water.
In addition to Tropical Cyclone Pam, meteorologists across the South Pacific are also keeping an eye on Tropical Cyclone Nathan which has formed over the warm waters of the Coral Sea overnight last night. Although this system is currently forecast to remain offshore, the Australian Bureau of Meteorology has issued watches and warnings for parts of the Queensland coast.
[end]