Talking temperatures, 2014 will be remembered for being somewhat back-to-front. With a cooler than usual start and finish to the year for much of the country, the middle months of 2014 were very mild.
Overall, 2014 ended up looking 'about average' with respect to temperature for many parts of the country. The exception was the north-eastern parts of both Islands, which were warmer than usual, as well as between Whanganui and Wellington. Tauranga, Napier and Nelson experienced their third warmest year. But the year was actually a roller-coaster of temperatures, swinging from unusually cold to extremely warm, and back again.
With regards to rainfall, 2014 exhibited large swings between very dry periods and extremely wet ones. This reflected the weather patterns flip-flopping between Highs parked over the country, north Tasman Lows that resulted in wet conditions for northern New Zealand, and cold, stormy southwesterlies.
It was a drier than normal year for much of the country. The exceptions were Northland, Gisborne and Oamaru (wetter than usual); and the southwest of the South Island, as well as Auckland and Wellington (with near normal annual rainfall observed). In the case of Northland, north Tasman Lows produced several deluges, while southern New Zealand was battered by southwesterlies on occasion. True to form, rainfall in 2014 yo-yoed between extended dry periods and extreme wet spells, making for another very challenging year for farmers and growers around the country.
The most damaging weather events of the year included Cyclone Ita (17-18 April, also known as the Easter Storm), which brought heavy rain and gales from Northland down to Nelson, and punishing winds to the West Coast; a rapidly developing Low near Whangarei which produced heavy rain and severe gales for northern New Zealand on June 10-11; and the Canterbury floods of March 4-5.
Temperatures month by month
January was unusually cold across much of New Zealand, leaving many people wondering when summer would arrive. In contrast, April and June were extremely mild, with Kiwis questioning where winter was.
May temperatures were above average for the South Island, while numerous temperature records were broken right across the country in April and June. Nationally, it was the warmest June on record. September temperatures were also above average for the North Island, and it was the warmest September on record for Tauranga.
In contrast, October saw frequent southwesterlies and several significant snowfall events. Notably, November refused to warm up for most regions - it was unusually chilly for western and inland areas, with frequent hail events across the country, and extremely late frosts for many. Cooler temperatures continued into December, but were rapidly replaced by warmer northerlies over the country.
Rainfall month by month
For much of the country, February and March were extremely dry (the notable exception being Canterbury). It was the second-driest March on record for Hamilton, with only 6mm of rainfall observed.
April was extremely wet across New Zealand, with Cyclone Ita having a large impact on many regions. Wellington experienced the second wettest April on record.
May was rather dry for many areas, with Tauranga observing its third driest May.
It was a very wet June for the North Island due to the warm northerly winds: Auckland experienced its third wettest June since records began, and Tauranga was close behind with its fourth wettest June.
July and August were rather dry for parts of the South Island, while it was a sopping wet September for the North Island. Auckland observed its third wettest September.
October was very dry across most of the country. By the end of a windy November, the prolonged dry spell in the northeast of the South Island had started to take its toll, with abnormally dry soils there.
The return of humid northerlies mid December produced useful rainfall for north-facing regions-Nelson, Northland and the Bay of Plenty.
Regional summaries
Northland: a wetter and warmer year with back-to-back extremes
Auckland: an unusual year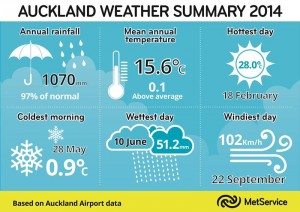 Tauranga: a very warm year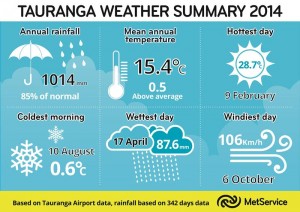 Hamilton: dry start to the year; temperatures yo-yoed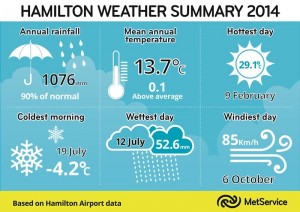 Wellington: a mild year overall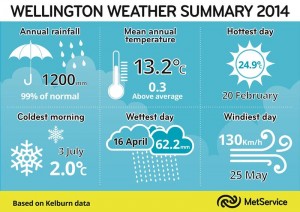 Christchurch: a year of extremes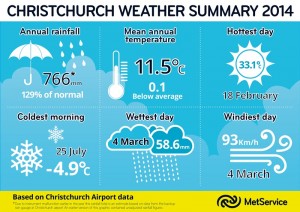 Dunedin: frequent southwesterlies and a drier year overall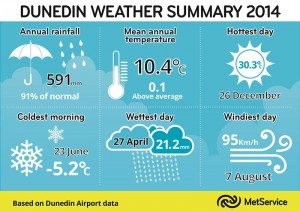 The information above was prepared by MetService meteorologists Georgina Griffiths and John Law. More detailed information for each region has been provided to your local media outlets for their use.