New Zealanders can now check their phone to see when they need to protect their skin from the sun. The Health Promotion Agency (HPA) has worked with MetService and NIWA to produce a range of ways the sun protection information can be easily accessed by the public. In this mix is the inclusion of the Sun Protection Alert on MetService's Towns and Cities smartphone weather apps. These apps can be purchased through GooglePlay and iTunes.
The Sun Protection Alert is also available in your daily newspaper and on pages throughout the Towns and Cities, Rural, Marine and Surf sections of metservice.com. A version can also be integrated into your business website or intranet for your clients and employees to use to keep themselves safe in the sun.
Sun protection times: The alert advises you of the actual time period over which you need to protect yourself from the sun, and conveys simple information that is easy to understand and act on. Sun protection times are activated when the UV Index reaches three or above. Three is the level of ultraviolet radiation at which most people, particularly those with fair skin, become susceptible to sunburn or skin damage. The sun protection times and ultraviolet radiation levels will differ up and down the country as they are based mainly on latitude and can change in 5-minute increments from one day to the next.
Sun safety advice is included: Regularly changing sun safety advice is incorporated into the Sun Protection Alert e.g. "seek shade or reapply sunscreen" or "No matter what your skin type". Other advice responds to the forecast weather for the day and aims to address the misunderstanding that cloud cover and cooler air temperature reduce the risks of sunburn. For example, if a cool day or cloudy day is predicted, the sun safety message will be "Even on cloudy days" or "Even on cooler days".
The Sun Protection Alert is available for you to use in New Zealand during the daylight saving months (September through April).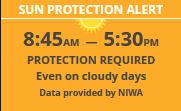 Sun Protection Alert tool showing the protection time period for a specific day. Times will differ for different locations.
Some things New Zealanders ought to know…
Our New Zealand lifestyle, the envy of many other countries, has given us the highest melanoma rates in the world – even higher than our mates across the ditch. In recent years, our melanoma death rates have been on a par with the NZ road toll.
Sunburn is a big concern because it is linked to melanoma, the most deadly form of skin cancer. Skin cancer is largely preventable by taking simple measures to protect ourselves from the sun.
Sun Protection Advice to use from September to April
For more information on the Sun Protection Alert and how you can access it, visit
http://www.sunsmart.org.nz