For those who've ever wondered how weather events have helped shape New Zealand's history, now there's a website that seeks to tell the stories.
Today is the 45th anniversary of the sinking of the Wahine on 10 April 1968 – perhaps New Zealand's most recognised weather disaster – so we thought it a fitting time to introduce you to our weather history website: iwonderweather.co.nz

The main navigation menu of iwonderweather, New Zealand's new weather history website.
The site is intended as a collaborative project between MetService and New Zealand's public, communities, historical societies and news media. iwonderweather.co.nz has been established to collect contributions of ideas, stories, images, video and audio that will help expand the history we already have of New Zealand's weather and its effect on people and livelihoods. The site also chronicles the history of New Zealand's own meteorological service – at over 150 years old, the country's longest-standing scientific institution.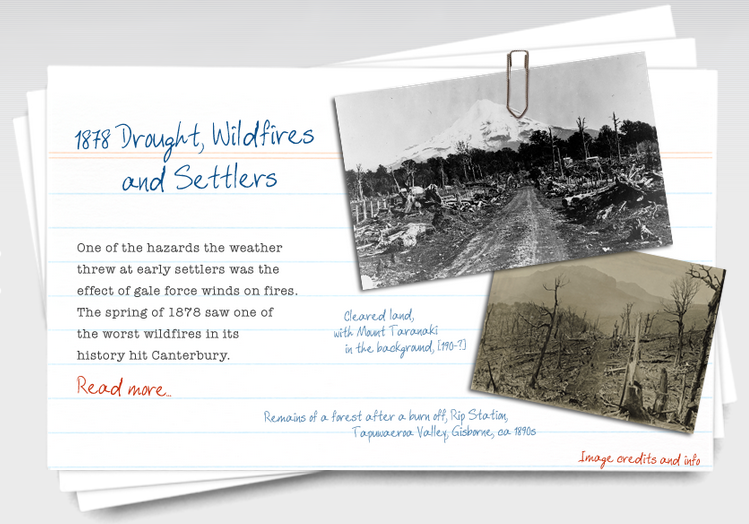 Highlights from the story collection feature on iwonderweather's Home page.
The site features articles written by Erick Brenstrum, severe weather forecaster, historian and accomplished author. As Editor-In-Chief of the site, Brenstrum also considers ideas for contributions and draws on his extensive knowledge and research to find the historical weather facts behind images and reminisces of times past. We're also keen to gather contributions from local news media and historical societies, many of whom have wonderful archives of images and local stories.
The site enables visitors to contribute directly, either by suggesting a new story for the site and providing supporting images, video, audio, and other media resources, or by providing relevant photos or videos to add to an existing story. Visitors can also comment on articles and use social media sharing.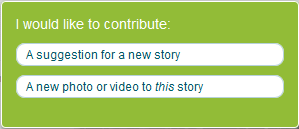 Visitors can Contribute story ideas and media content.
iwonderweather was built and designed by insight, a creative agency based in Wellington.