Tropical Cyclone Gita Update 15th February 2018
By MetService Senior Meteorologist Lisa Murray
Please note: all times listed below are New Zealand local time
At 3pm today, TC Gita was a Category 4 Cyclone (having weakened since yesterday and overnight) with estimated winds of 167km/hr and a central pressure of 950hPa, located over waters about SW of Kadavu, Fiji, (21.5S 175.2E) and moving west at about 15km/hr.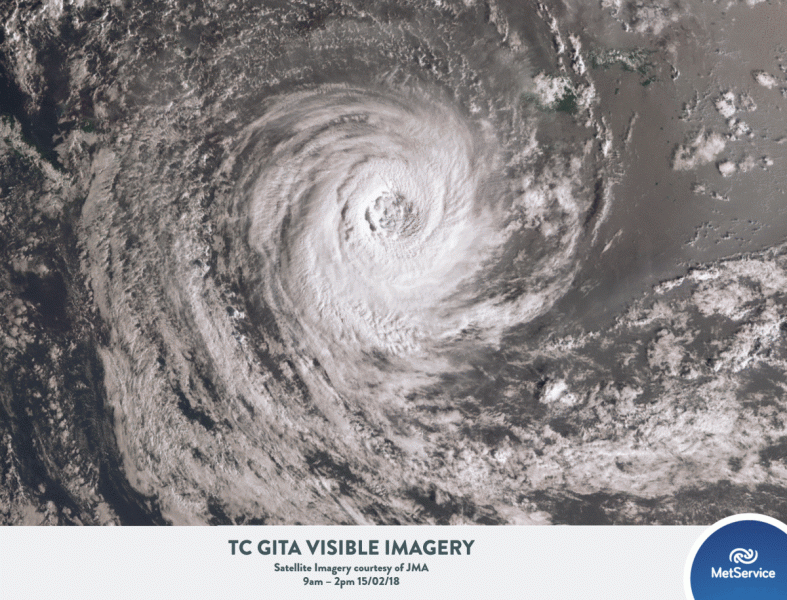 Over the next day or two, TC Gita is expected to curve to the southwest before reaching New Caledonia. A track map for 1pm today from RSMC Nadi Tropical Cyclone Warning Centre is shown below.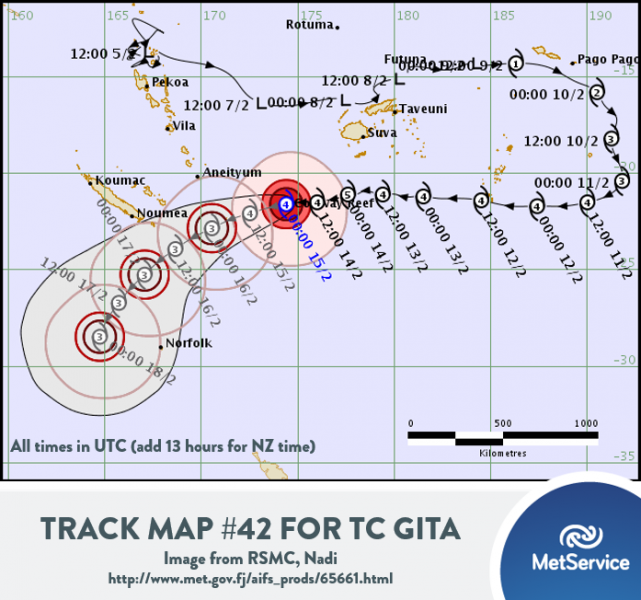 Future track
Tropical Cyclone Gita is still evolving, so model guidance is adjusting to those changes run by run. Current weather models are forecasting that TC Gita will recurve as it runs over progressively cooler waters; the sea surface temperature to the west of NZ near 30S is 24C (TC's need 26C to sustain/grow as a tropical system). This is expected to happen during Sunday and Monday over the north Tasman Sea. When Gita passes below 25S, MetService will take over responsibility from RSMC Nadi for all Tropical Cyclone advisories and bulletins.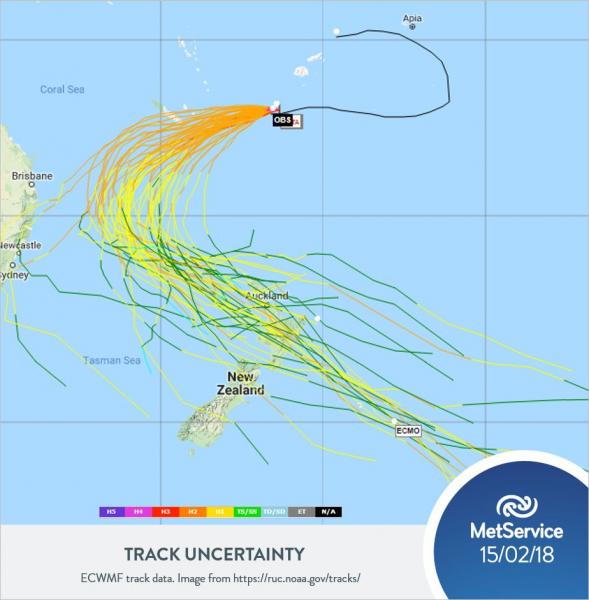 The image above shows a range of possible tracks from one of the main global weather models (ECWMF), which helps highlight the uncertainly associated with timing and track.
Impact on NZ
The latest information indicates that a deep low, currently Tropical Cyclone Gita, will impact New Zealand early next week. However, there is still a large spread of possible tracks and timing, leaving regional impacts uncertain at this stage - but likely significant. Although there is uncertainty regarding exactly where and when Gita will cross New Zealand, models currently indicate that the centre will move over the North Island on Tuesday, with the effects starting during Monday.
Tropical Cyclones have their most intense winds and rainfall close to the centre of the cyclone, while mid-latitude lows have a broad area of wind and rainfall which can cover thousands of kilometres. Tropical Cyclone Gita will transition into an intense mid-latitude low between 30S-35S before arriving on our shores, but it will still be a significant and potentially dangerous system bringing heavy rain, gale- to storm-force winds over a large area, large waves/swell and storm surge. Local impacts are highly dependent on the track it takes, but it is likely to be a high-impact event which will most likely affect many regions across the North Island and upper South Island.
MetService advises people to take time over the weekend to prepare for potential severe weather impacts. Civil Defence's Get ready Get thru website is a very helpful place to start. As always, MetService is working closely with regional councils and emergency management teams, and recommends people follow advice from their local Civil Defence and council. We've put together a handy Emergency Information page to help you find all the key information sources you'll need.
MetService meteorologists are monitoring TC Gita closely and providing tropical updates daily via the Tropical Cyclone Activity page on metservice.com, where you can also see hourly satellite imagery. 
Currently, the potential impacts are mentioned on the Severe Weather Outlook at http://bit.ly/SWOutlook.
The coming days will bring more clarity to exactly where and when impacts are likely to be the most severe. Regardless, it is wise to be prepared. MetService will keep you informed about any potential severe weather for your region through our Severe Weather Outlook, Watches and Warnings. All are available on the MetService websites, NZ Weather app, by email (subscribe here) and on Twitter and Facebook. We'll post further updates on TC Gita in the coming days, and as always, you can keep up to date with the latest forecasts and warnings at metservice.com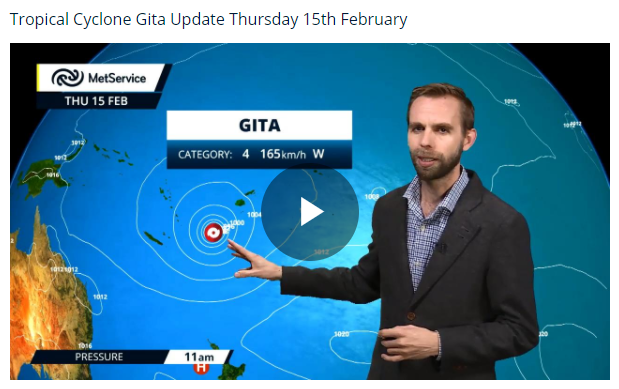 Click on the image to watch the MetService TV Tropical Cyclone video for 15 February 2018.
For the history of this system and more about TC Gita, see yesterday's blog.