24 Feb 2016 update
By MetService Communications Meteorologist Lisa Murray
Please note: all times listed in the text below are New Zealand local time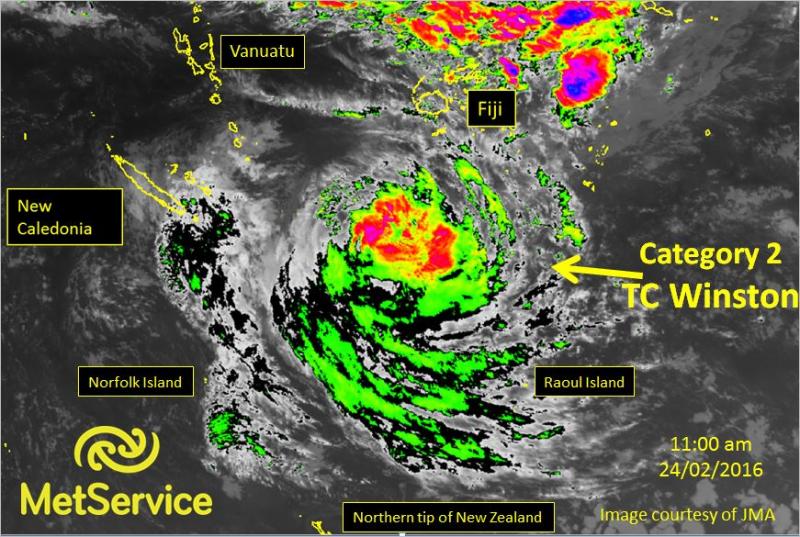 Infrared satellite image of Tropical Cyclone Winston at 11.00am today (Wednesday 24thFebruary). Note that the "eye" of the TC can no longer be seen as it is covered by cloud, this happens as the TC becomes less intense.
Latest position Wednesday 7am
Tropical Cyclone Winston was located near 22.1S 174.9E lying well southeast of Vanuatu and southwest of Fiji today (Wednesday 24th February). The central pressure of the cyclone was estimated to be 975hPa, making it a Category 2 cyclone, and it is moving in a south southeast direction at 19km/h. Winds close to the centre of the cyclone were estimated to be a mean speed of  around 111km/h.
History
Tropical Cyclone (TC) Winston was named by RSMC Nadi at 1pm on February 11th, located to the east of Vanuatu.  Since then, TC Winston has looped around moving southeast, then northeast, turning westward and moving over Fiji and now it is moving southerly.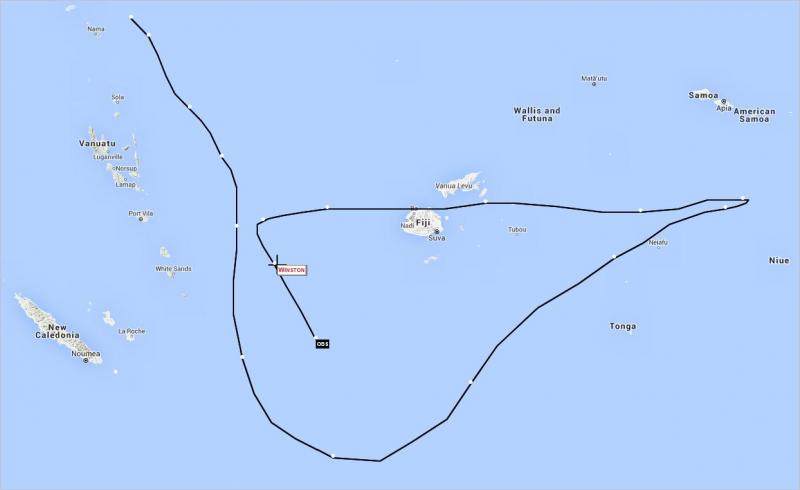 Image from NOAA Earth System Research Laboratory of the historical track that Tropical Cyclone Winston has taken so far.
Future track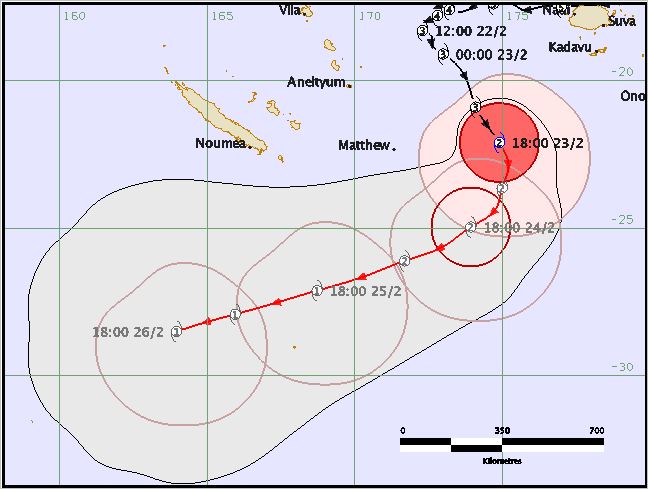 Forecast track for Severe TC Winston from RSMC Nadi (Fiji Meteorological Service).
The tropical cyclone is expected to continue to move in a more southwest direction, with the expectation that it will be reclassified to a category 1 cyclone.  
As Tropical Cyclone Winston crosses latitude 25 south overnight Thursday, MetService New Zealand's Tropical Cyclone Warning Centre (TCWC) will take over responsibility from the Fiji Meteorological Service for issuing all official advisories and bulletins about TC Winston. Beyond this time, Winston is forecast to track towards the mid-Tasman Sea and as it does, it will lose its tropical cyclone characteristics and evolve into a mid-latitude low. 
Impact on NZ
Looking at a range of global weather models, most are keen to move TC Winston across the Tasman and towards the Coral Sea, although a few still indicate tracks towards New Zealand late this weekend or early next week.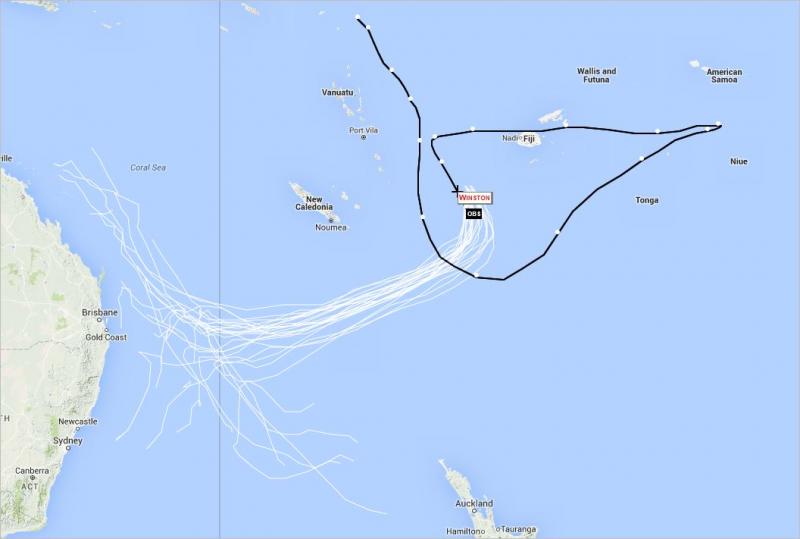 Range of possible future tracks for Severe TC Winston based on UKMO data. Image from NOAA Earth System Research Laboratory.
"With tropical cyclones there is always some uncertainty associated with the tracks they will take," explained MetService Communications Meteorologist Lisa Murray, "and these can change considerably from day to day until weather models are in greater agreement. MetService's TCWC meteorologists are continuing to monitor this situation 24/7."
Murray also advised that, "Any severe weather effects for New Zealand will be covered by Severe Weather Warnings, Watches and Outlooks, as well as marine warnings and forecasts. As with any potential for severe weather, it's important that people keep up to date with the latest official information at www.MetService.com." 
Meanwhile there is another area of interest further east in the Tropics near the Cook Islands. There
is currently a tropical depression near 15.3S 158.8W or about 720km north-northeast of Rarotonga in the southern Cook Islands. This low lies in a favourable environment for intensification so there is a moderate chance it could develop into a tropical cyclone in the next few days.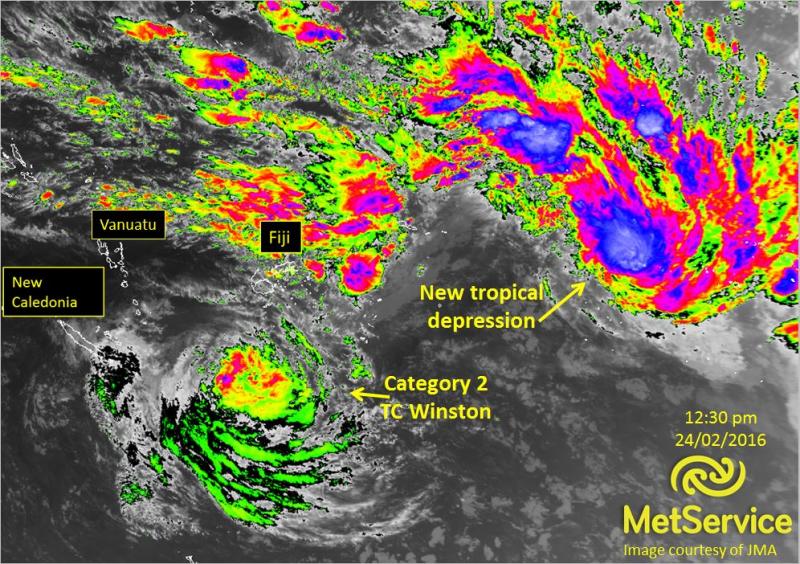 Infrared satellite image of Pacific at 12.30pm today (Wednesday 24thFebruary). Showing TC Winston and the areas of interest near the Cook Islands.
You can find a MetService blog about transition from tropical cyclone to mid-latitude low at https://blog.metservice.com/TC-extra-tropical-transition
Latest Pacific video forecast: http://metservice.com/tv/
More information about tropical cyclones and our responsibilities can be found at http://about.metservice.com/our-company/national-weather-services/tropical-cyclones/
Tropical Cyclone Activity page link: http://metservice.com/warnings/tropical-cyclone-activity
The World Meteorological Organization (WMO) Tropical Cyclone Programme has been established to help emergency managers and the public prepare for tropical cyclones and minimise the loss of life and damage they can cause.  Under this programme, MetService is designated as the Wellington Tropical Cyclone Warning Centre (TCWC) and, together with Regional Specialised Meteorological Centre (RSMC) Nadi, is responsible for official warnings and advisories for tropical cyclones in the South Pacific.  As always, you can keep up to date with the latest forecasts and warnings at metservice.com as well as updates on the MetService Blog, Twitter and Facebook.
Lisa Murray, MetService Communication Meteorologists.