22 Feb 2016 update
By MetService Communications Meteorologist Lisa Murray
Please note: all times listed in the text below are New Zealand local time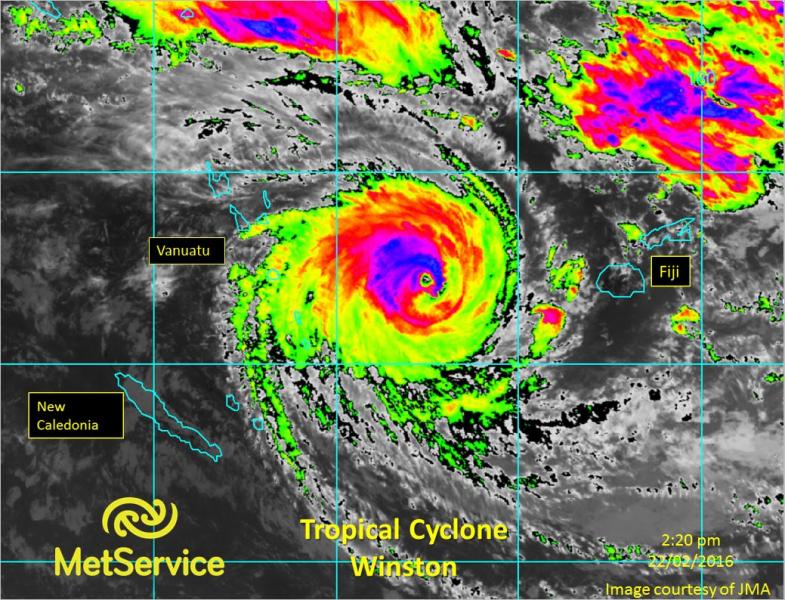 Infrared satellite image of Tropical Cyclone Winston at 2.20pm today (Monday 22nd February 2016).
Latest position Monday 1pm
TC Winston was located near 17.8S 172.8E lying between Fiji, Vanuatu and New Caledonia today (Monday 22th February). The central pressure of the cyclone was estimated to be 945hPa, making it a Category 4 cyclone, and it is continuing to move in a westward at 9km/h. Winds close to the centre of the cyclone were estimated to be around 176km/h.
History
Tropical Cyclone (TC) Winston was named by RSMC Nadi at 1pm on February 11th, located to the east of Vanuatu.  Since then, TC Winston has tracked southeast before turn northeast, then westward moving over Fiji.
Future track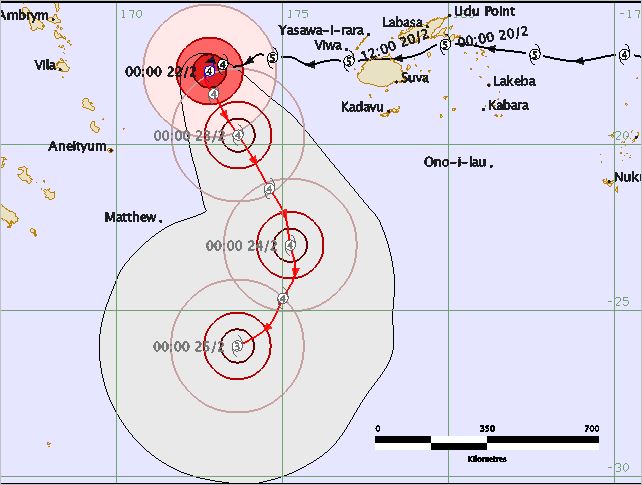 Forecast track for Severe TC Winston from RSMC Nadi (Fiji Meteorological Service).
The tropical cyclone is expected to continue to move in a southerly direction before heading more westward again.
Impact on NZ
Tropical Cyclone (TC) "Winston", currently category 4, is forecast to turn in a more southerly direction today, and in the latter half of the week is expected to evolve into a deep mid-latitude low. You can find a MetService blog about this transition process at https://blog.metservice.com/TC-extra-tropical-transition. Looking at the latest global weather models, there is an increased risk that this low could impact central and northern New Zealand during the coming weekend.
With tropical cyclones there is always some uncertainly associated with the tracks they will take, and the global weather models can change considerably from day to day until the track becomes stable (where the models are in more agreement).  If this low does affect New Zealand, it has the potential to be a significant weather event, and could include impacts such as increased sea swell, heavy rain which could cause flooding as well as damaging winds.
Currently it is too early to give an accurate forecast for which regions of New Zealand are likely to be impacted, but MetService meteorologists are monitoring this situation closely and will keep you updated. What we can say is that it will not have the same impact and level of destruction as it did in Fiji. Any severe weather effects for New Zealand caused by this deep low will be included in Severe Weather Warnings, Watches and Outlooks, as well as marine warnings and forecasts. MetService advise people to keep up to date with the latest forecasts at www.MetService.com.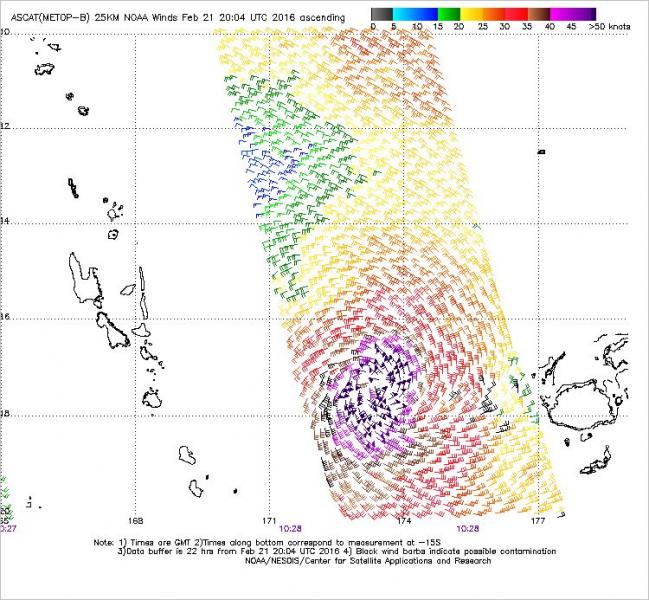 ASCAT image of wind barbs (in knots) showing the centre of TC Winston. This image comes from a polar orbiting satellite as it passes over TC Winston this morning.
The World Meteorological Organization (WMO) Tropical Cyclone Programme has been established to help emergency managers and the public prepare for tropical cyclones and minimise the loss of life and damage they can cause. Under this programme, MetService is designated as the Wellington Tropical Cyclone Warning Centre (TCWC) and, together with Regional Specialised Meteorological Centre (RSMC) Nadi, is responsible for official warnings and advisories for tropical cyclones in the South Pacific.  As always, you can keep up to date with the latest forecasts and warnings at metservice.com as well as updates on the MetService Blog, Twitter and Facebook.