By MetService Communications Meteorologist Lisa Murray
Please note: all times listed in the text below are New Zealand local time
Category 5 Severe Tropical Cyclone (TC) Winston was the strongest category 5 tropical cyclone to make landfall over Fiji. TC Winston made landfall in Viti Levu, Fiji earlier yesterday evening. Prior to landfall the estimated central pressure was 915hPa, with maximum winds near 230km/h.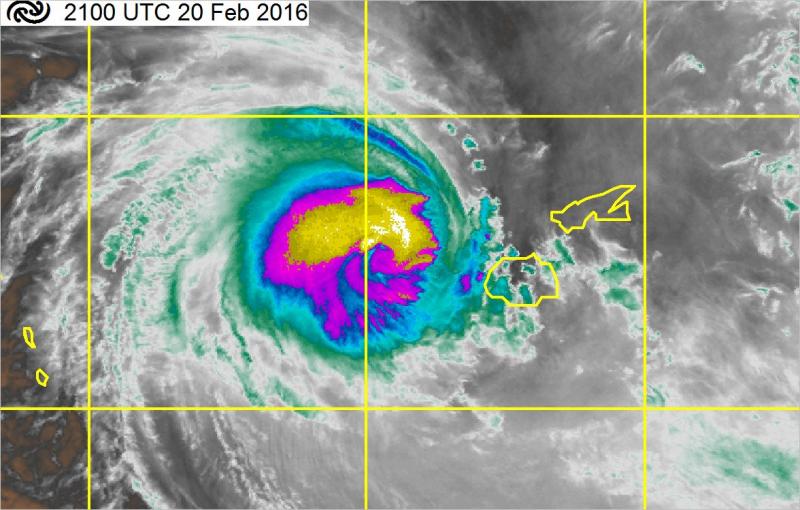 Water Vapour imagery showing the location of TC Winston at 10am Sunday 21th February 2016. This image is from the JMA, with MetService colour enhancements.
Latest position Sunday morning
TC Winston was located near 17.4S 175.3E about 175km west of Viwa or about 230km west of Nadi at 10am today (Sunday 20th February). The central pressure of the cyclone was estimated to be 930hPa, making it a Category 5 cyclone, and it is continuing to move westwards at 24km/h. Winds close to the centre of the cyclone were estimated to be around 205km/h and with momentary wind gusts to 285km/h. Fiji Meteorological Service warns of periods of heavy rain and squally thunderstorms, damaging heavy swells and flooding, including sea flooding of low lying areas.
State of Natural Disaster
The Fiji Times has reported the Government of Fiji has declared a State of Natural Disaster for Fiji, and that the declaration will remain in effect for the next 30 days. The times also reported that a curfew was imposed from 6pm "for the safety of people during the period of Hurricane Winston".
Latest Warnings from the Fiji MetService
Special Weather Bulletin ON SEVERE TROPICAL CYCLONE WINSTON
ISSUED FROM RSMC NADI at 10:01am on Sunday the 21st of February 2016
TROPICAL CYCLONE WARNING.
A GALE WARNING REMAINS IN FORCE FOR VIWA ISLAND.
A STRONG WIND WARNING REMAINS IN FORCE FOR THE REST OF FIJI.
A DAMAGING HEAVY SWELL WARNING REMAINS IN FORCE FOR LOW LYING COASTAL AREAS OF FIJI.
A HEAVY RAIN WARNING REMAINS IN FORCE FOR FIJI.
SEVERE TROPICAL CYCLONE WINSTON CENTRE [930HPA] CATEGORY 5 WAS LOCATED NEAR 17.4 SOUTH 175.3 EAST OR ABOUT 175KM WEST OF VIWA OR ABOUT 230KM WEST NADI AT 9AM TODAY. THE CYCLONE IS MOVING WEST AT ABOUT 22KM/HR.  CLOSE TO ITS CENTRE, THE CYCLONE IS ESTIMATED TO HAVE AVERAGE WINDS OF 205KM/HR AND MOMENTARY GUSTS TO 285KM/HR.
ON THIS TRACK, THE CYCLONE IS EXPECTED TO BE LOCATED ABOUT 315KM WEST OF VIWA OR ABOUT 370KM WEST OF NADI 9PM TODAY AND ABOUT 365KM WEST OF VIWA OR ABOUT 415KM WEST OF NADI AT 9AM TOMORROW.
FOR  VIWA ISLAND:
EXPECT DAMAGING GALE FORCE WINDS WITH AVERAGE SPEED OF 65KM/HR AND MOMENTARY GUST TO 90KM/HR.WINDS EASING TO STRONG WINDS WITH AVERAGE SPEED OF 55KM/HR AND MOMENTARY GUST TO 80 KM/HR IN THE NEXT 6 HOURS. PERIODS OF RAIN, HEAVY AT TIMES AND SQUALLY THUNDERSTORMS. RAIN EASING LATER TODAY. DAMAGING  HEAVY SWELLS. SEA FLOODING OF LOW LYING AREAS.
FOR THE REST OF FIJI:
STRONG WINDS WITH AVERAGE SPEED OF 50KM/HR AND MOMENTARY GUST TO 75KM/HR. WINDS EASING AND BECOMING MODERATE TO FRESH FROM AFTERNOON.
OCCASIONAL RAIN, HEAVY AT TIMES AND SQUALLY THUNDERSTORMS.  DAMAGING HEAVY SWELLS. FLOODING INCLUDING SEA FLOODING OF LOW LYING AREAS.
 
History
Tropical Cyclone (TC) Winston was named by RSMC Nadi at 1pm on February 11th, located to the east of Vanuatu.  Since then, TC Winston has tracked southeast before turn northeast, then westward moving over Fiji.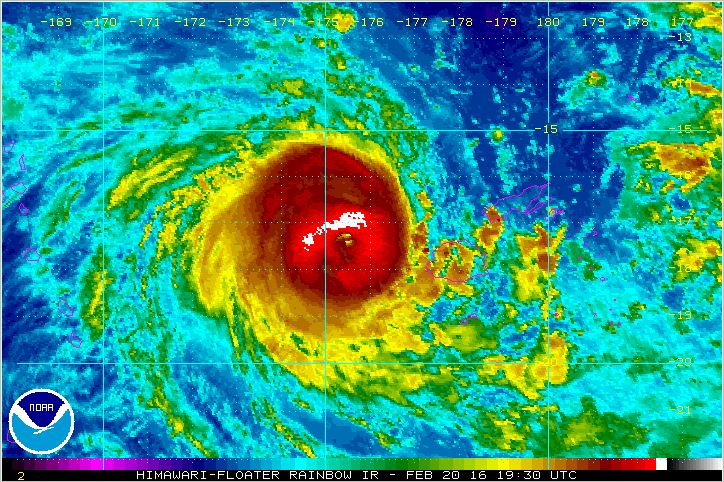 Satellite image from NOAA from this morning February 20th 2016.
Future track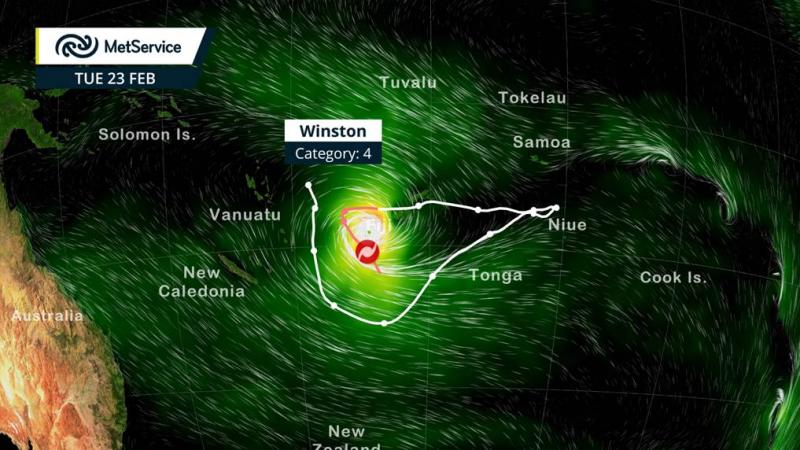 Image created by MetService using WeatherScape. White line is the track Tropical Cyclone Winston has already taken. The pink line is the forecast track out till Tuesday the 23rd of February.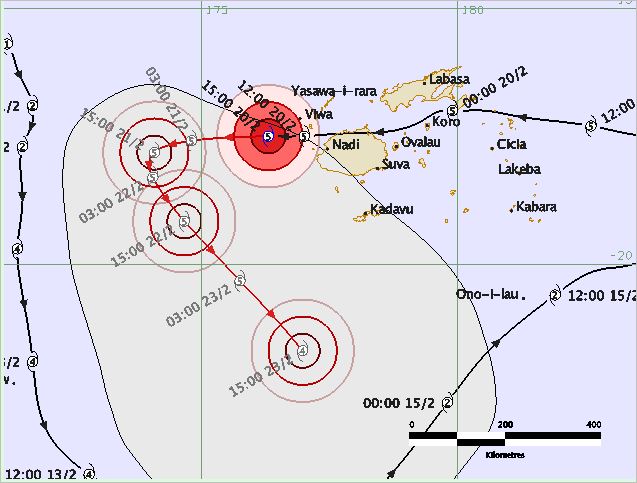 Forecast track for Severe TC Winston from RSMC Nadi (Fiji Meteorological Service).
On this track, the cyclone is expected to be located about 280km west of Viwa or about 340km west of Nadi  at 7pm today and about 340km west of Viwa or about 395km west of Nadi at 7am tomorrow (Monday 22st February). The tropical cyclone is expected to weaken to a category 4 cyclone and is expected to continue to move in a southeast direction before heading westward again.
Impact on NZ
Over the next few days TC Winston is expected to take a more southeasterly track, which means there is a low chance that it could impact New Zealand towards the end of next week. A number of global weather models expect the future track to loop southwest and then northwest before weakening near the Coral Sea, but there are also some models which have the track moving further south (see one of these models below), although it is too early to give an accurate forecast of the exact impacts to New Zealand. MetService meteorologists are monitoring this tropical cyclone and working closely with Fiji Meteorological Service as TC Winston is currently above a latititude of 25S (MetService take over responsibility for offical advisories and bulletins when the TC moves south of this).
Range of possible future tracks for Severe TC Winston based on GEFS data. (Please use this image responsiblily, explaining the uncertainly of the TC track.) Image from NOAA Earth System Research Laboratory.
With tropical cyclones there is always some uncertainly associated with the tracks they will take, and the gobal weather models can change considerably from day to day until the track becomes stable (where the models are in more agreement).  If this Low does affect the North Island of New Zealand, it will have evoled into a mid-latitude cyclone (no longer a tropical cyclone), and it's effects could include increased sea swell, rain and wind.  Any severe weather effects for New Zealand caused by tropical cyclones will be included in Severe Weather Warnings, Watches and Outlooks, as well as marine warnings and forecasts. http://metservice.com/warnings/severe-weather-warnings.  MetService advise people in New Zealand and planning travel to the Pacific to keep up to date with the latest forecasts at www.MetService.com. 
The World Meteorological Organization (WMO) Tropical Cyclone Programme has been established to help emergency managers and the public prepare for tropical cyclones and minimise the loss of life and damage they can cause.  Under this programme, MetService is designated as the Wellington Tropical Cyclone Warning Centre (TCWC) and, together with Regional Specialised Meteorological Centre (RSMC) Nadi, is responsible for official warnings and advisories for tropical cyclones in the South Pacific.  As always, you can keep up to date with the latest forecasts and warnings at metservice.com as well as updates on the MetService Blog, Twitter and Facebook.
You can find a recorded video clip with information and commentry on Tropical Cyclone Winston at http://www.metservice.com/tv/.