20 Feb 2016 (evening update)
By Chris Noble, Specialist Weather Services Manager
Please note: all times listed in the text below are NZ local time
Severe Tropical Cyclone (TC) Winston made landfall in Viti Levu, Fiji earlier this evening as a powerful category 5 cyclone. Based on the 7pm analysis by tropical specialists in Nadi, the central pressure of the cyclone was estimated at 915hPa, with maximum winds near 230km/h just prior to landfall. Radar imagery earlier this evening captured the eye as it moved onto the northeast coast near Rakiraki;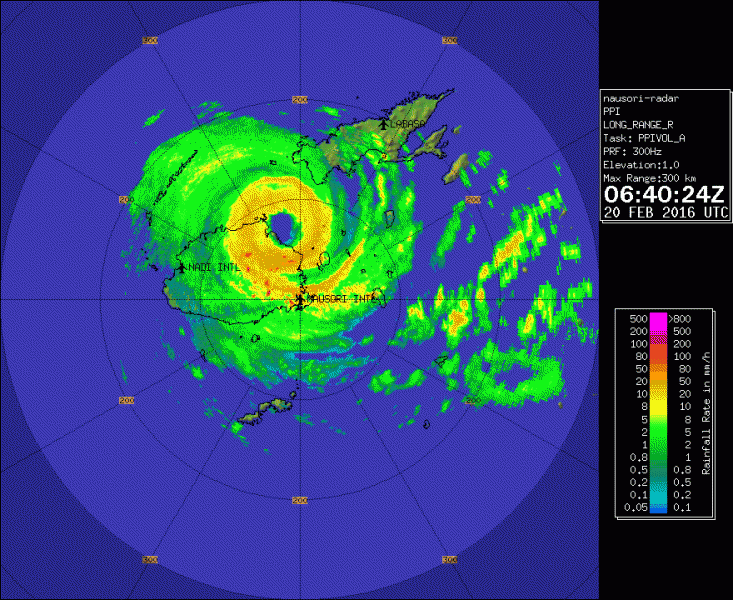 Radar image at 7:40pm showing TC Winston about to make landfall in Viti Levu, Fiji
More recent radar imagery shows the eye has continued moving west across the far north of the Island.
State of Natural Disaster
The Fiji Times has reported the Government of Fiji has declared a State of Natural Disaster for Fiji, and that the declaration will remain in effect for the next 30 days. The times also reported that a curfew was imposed from 6pm "for the safety of people during the period of Hurricane Winston".
Latest Warning from Fiji Metservice
The Special Weather Bulletin posted soon after 8pm this evening included the following summary;
A HURRICANE WARNING REMAINS IN FORCE FOR SOUTHERN HALF OF VANUA LEVU, NORTHWESTERN HALF OF VITI LEVU FROM KOROLEVU TO KOROVOU,YASAWA AND MAMANUCA GROUP AND OVALAU.
A STORM WARNING REMAINS IN FORCE FOR THE REST OF VITI LEVU, YASAWA AND MAMANUCA GROUP, KORO, NAIRAI, GAU AND BATIKI.
A GALE WARNING REMAINS IN FORCE FOR THE REST OF FIJI.
A DAMAGING HEAVY SWELL WARNING REMAINS IN FORCE FOR LOW LYING COASTAL AREAS OF FIJI.
A HEAVY RAIN WARNING REMAINS IN FORCE FOR FIJI.
The worst conditions were expected in the "southern hald of Vanua Levu, northwestern half of Viti Levu from Korolevu to Korovou, Yasawa and Mamanuca Group and Ovalau" as follows;
EXPECT VERY DESTRUCTIVE HURRICANE FORCE WINDS WITH AVERAGE SPEED OF 220KM/HR AND MOMENTARY GUST TO 315KM/HR. HEAVY RAIN AND SQUALLY THUNDERSTORMS. DAMAGING HEAVY SWELLS. FLOODING INCLUDING WITH SEA FLOODING OF LOW LYING AREAS.
Forecast track
TC Winston is forecast to move west-southwest over the next 12 to 24 hours, passing close to Nadi early tomorrow morning, before curving more towards the south as it moves away from Fiji late Sunday. The latest forecast track map from RSMC Nadi is shown below;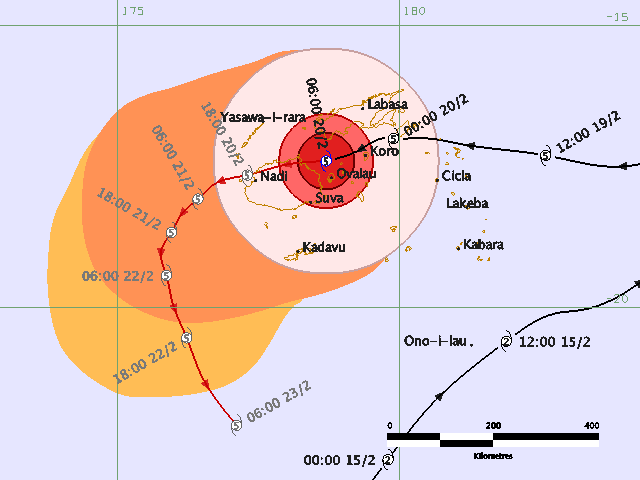 Forecast track map for TC Winston from RSMC Nadi based on its analysis position at 7pm (note, times in the above image are UTC)