By MetService Communications Meteorologist Lisa Murray
Please note: all times listed below are New Zealand local time
Infrared satellite image (indicating cold cloud top temperatures) showing the location of TC Winston at 3.50pm Thursday 18th February 2016.Note the circle in centre of the TC showing clearly the eye of the storm.
History
Tropical Cyclone (TC) Winston was named by RSMC Nadi at 1pm on February 11th, located to the east of Vanuatu.  Since then, TC Winston has tracked southeast before turn northeast and is now about to head westerly.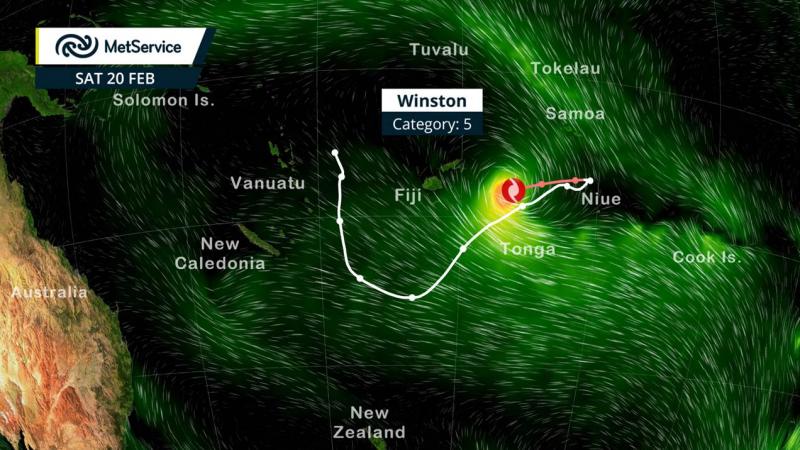 Historical track (white) and forecast track (red) of TC Winston up to Saturday 20 February 2016.  Image created by MetService on WeatherScape. Winston is expected to intensify to a severe category 5 cyclone.
Today
TC Winston was located at 17.0S 170.6W west northwest of the island of Vava'u and northeast of Niue this morning (Thursday 18th February). The central pressure of the cyclone was estimated to be 957 hPa, making it a Category 3 cyclone, and it has started moving in a westward direction and is intensifying rapidly, soon to be a Category 4 cyclone. Winds close to the centre of the cyclone were estimated to be around 157 km/h and strengthening.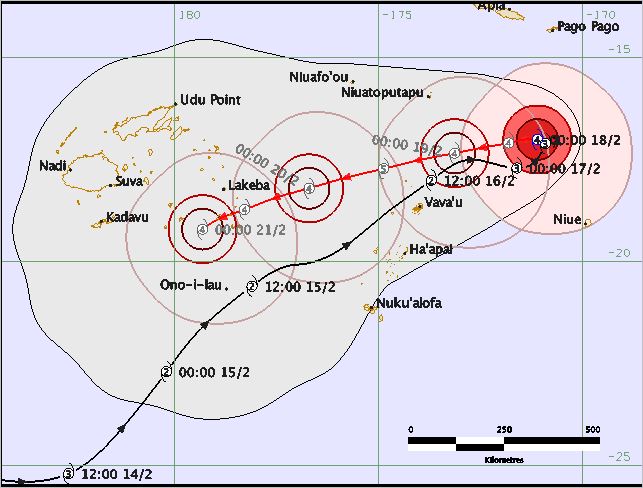 Forecast track for TC Winston from RSMC Nadi's (Fiji Meteorological Service).
Future track
Over the next 24 hours TC Winston is expected to intensify to a category 5 tropical cyclone. The tropical cyclone is expected to continue to move west southwest direction.
Impact on NZ
There are currently no direct impacts expected for New Zealand as TC Winston moves westward. In the future there is chance that the track will move southerly, with most tracks to the east of New Zealand. MetService meteorologists are monitoring this tropical cyclone closely and provide tropical updates daily via the Tropical Cyclone Activity page on metservice.com where you can also see hourly satellite imagery.
With tropical cyclones there is always some uncertainly associated with the tracks they will take, so we advise people in New Zealand and planning travel to the Pacific to keep up to date with the latest forecasts and any severe weather warnings at http://metservice.com/warnings/severe-weather-warnings. We will post further updates on TC Winston in the coming days, and as always, you can keep up to date with the latest forecasts and warnings at metservice.com.
The World Meteorological Organization (WMO) Tropical Cyclone Programme has been established to help emergency managers and the public prepare for tropical cyclones and minimise the loss of life and damage they can cause.  Under this programme, MetService is designated as the Wellington Tropical Cyclone Warning Centre (TCWC) south of 25S and, together with Regional Specialised Meteorological Centre (RSMC) Nadi north of 25S, is responsible for official warnings and advisories for tropical cyclones in the South Pacific.  Any severe weather effect(s) for New Zealand caused by tropical cyclones will be included in Severe Weather Warnings, Watches and Outlooks, as well as marine warnings and forecasts.