By MetService Meteorologist Ciaran Doolin
Note: all times listed below are New Zealand local time
History
Tropical Cyclone Victor (TC Victor) was named by RSMC Nadi on Friday 15 January, located near the Northern Cook Islands.  Since then, the cyclone tracked between Niue and the Southern Cook Islands, then turned west and headed past Tonga before finally heading southwest towards New Zealand.
At 1 am Saturday 23 January TC Victor was reclassified by RSMC Nadi as a Tropical Low, and in the last 24 hours it has undergone a transition from a tropical to a mid-latitude low.
Today
Cyclone Victor is currently located approximately 150 km east of Raoul Island (1100 km northeast of Cape Reinga) and is moving slowly west-southwest. The low center should pass just south of Raoul this evening.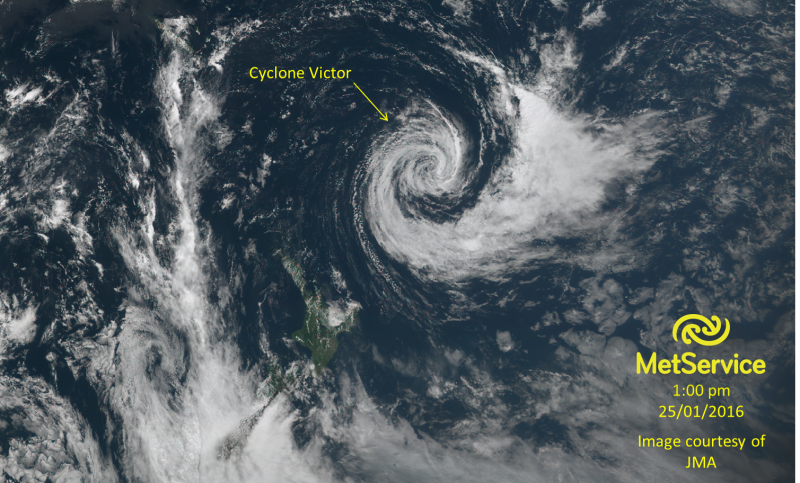 Satellite image showing the location of Cyclone Victor at 1:00 pm, Monday 25 January 2016.
Future track
The computer models are fairly consistent with respect to the track of Cyclone. It is expected to move slowly southwards towards East Cape on Wednesday and should then pass east of the North Island during Thursday.
Impact on NZ
Victor is forecast to bring rain to the east of the North Island and northeast of the South Island from Wednesday. Heavy falls are possible for Gisborne and Hawkes Bay, especially about the hills and ranges, where rainfall amounts may exceed warning criteria. However, the intensity of the system is still rather uncertain, and although moderate swells and a period of south to southeast gales to eastern and southern parts of the North Island and north-eastern parts of the South Island are possible, these forecasts may be subject to change. People are advised to monitor the latest forecasts and any Severe Weather Watches or Warnings that may be issued at http://metservice.com/warnings/severe-weather-warnings.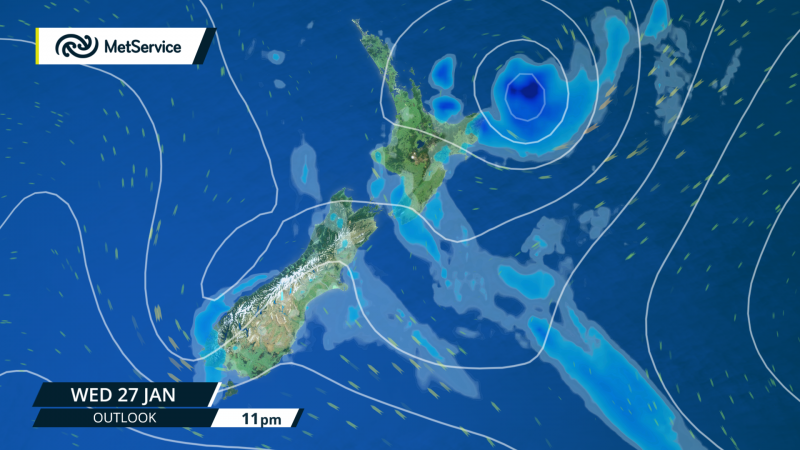 Forecast surface pressure and rain fields associated with Cyclone Victor at 11 pm, Wedensday 27 January 2016.
We'll post further updates on Cyclone Victor on Facebook and Twitter, and as always, you can keep up to date with the latest forecasts and warnings at metservice.com.