Tropical Cyclone ULA
by Meteorologist Peter Little
Please note: all times listed below are New Zealand local time.
Since yesterday
TC ULA has continued to move south-southeast, while weakening. As of 1pm on the 12th of January 2016, it was located 940km north-northwest of Cape Reinga. The central pressure of the cyclone was estimated to be 985 hPa, making it a Category 2 cyclone. It was moving to the south-southeast at approximately 25 km/h. Winds close to the centre of the cyclone were expected to be around 95 km/h.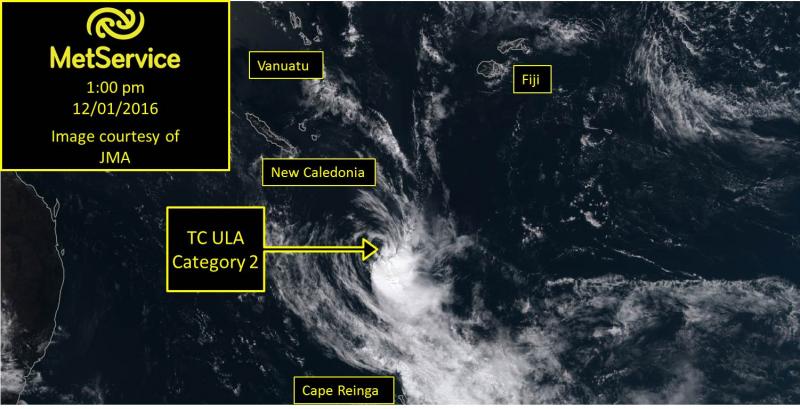 Satellite image showing the location of TC ULA, as of 1pm on Tuesday 12th January
Future track
RSMC Wellington (MetService) took over responsibility from RSMC Nadi for issuing warnings on TC ULA at 1am this morning, and will continue to issue high seas warnings on TC ULA every 6 hours whilst it remains a cyclone. MetService Meteorologists expect TC ULA to continue tracking towards the southeast over the next 24 hours, while continuing to weaken as it moves southwards over colder waters. This is shown in the forecast track map below.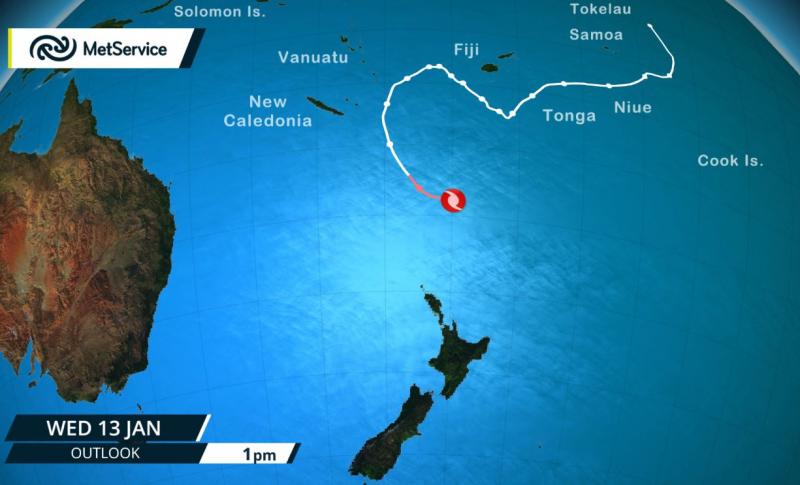 Historic (white) and forecast (pink) track of TC ULA produced by RSMC Wellington (MetService)
TC ULA is expected to be approximately 740 kilometres north-northwest of Cape Reinga by 1pm Wednesday. As TC ULA continues to move southwards it will transition from a tropical cyclone, to an extra-tropical depression (low pressure system). Later in the week, after this transition has taken place, there remains some uncertainty regarding where the remains of Ula will track. It is expected to slow down, then possibly re-curve westwards before being captured by a mid-latitude trough moving across the Tasman Sea. A range of possible future tracks are shown in the graphic below.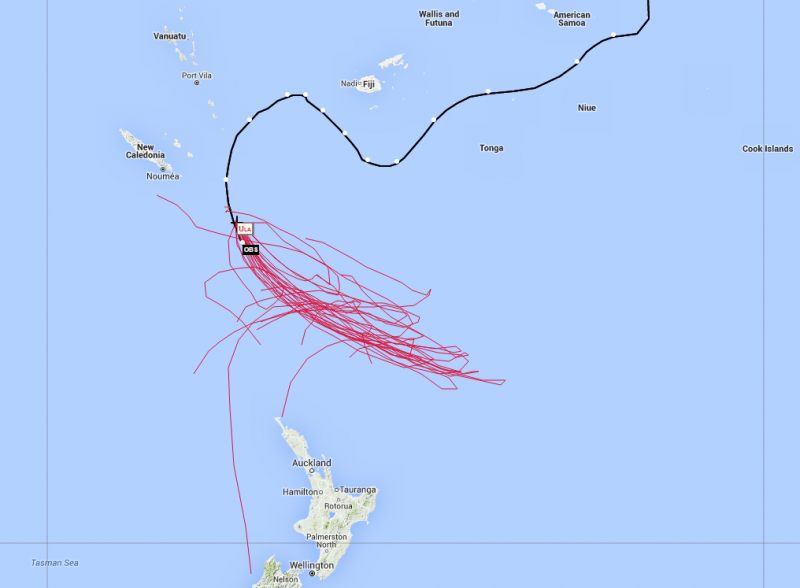 Range of possible future tracks for TC ULA based on GEFS data.  Image from NOAA Earth System Research Laboratory.
Impact on NZ
As TC ULA is expected to remain north of New Zealand for the next few days, the worst of the wind and rain associated with this cyclone is expected to remain offshore. However, MetService meteorologists will continue to monitor TC ULA as it moves southwards. You can keep up to date with TC ULA by looking at our Tropical Cyclone Activity Page where you can see hourly satellite imagery. You can also see our Severe Weather Outlook on metservice.com, and keep an eye on our Severe Weather Watches and Warnings, which will be issued if needed. We will continue to post blog updates on TC ULA as well.