Tropical Cyclone Hola Update - Issued 8th March 2018
By MetService Senior Meteorologist Lisa Murray with contribution from Nick Zachar, Lead Meteorologist.
Please note: all times listed below are New Zealand local time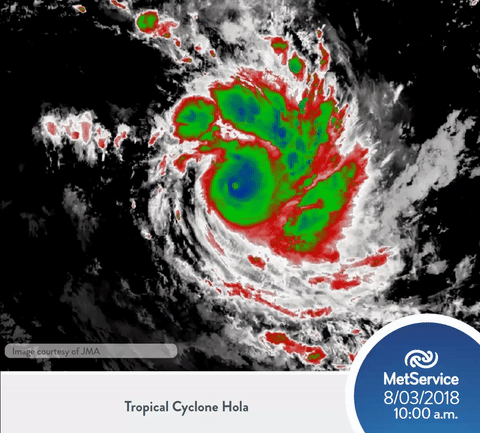 History
Severe Tropical Cyclone (TC) Hola began its lifecycle on 4th March as a tropical disturbance, located about 325nm northeast of Port Vila, Vanuatu. Over the next couple of days, the system moved slowly to the west-southwest towards Vanuatu while gradually strengthening. RSMC Nadi officially named Tropical Cyclone Hola in the early morning hours of 7 March as mean wind speeds around the centre reached the 65 km/hr criteria. Shortly thereafter, TC Hola moved west across the central Vanuatu islands of Ambrym and Malekula, producing gale-to-storm force winds for those areas, along with torrential rainfall amounts which resulted in flooding and landslips. The tropical cyclone was upgraded to a Severe Category 3 system with winds of 120km/hr early this morning west of Malekula Island, and TC Hola has continued to intensify during its westward journey, now being classified as a Category 4 Tropical Cyclone.
Forecast
RSMC Nadi is forecasting TC Hola to reach Category 5 status tomorrow (Friday) as the cyclone becomes slow-moving between Vanuatu and New Caledonia. Current forecast tracks indicate the system will recurve on Friday before moving southeast.
Once it passes 25S MetService become responsible for all Tropical Cyclone Advisories and Bulletins as we are the official Tropical Cyclone Warning Centre (as per WMO) for New Zealand; currently the Fiji Meteorological Service are responsible for these. This handover is expected to happen during the weekend.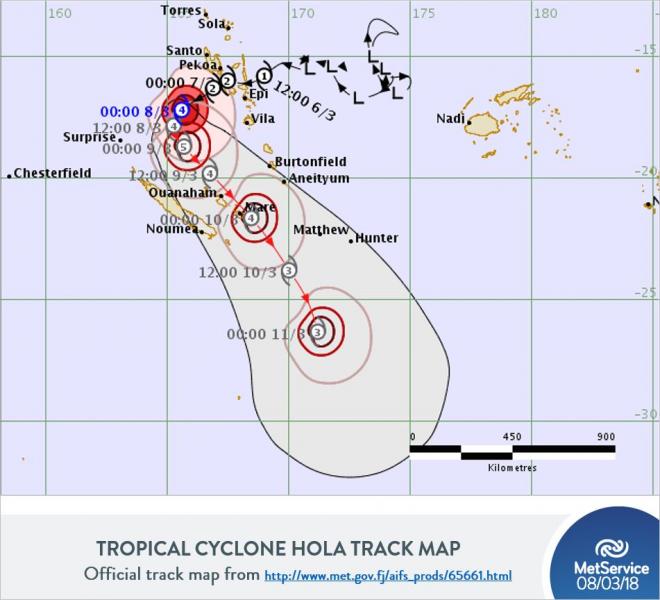 Track of TC Hola Thursday, 8th March 2018.  Image thanks to Fiji Meteorological Service.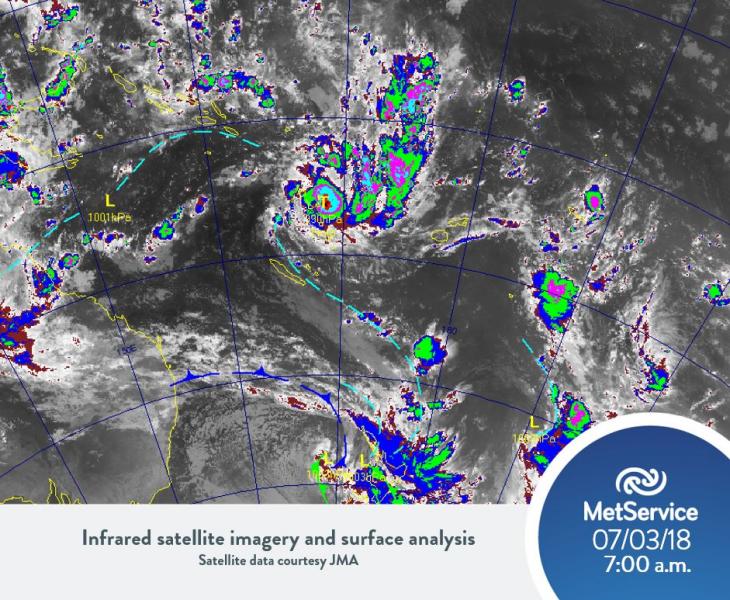 Satellite image showing the location of TC Hola at 7am, 7th March 2018.
Future track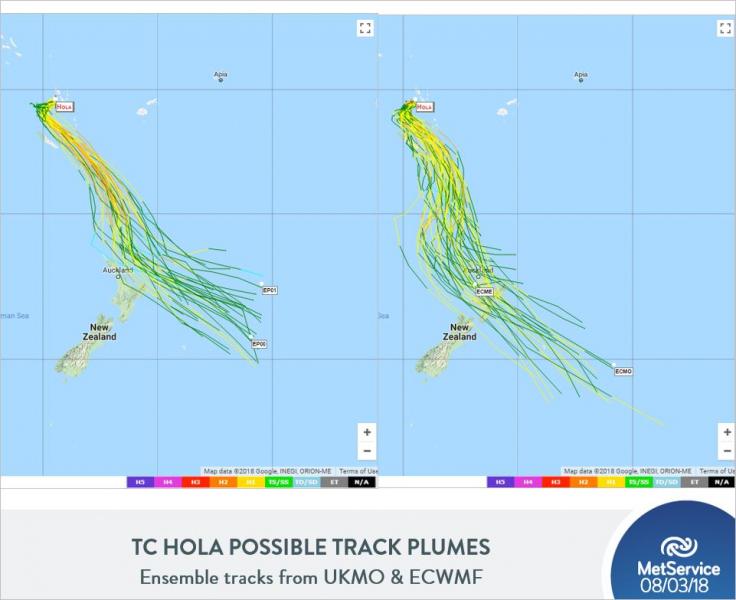 Range of possible future tracks for TC Hola based on ECWMF and UKMO data.  Image from NOAA Earth System Research Laboratory.
Impact on NZ
MetService meteorologists are monitoring TC Hola closely and provide tropical updates daily via the Tropical Cyclone Activity page  where you can also see hourly satellite imagery. As the cyclone moves closer to New Zealand and over colder waters, it will undergo transformation into a mid-latitude depression but will still have strong winds and heavy rain associated with it.
Tropical Cyclone tracks are difficult to forecast and it is too early to be certain about the track of this system as it passes over New Zealand waters but a number of the global weather models are indicating that it could pass near the upper North Island on Monday (passing close to NZ but along the northeast, with rain starting in Northland very late Sunday. Impacts could continue into Tuesday but exact details of impacts are uncertain. The Severe Weather Outlook Map at http://bit.ly/SWOutlook on metservice.com shows the areas we are currently concerned about.
The MetService TC Bench are keeping a close eye on developments 24/7 and will issue Severe Weather Watches and Warnings for any areas which could see any severe weather associated with this event, along with press releases and updates on social media. We'll post further updates on TC Hola in the coming days, and as always, you can keep up to date with the latest forecasts and warnings at metservice.com.
You can also watch the latest Tropical Cyclone video at  http://bit.ly/metservicetv