Tropical Cyclone Gita
By MetService Senior Meteorologist, Lisa Murray, 14 February 2018
Please note: all times listed below are New Zealand local time
History
Tropical Cyclone Gita (TC Gita) was named by RSMC Nadi at 5pm on Friday 9th February, located to the west of American Samoa and initially a Category 1 tropical cyclone. Since then, TC Gita has tracked to the south of American Samoa before curving to pass near Niue and then westward directly over Nuku'alofa (southern Tonga), as a Category 4 tropical cyclone.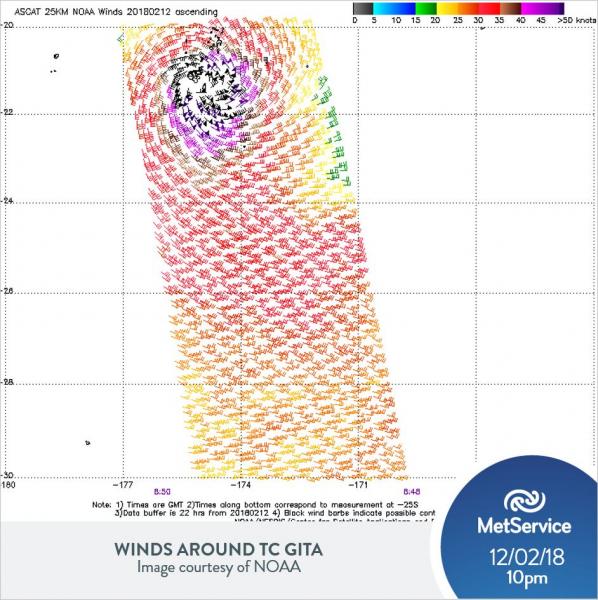 Image shows winds (in knots) associated with Tropical Cyclone Gita as it passes over Tonga as a Category 4 TC.
A state of emergency was declared prior to the cyclone hitting Tonga and the power in Tonga was turned off as a precaution before it hit, with the last weather observation recorded around 8.35pm showing winds building to gale mean speed and gusts of over 100km/h. As the TC moved over Tonga, the mean wind speed could potentially have reached between 165-205km/h (consistent with the definition for a Category 4 system), with gust strength well exceeding this. The damage to Tonga and impact on the Tongan people was extensive. See some of the media images below.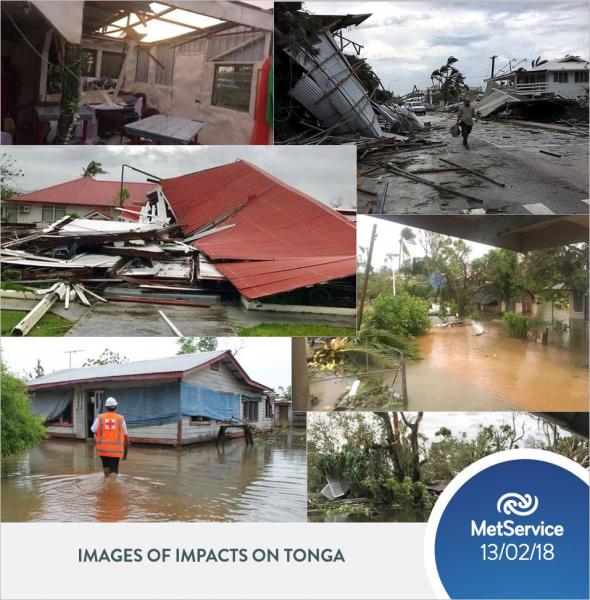 TC Gita delivered very heavy rain and large waves, accompanied with hurricane-force winds as well as storm surges from wind, but also a lowering of central pressures as it passed pretty much over Nuku'alofa (southern Tonga).
TC Gita continued west from Tonga, steered by an upper high lying to south of it, and intensifying to a category 5 tropical cyclone.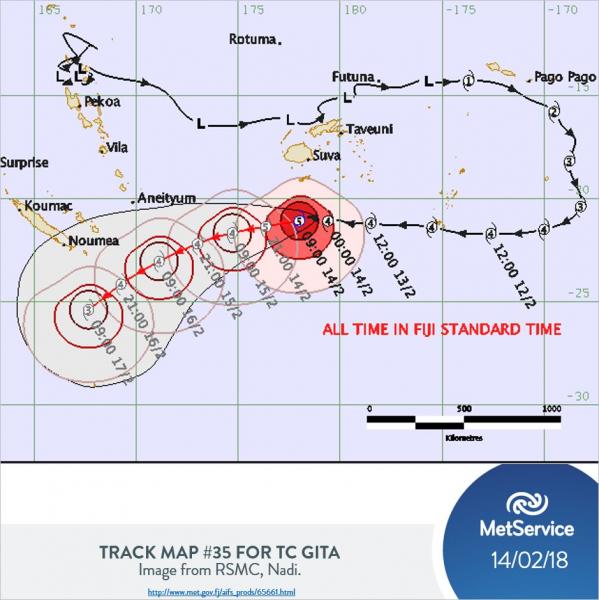 This table gives a simplistic outline of how tropical cyclones are categorised, but has associated mean wind speeds. Note that wind gusts (which are higher than the mean wind speed) are not included in this table.
Today (Wednesday 14 February 2018)
TC Gita is still a Category 5 tropical cyclone (as of 1pm Wednesday 14th 2018), with a central pressure estimated at 928hPa and located near 21.1 South 177.6 East and the centre passing 220 kilometres south of Kadavu, Fiji. Close to its centre, average wind speeds are up to 206km/h with gusts up to 285km/hr. The cyclone is moving west at about 17km/hr.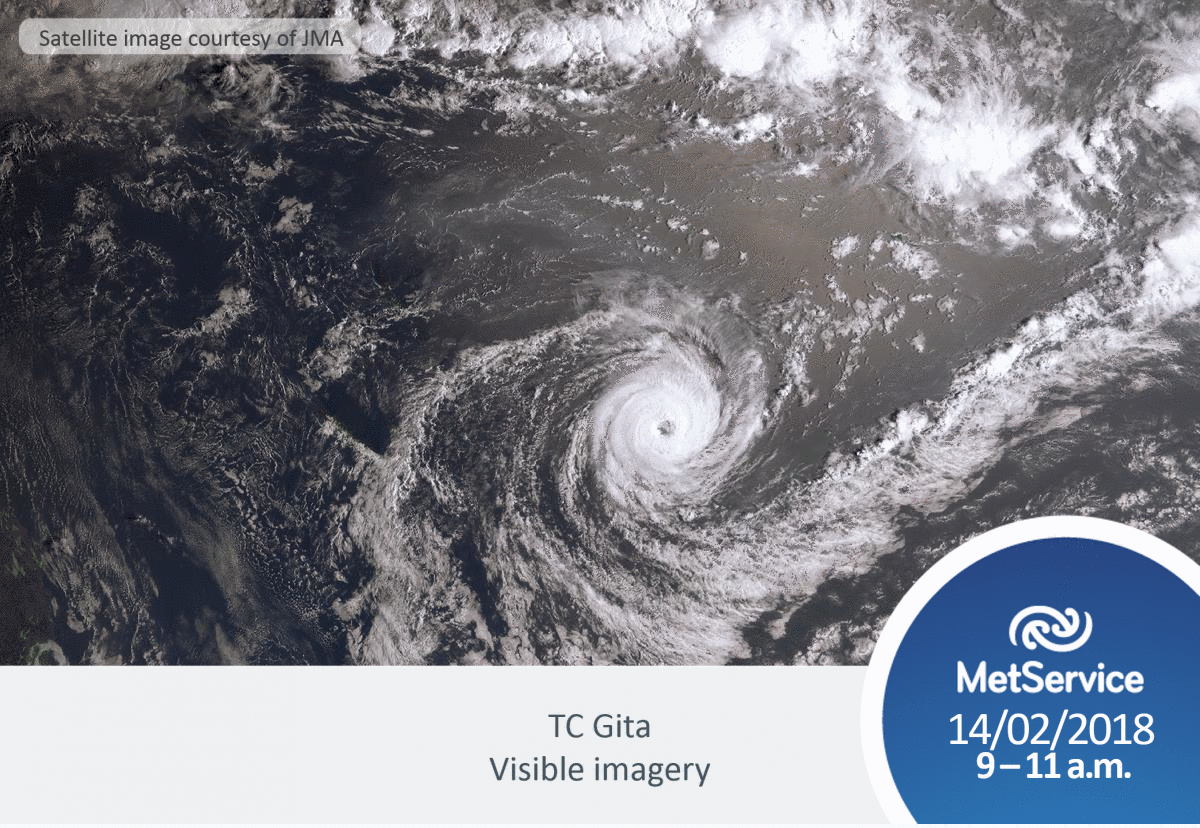 Future track
TC Gita is expected to continue moving west-southwest over waters south of Viti Levu during the next 24 hours, and weaken slightly tomorrow. 
The cyclone is still evolving, so model guidance is adjusting to those changes run by run. Current weather models are forecasting for TC Gita to re-curve during Sunday and Monday over the north Tasman Sea as it approaches an upper trough, and then move southeast. When Gita passes below 25S, MetService's Tropical Cyclone Warning Centre will take over responsibility from RSMC Nadi for issuing all tropical cyclone advisories and bulletins.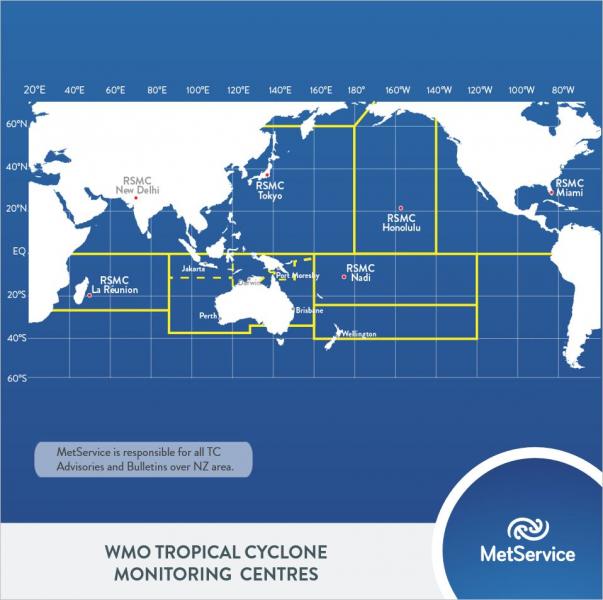 Impact on NZ
How far west the system gets before turning southeast will determine the final track and impacts on New Zealand. MetService meteorologists are monitoring TC Gita closely and providing tropical updates daily on the Tropical Cyclone Activity page on metservice.com, where you can also see hourly satellite imagery. 
At this stage, there is a large amount of uncertainty with regards to the future speed, position and strength of TC Gita. For example, the image below shows a range of possible tracks from one of the global weather models (ECWMF).  We advise people to keep up to date with the latest information and forecasts, including the tropical update at http://www.metservice.com/warnings/tropical-cyclone-activity and Severe Weather Warnings at http://metservice.com/warnings/severe-weather-warnings
If there is any expected severe weather impacts for New Zealand, MetService will contact regional councils and MCDEM, issue the country's official Severe Weather Warnings and Watches, issue media releases and post updates on social media.
We'll post further updates on TC Gita over the coming days and, as always, you can keep up to date with the latest forecasts and warnings at metservice.com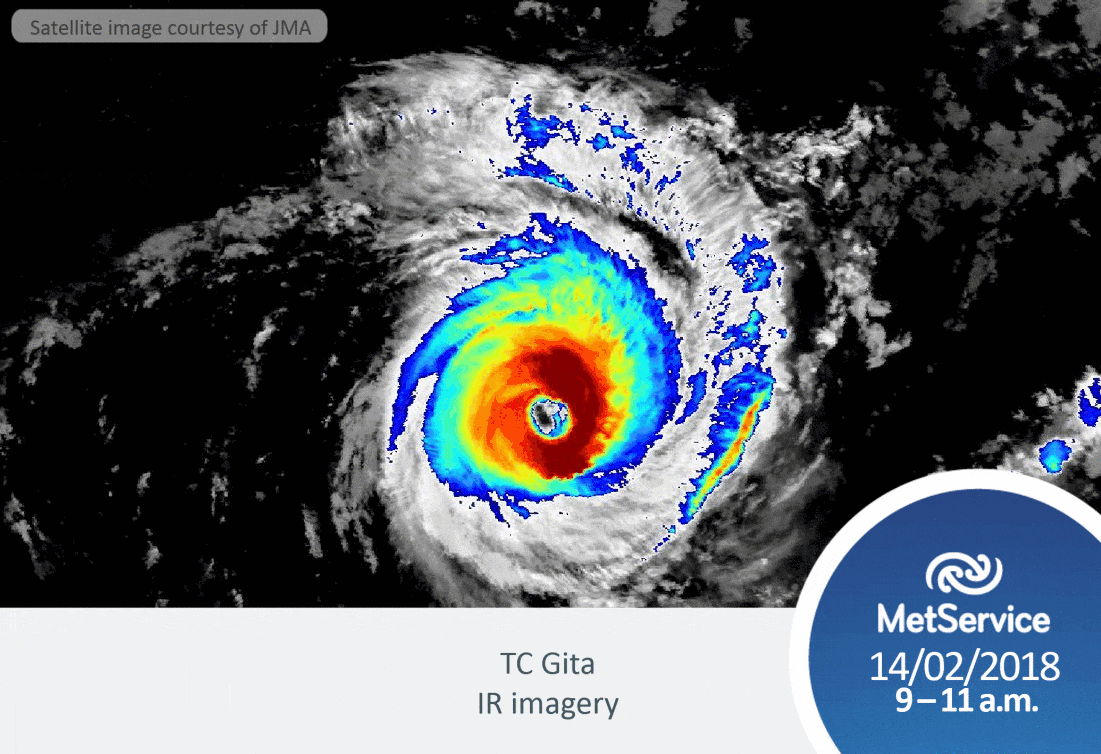 For more information:
MetService Tropical Cylone Gita Update Wednesday 14 February 2018: https://www.youtube.com/watch?v=5oJdEb3tUxo 
All MetService TV Tropical Cyclone and Pacific forecast videos: http://www.metservice.com/tv/ 
Tropical Cyclone activity page  http://bit.ly/TropicalCycloneActivity
General information on tropical cyclones http://bit.ly/TropicalCycloneInfo
RSMC Fiji updates before system moves past 25S: http://www.met.gov.fj/aifs_prods/65661.html