Cyclone Cook Update 13/4/2017
By Arno Dyason, Meteorologist.
Cyclone Cook has arrived in New Zealand coastal waters Thursday morning and MetService is following its movement very closely. Widespread rain continues over large parts of the country, although the heaviest and most significant falls remain closely wrapped around the low centre. MetService's rain radar indicates that this area contains very heavy rainfall, which has moved onto Coromandel Peninsula and Bay of Plenty Thursday afternoon ahead of the low centre Thursday evening.
At the same time, damaging severe gales will accompany the low centre with wind gusts of 150km/h or more possible. In addition, swell of five metres or more is expected with this event in the northeast of the North Island, before heading to the south coast of the North Island tonight, and when you add this to the strong winds we can expect very high waves. Sea conditions will be dangerous and large waves may lead to coastal inundation and erosion.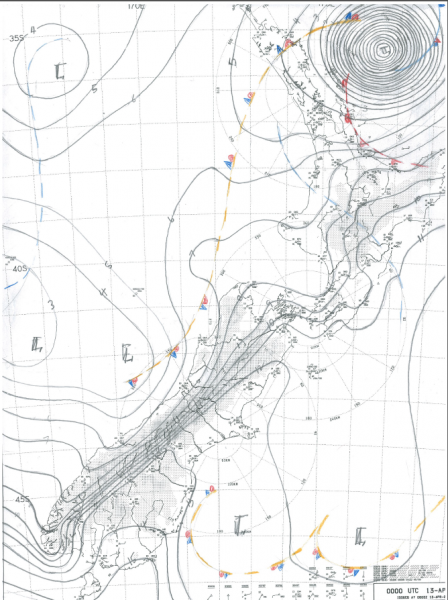 A hand-drawn analysis of surface pressure indicating where Cyclone Cook was sitting at 12pm on Thursday 13 April 2017.
Cyclone Cook is set to track southwards at a fast pace, bringing severe weather further south while clearing from the north and leaving more settled weather in its wake. The low centre is expected to sit over the lower North Island late tonight or early Friday morning, then track just offshore down the east of the South Island for the remainder of Friday.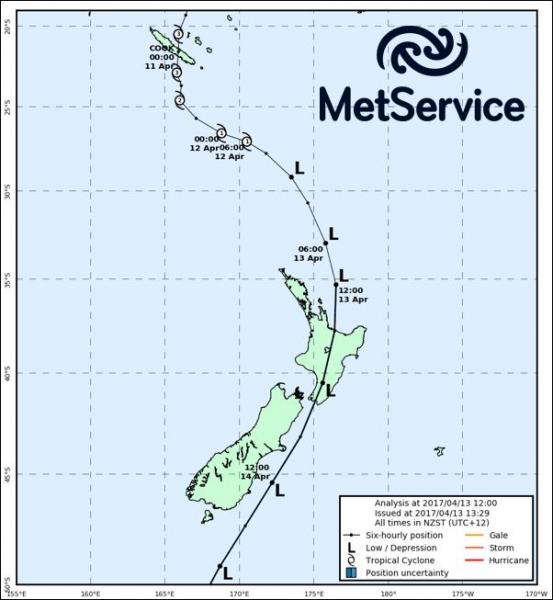 A forecast track of Cyclone Cook, sitting over the lower North Island at midnight Thursday, then east of Dunedin midday Friday.
Most regions remain under a Severe Weather Watch or Warning today and tomorrow as heavy rainfall and strong winds are also expected further away from the centre of the cyclone.
Cyclone Cook's arrival in New Zealand is a very significant event due to the severity of the storm and people are advised to take extreme care. People should prepare for the possibility of flooding, landslips, wind damage to powerlines, property and large trees. Also, motorists should be prepared to change their travel plans if necessary as driving could become hazardous during the severe weather period. MetService advises people to stay up-to-date with the latest Severe Weather Information at http://bit.ly/AllWarnings.
Posted by Lisa Murray, Communication Meteorologist.