MetService Barbeque Index
By Communication Meteorologist, Lisa Murray
Many of you have told us that you enjoy our Barbeque Index, which we use on our social media posts (on Facebook as MetService New Zealand and on Twitter as @MetService).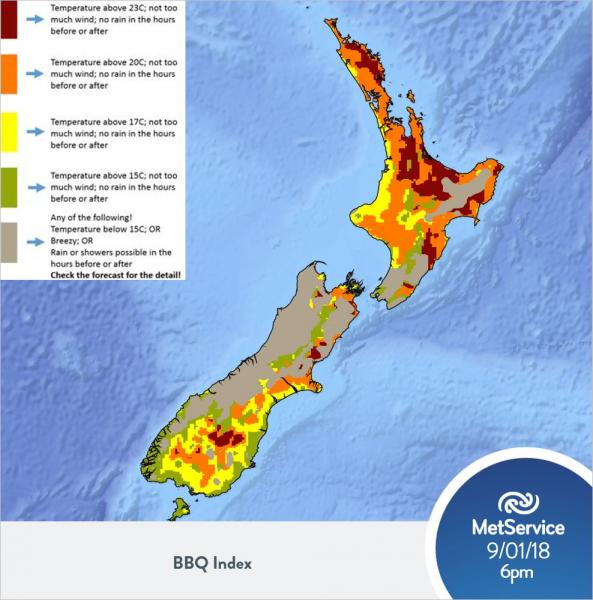 BBQ Index for Tuesday evening 9th January 2018 at 6pm
To help you find those great BBQ days, MetService has teamed up with New World to adapt the countrywide map to an 'at-that-spot' BBQ index direct to your mobile device. So, it's handy for checking what supplies you need from the supermarket while you are on the go!

The BBQ index is now live on our mobile website m.metservice.com and MetService app. It is sponsored by New World from the 8th – 21st January 2018 to tie in with their Weber Baby Q giveaway. (Note that the index is not going to appear on the main website for now).  

The index uses a combination of information to give a BBQ weather forecast for the afternoon and evening of the current day.  Why not grab your phone now and check if you should be firing up the barbeque this evening, (but don't forget to check your local council website for fire ban information!)
How we calculate our BBQ Index:
Basically, we take the afternoon and evening icons which are chosen by meteorologists, then add in forecast temperature and wind speed and roll those up into a 4-level index for each town or city location.
To give you a rough idea:
If you get an 'Awesome', then your town has a Fine or Part cloudy icon, wind of less than 20km/h and temperatures greater than 20C.
If you get an 'Choice', your town has a combination of Fine or Part cloudy icon, wind of less than 30km/h and a temperature greater than 15C.
If you get a 'Hmmmm', your probably have a combination of Cloudy or Few showers icon, with wind 30-39km/h, and temperature less than or equal to 15C.
If you get a 'Yeah, nah', it is because your town has one or a combination of a Wet icon, wind of greater than 40km/h and a temperature less than 15C.
The final step was to assign points to certain values of each piece of data – for example, 'fine and partly cloudy' get the highest point rating for icons; temperatures above 25C get the highest point rating for temperature; etc.
So in summary:
Hope you get an 'awesome'! ^Lisa