MetService Barbeque Index
By Communication Meteorologist, Lisa Murray
Many of you have told us that you enjoy our Barbeque Index, which we use on our social media posts (on Facebook as MetService New Zealand and on Twitter as @MetService).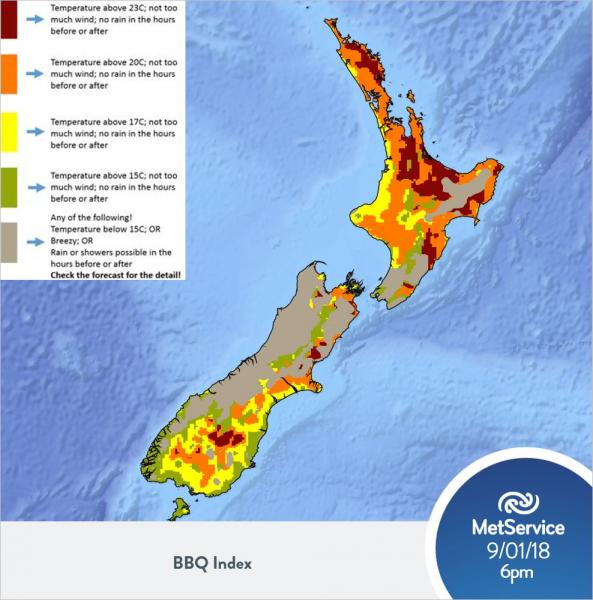 BBQ Index for Tuesday evening 9th January 2018 at 6pm
To help you find those great BBQ days, MetService has teamed up with Z Energy to adapt the countrywide map to a BBQ index. The map will be seen on Saturday the 12th of Jan on the MetService website homepage, so it's handy for checking what supplies you need while you are on the go! The index uses a combination of information to give a BBQ weather forecast for the afternoon.  Why not check out if you should be firing up the barbeque on Saturday, (but don't forget to check your local council website for fire ban information!)
How we calculate our BBQ Index:
Basically, we take the forecast information for the afternoon including wind speed, temperatures as wind chill can be a factor when hanging out around the BBQ. We also look at if there is cloud or any rainfall expected from midday to 6pm, as rain has be the biggest reason to cancel a BBQ (according to a survey of the meteorologists in the forecast room).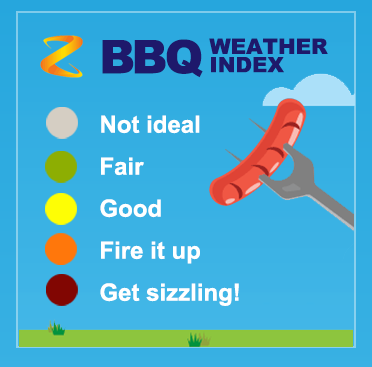 To give you a rough idea:
If you get a 'Get sizzling', then it is forecast to be Fine or Part cloudy, with relatively light winds of about or less than 15km/h and temperatures greater than 20C.
If you get a 'Fire it up', then the forecast is for Fine or Part cloudy, wind of less than 20km/h and/or a temperature greater than 15C.
If you get a 'Good', there is probably Cloud in the forecast or Chance of a shower, with breezy wind, and/or cooler temperatures than is pleasent when sitting around the BBQ, with temperatures greater or less than 15C.
If you get a 'Fair', the forecast will probably have Cloud in the forecast or a Chance of a Shower or two, with fresh winds and a chance of some stronger gusts, and/or temperature less than or equal to 15C.
If you get a 'Not ideal', it is because the forecast is Wet, wind of greater than 40km/h and/or a temperature less than 15C.
Hope you get some good weather.  ^Lisa