Around midday on Thursday 6 December an active trough line passed slowly through Auckland. One of these thunderstorm cells contained a tornado which touched down near Hobsonville, tragically killing three people.
This blog post has been set up to keep you informed of the latest developments in this weather system as it travels south-east from Auckland.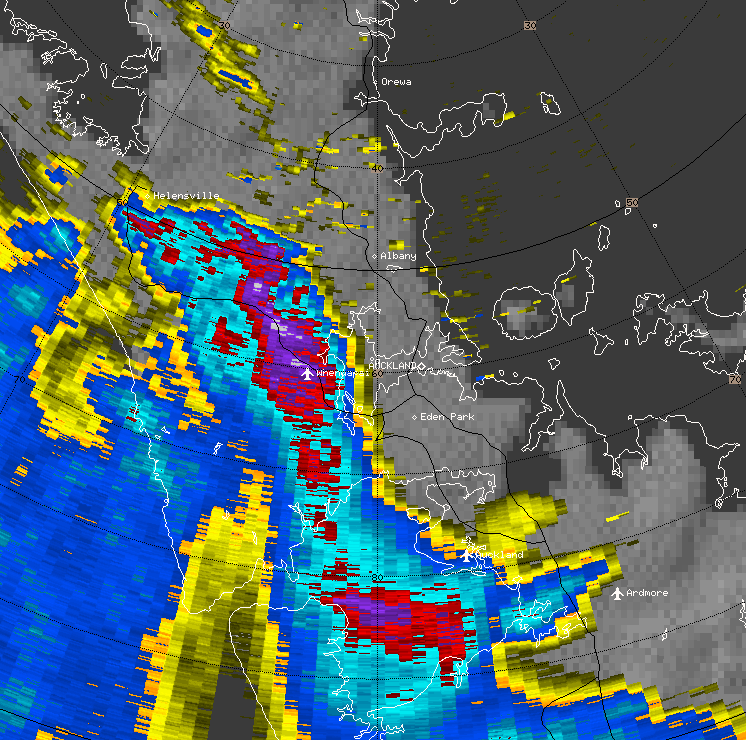 Situation update as at 9.30am 7 December 2012
Further squally showers and one or two thunderstorms are expected in the West from Auckland to the Kapiti Coast today. We could see gusts to 110km/hr accompanying heavy showers. There is also a potential for small hail to 10-15mm. Showers clear overnight and the weather looks mostly dry for Auckland over the weekend.
Update as at 6.00pm 6 December 2012
Severe Thunderstorm Watches and Severe Thunderstorm Warnings have been lifted. This is the last blog update for today, but keep an eye out for tomorrow's weather as there are still Severe Weather Warnings and Watches in place for heavy rain and gales in places. The Severe Thunderstorm Outlook is still in place here: http://metservice.com/national/warnings/severe-thunderstorm-outlook
Update as at 5.00pm 6 December 2012
A report of a tornado in Ngongotaha refers to part of the same system that struck Hobsonville earlier in the day, and has been the subject of Severe Thunderstorm Warnings. This cell is now moving over Mahia and out to sea.
Update as at 4.30pm 6 December 2012
The last active thunderstorm is moving in towards Lake Waikaremoana and is expected to dissipate. The remainder of eastern Waikato and BOP are still experiencing some heavy showers and occasional thunderclap, but this is expected to clear during the evening.
Update as at 3.30pm 6 December 2012
The active line of showers and thunderstorms is expected to clear Auckland CBD by 3.30pm. Active thunderstorms are now moving into the Bay of Plenty and there are Watches and Warnings in place. The whole system is then expected to clear the North Island later this evening.
A different system is also expected to bring active showers and possible thunderstorms to Taranaki from late evening.
Severe Thunderstorm Outlook map issued at: 2:52pm Thursday 6 Dec 2012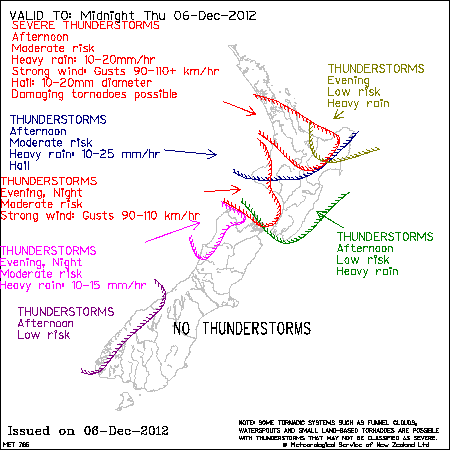 We will update this blog again before 5pm. Further updates will then be available through Watches and Warnings, as well as on our Facebook page and on Twitter.
Where to find the latest information from MetService:
Latest Severe Thunderstorm Warnings here: http://metservice.com/national/warnings/severe-thunderstorm-warnings
Rain radar here: http://metservice.com/national/maps-rain-radar/rain-radar/all-new-zealand
Latest Severe Thunderstorm Watches here: http://metservice.com/national/warnings/severe-thunderstorm-watch
Latest Severe Thunderstorm Outlook here: http://metservice.com/national/warnings/severe-thunderstorm-outlook
Latest Severe Weather Warnings here: http://metservice.com/national/warnings/severe-weather-warnings
Latest Severe Weather Watches here: http://metservice.com/national/warnings/severe-weather-watch
Latest Severe Weather Outlook here: http://metservice.com/national/warnings/severe-weather-outlook
Check our Facebook page here: https://www.facebook.com/MetService
Follow @MetService on Twitter here: https://twitter.com/MetService