For the South West Pacific, tropical cyclone season is said to begin in November and continue right through to April the following year. However, the weather doesn't follow a rigid calendar and tropical cyclones have been known to form as early as October and as late as the month of June.
Around the globe, the monitoring and forecasting of tropical systems is looked after by a Regional Specialized Meteorological Centre (RSMC) or a Tropical Cyclone Warning Centre (TCWC), depending on the location of the cyclone. TCWC Wellington, based at MetService, looks after the area that extends from 160E to 120W and between 25S and 40S. Although it is very rare for any tropical cyclones to form in TCWC Wellington's area of responsibility, fully-fledged tropical cyclones do arrive from the Brisbane or Nadi areas and they may retain their cyclone status until 30S. Sometimes an ex-tropical cyclone will approach New Zealand and Severe Weather Watches and Warnings need to be issued. Even if land areas are not affected, warnings are issued for vessels over the open sea.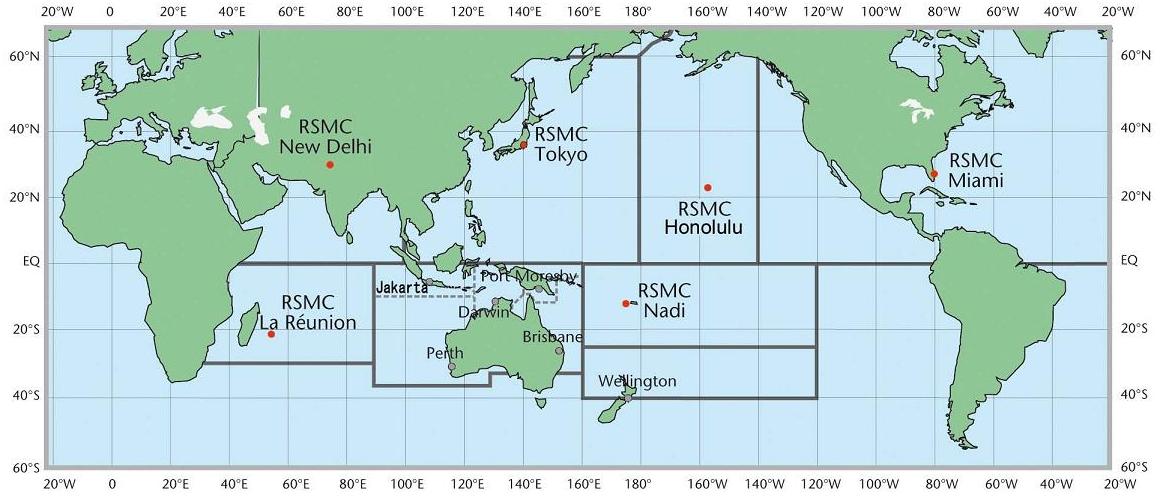 Our neighbouring TCWCs are Brisbane, run by the Australian Bureau of Meteorology, and RSMC Nadi, run by the Fiji Meteorological Service.
Cyclone categories
Cyclones are classified by a Category (Cat) system, numbering Cat 1 to Cat 5 depending on the strength of the winds near the centre of the system:
Cyclone Category

Average Wind Speed (km/h)
Typical Strongest gusts(km/h)
Central pressure(hPa)

1

Gale
63-88
Less than 125
Greater than 985

2

Storm
89-117
125-164
985-970

3

Hurricane
118-159
165-224
970-955

4

Major Hurricane
160-199
225-279
955-930

5

Major Hurricane
Greater than 200
Greater than 279
Less than 930
Forecast for this season
Every year MetService works alongside NIWA as well as national meteorological services from other Pacific nations to produce a Tropical Cyclone Outlook.
Although this Outlook cannot say exactly when or where tropical cyclones will form, it is used as a guide to the expected activity over the South West Pacific. The outlook for 2013-2014 is for a near-average number of tropical cyclones (around nine) to form in the area from the Coral Sea to French Polynesia. Of these, four could potentially reach category 3 or 4. Under the forecast conditions for this season, a category 5 cyclone is unlikely but cannot be discounted. As with all forecasts, the best advice to stay up-to-date with the latest information.
The Australian Bureau of Meteorology (BOM) also produces forecasts for the areas to the north and west of Australia. You can find their latest forecast here.
How does this compare to normal?
On average there are nine tropical cyclones in a season but the actual number can vary greatly. The most active season in the SW Pacific since 1969 was the 1997-98 season when 17 tropical cyclones were recorded: