CHRIS NOBLE, MANAGER PUBLIC WEATHER SERVICES
Now that Cyclone Pam has passed the Chatham Islands, here's a look back at events of the last couple of weeks…
History
Tropical Cyclone Pam began life as a tropical disturbance north of Vanuatu, officially numbered "TD11F" on the 6th March by RSMC Nadi in Fiji.  Over the following days the system slowly strengthened, reaching tropical depression status on 8th March, and following further intensification was named as Tropical Cyclone Pam at 7pm NZDT on 9th March.  Initial forecast tracks suggested TC Pam would continue to intensify and pass between Vanuatu and Fiji, before moving out of the tropics and southeast towards East Cape, New Zealand.
TC Pam strengthened quickly and eventually moved directly across the southern islands of Vanuatu during Fri 13th and Sat 14th March as a powerful category 5 cyclone, causing widespread destruction on some islands, as well as sadly leading to a number of fatalities.  At its peak, just south of Vanuatu, the central pressure reached 896hPa at 1pm NZDT on 14th March, with sustained winds of 250km/h near the centre of the system, making Pam one of the most intense and deadly cyclones on record in the South Pacific.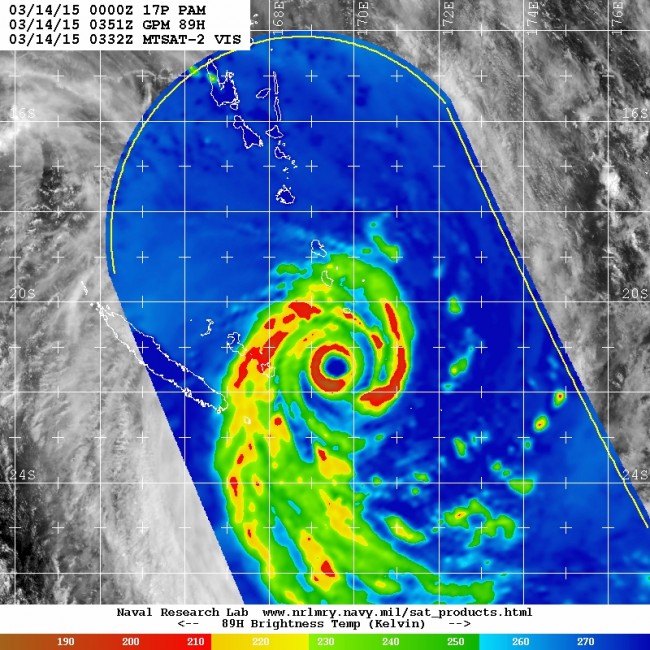 TC Pam Track Map
The full track for Tropical Cyclone Pam, through to 1am this morning (Wednesday 18th March), is shown below. Times in this image are in UTC (add 13 hours for NZDT).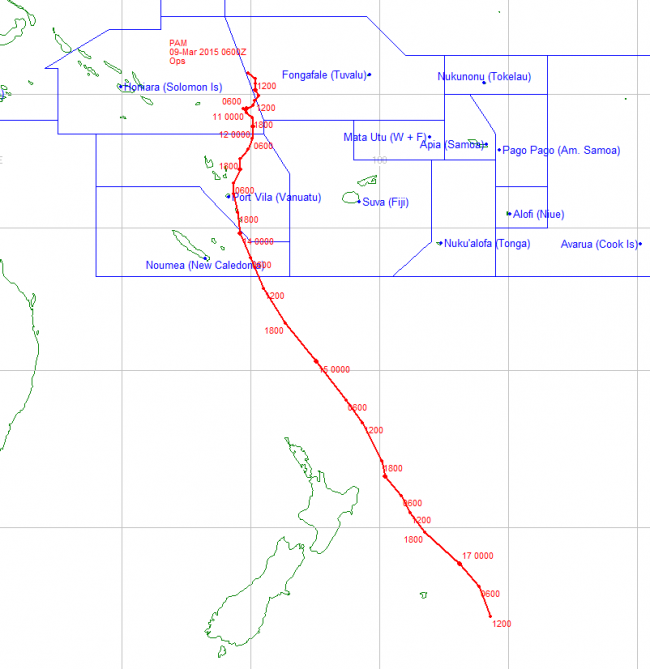 Initial MetService commentary and forecasts for New Zealand
On Monday 9th March, before TC Pam was named, MetService meteorologists began regular issues of both press releases and blog entries to keep New Zealanders up to date with the latest official advice.
By Wed 11th March, two days before TC Pam moved across Vanuatu, the following Severe Weather Outlook was issued, focusing on the potential for adverse weather in the northeast of the North Island: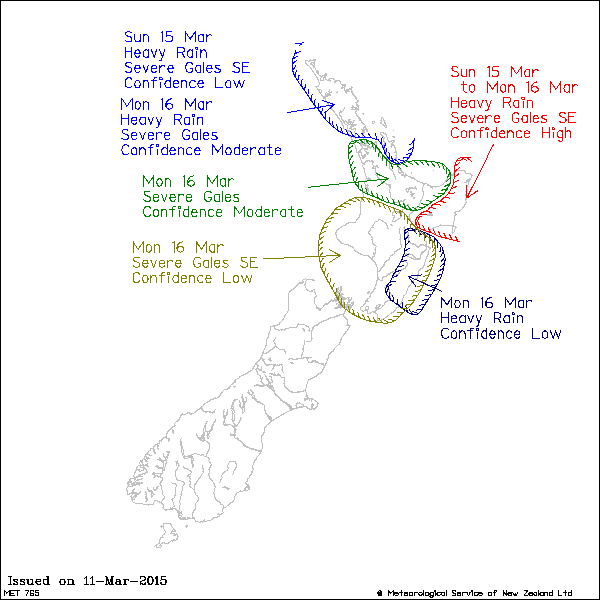 At this early stage, TC Pam was expected to track southeast from the Tropics and offshore from the North Island, although computer models differed somewhat in how close Pam would pass to East Cape.  For example, here's the snapshot of a selection of global models posted to the MetService blog on the Wed 11th looking at the forecast position of the centre for 1am Monday 16th March:

As you can see above, some models initially expected the centre to pass close to East Cape, while others took a track further offshore.
By Thursday 12th March, the day before TC Pam moved onto Vanuatu, the forecast track in the global models was becoming more certain and the following track map was issued late afternoon. It showed the centre passing offshore from East Cape, with the range of possible tracks including the centre crossing the northeast of the North Island: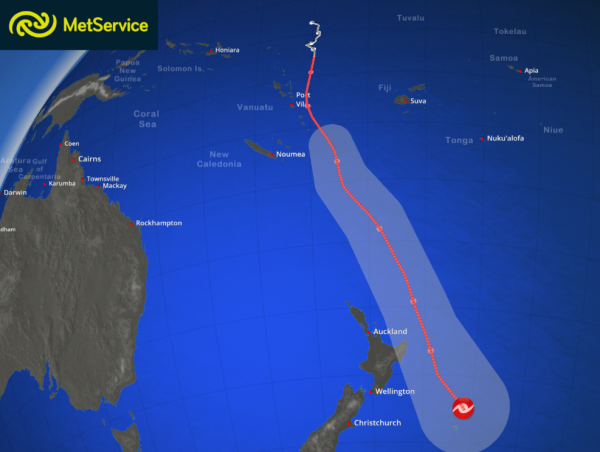 First Severe Weather Watches and Warnings for NZ
As model forecasts converged and the track for TC Pam became clearer, the first Severe Weather Watch was issued at 9:52am on Friday 13th March for gales and heavy rain starting from Sunday night. This Watch included gales affecting Northland, Coromandel Peninsula, Great Barrier Island, eastern Bay of Plenty and Gisborne, and heavy rain affecting eastern Northland, Coromandel Peninsula, Gisborne and northern Hawkes Bay.  An updated Watch on Friday afternoon also highlighted the threat of dangerous wave conditions affecting eastern coasts of the North Island starting near Cape Reinga and eventually spreading as far south as the Wairarapa.
The following morning (Saturday 14th March), at 9:13am, the first Severe Weather Warning was issued alerting to heavy rain in Gisborne, northern Hawkes Bay and the ranges of eastern Bay of Plenty, and severe gales affecting Bay of Plenty (east of Edgecumbe) and Gisborne.  Subsequent warnings issued Saturday evening and on Sunday added eastern Northland and Coromandel Peninsula to the heavy rain warning, and eastern Northland, Great Barrier Island and Coromandel Peninsula to the strong wind warning.
Oceanic Warning handover from Fiji to New Zealand
As with all tropical cyclones moving out of the tropics and crossing latitude 25S, official warning responsibility passes from RSMC (Regional Specialised Meteorological Centre) Nadi in Fiji to the Wellington Tropical Cyclone Warning Centre in New Zealand.  For TC Pam, this happened in the early hours of Sunday morning (the 15th) with Nadi issuing their last high seas warning at 1am on Sunday, followed by Wellington issuing at 7am Sunday. The hand-over process requires careful co-ordination between the forecasting centres in Nadi and Wellington.
Re-classification
As Pam moved over colder oceans and into stronger upper level winds in the atmosphere, its structure changed.  Tropical cyclones in the Tropics are "warm-cored" in nature and have a near vertical structure, but as they move into the mid-latitudes strong upper level winds help "shear" the circulation, moving the supporting convection away from the storm's centre and allowing colder air to wrap into the system. This process is called extra-tropical transition, and when it occurs, the responsible warning centre "reclassifies" the cyclone.  Note however, this does not necessarily mean that weather conditions improve.  Instead, the cyclone can, and did, remain very powerful and gales and heavy rain can spread further from the centre affecting a wider area.
Impacts on New Zealand
As TC Pam approached northern New Zealand, rain set in over the Far North during Sunday morning while winds over the upper North Island steadily increased.
The period from Sunday morning to Tuesday morning captures the main rainfall over the North Island associated with the passage of TC Pam to the east.  The following maps show the 24 hour accumulations from Sunday morning to Monday morning and from Monday morning to Tuesday morning respectively: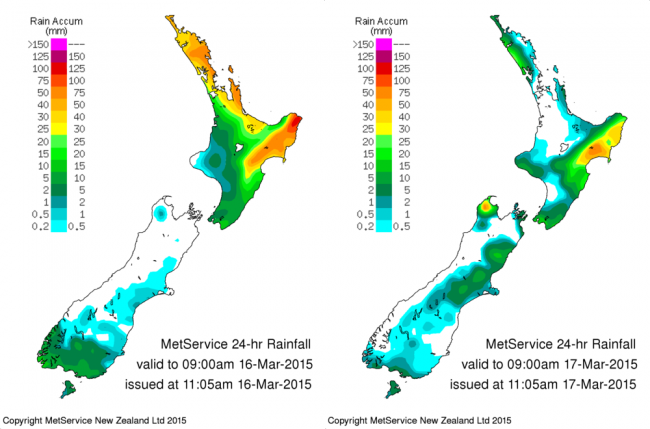 Peak wind gusts recorded at MetService North Island weather stations were:
Kaeo Radar: 148km/h Sunday evening
Channel Island: 144km/h Sunday night
Hicks Bay: 144km/h Monday afternoon
The pressure trace at Hicks Bay (closest North Island weather station to the track of Pam) shows how the pressure there responded to the approach and passage of Pam with a lowest pressure of 974.7hPa at midday on Monday: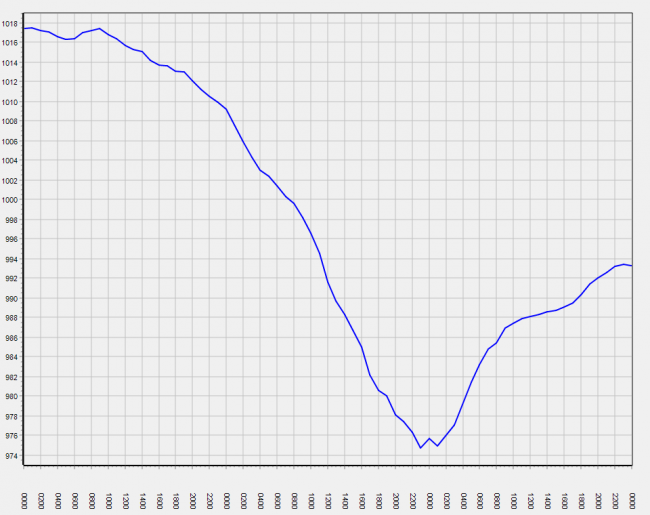 As well as wind and rain, very large seas were expected to affect eastern coasts of the North Island.  Surfers in Mt Maunganui commented that the swells were some of the largest they had witnessed while roads around East Cape were inundated by debris as highlighted in the following photos:
The scene at Te Araroa right now, 120km north of Gisborne. High tide is bringing waves and debris past the seawall. pic.twitter.com/bjaN46uxVE

— Jehan Casinader (@jehancasinader) March 16, 2015
The road along the East Cape of NZ after #CyclonePam #pam passed by pic.twitter.com/vzejCr9om0

— Geoff Mackley (@geoffmackley) March 16, 2015
In summary, here's the event records: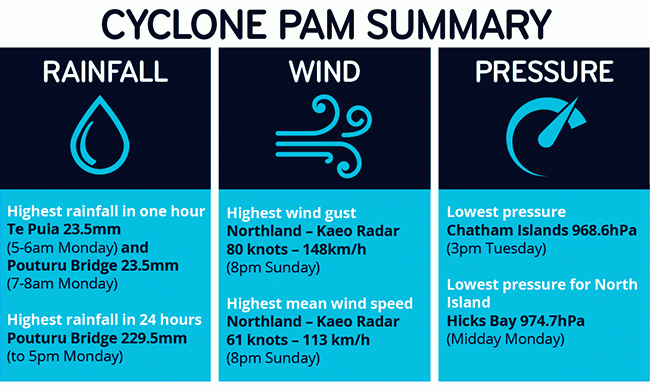 Warning Verification
As with all Severe Weather Warnings issued by MetService, warnings for this event were logged and verified. The following images highlight the areas covered by warnings with a selection of observations: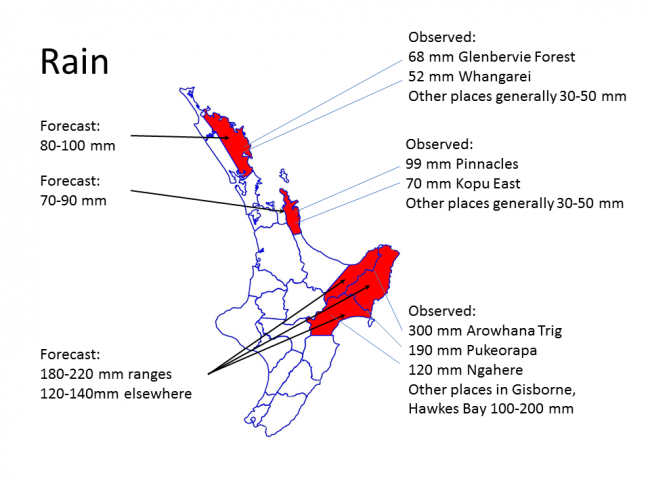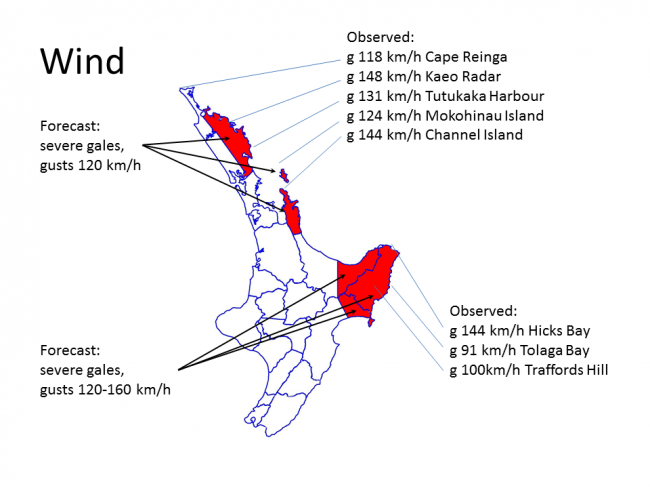 Final words…
Pam has now passed the Chatham Islands and is moving away to the east over the Pacific Ocean as an intense extra-tropical cyclone. Conditions on the Chatham Islands should gradually ease as detailed in the recent Strong Wind Advisory, while an Oceanic Storm Warning remains in force for the system over the Pacific.
During this event, in addition to the numerous regular forecasts produced daily, MetService meteorologists published frequent blog posts, press releases and briefing statements for our clients across all sectors in New Zealand including emergency managers, various media agencies both locally and internationally, along with the general public. MetService.com set a new record for visitor numbers on Sunday 15th March – exceeding stats from TC Lusi one year ago in March 2014.
While New Zealand largely escaped the wrath of Pam, the same cannot be said for Vanuatu. Please spare a thought for our neighbours to the north as the disaster relief effort there continues. A number of aid agencies are appealing for donations including: