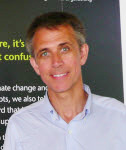 Daniel Corbett was born in the UK but received his degree in Meteorology from the State University of New York at Stony Brook. He spent his early years of forecasting working for private weather firms in the States providing a myriad of forecasts from aviation to industrial.
Dan also worked in the States as a broadcast meteorologist for several TV stations from the desert southwest to Tornado Alley. He also spent many years as a broadcast meteorologist for the Met Office at the BBC in London. At the BBC Dan broadcast on all the BBC TV and Radio channels such as BBC1, BBC World, Radio 4 and online. For several years Dan was also part of the team that presented the weather for BBC Sport during the championships at Wimbledon.
Dan moved to the Met Service in June 2011.