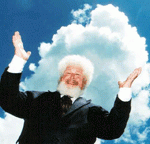 "Weather is a mix of pattern and chaos", so says Bob McDavitt, the MetService Weather Ambassador.
Bob graduated with a degree in Maths and Computer Science from Victoria University in Wellington in 1974 and has been a meteorologist since 1975. In the 70s and 80s he produced marine, aviation and public forecasts. His job has taken him to Fiji and Christchurch and he is a veteran from two campaigns for the America's Cup (in Perth and San Diego).
From 1992-2012, Bob was stationed in Auckland as MetService Weather Ambassador, promoting friendly relations with weather users. This involved communicating awareness about incoming weather events, and keeping an eye on the impact of weather on any special events and on the changing seasons.
Bob has now retired from MetService, although still has a keen eye on the weather and might be found near the sea chatting to mariners.