Why redesign metservice.com?
We understand that knowing what the weather's doing helps you plan your day and stay safe when you're out in the elements.  The website is three years old now, and over that time we've added a lot of new content and have made hundreds of tweaks from hundreds of emails that you have sent us. With SO much new content, it was time to stop and review the website to ensure it is clear and easy to use and that it gives us a good platform to move forward from for the next few years – we hope you like it.
Here's just a sample of the new content we've added in the last three years:
•    MetService TV
•    Beach and Surf forecasts
•    Sub-region forecasts for major cities
•    Past Weather
•    Real-time rain radar
•    Hourly forecasts
•    Weather extremes
The list goes on!
We realise the website is an important tool for you and we like to keep things clear and intuitive. The enhancements have had thorough user-testing to ensure everything makes sense to the people using it.
What are the changes?
Severe Weather: You told us that you'd like the severe weather information to be clearer – you want to know when there is a severe weather event in your area and if the warnings that are showing apply to you or not.  Severe Weather information is now located along the top of your screen.  When there is a severe weather event this line will turn red and display the appropriate warnings.  When no severe weather event is in place for your area, the severe weather line will remain a neutral colour.
Bar graphs and line graphs: You also told us that the bar and line graphs could be a bit hard to interpret at first. We now have the same valuable information displayed with icons so it can be viewed and understood at a glance.
Maps and charts: You will notice all maps and charts are now the same size and many of them have increased in size for better viewing.  The toolbar that helps to scroll through the images moves down the page with you, so if you are looking at the deep south, it is easy to use.
An occasion to be social: If you don't already follow us on Facebook or Twitter, you can see the latest posts on the new Home Page. Soon, you will also be able to share the latest forecast on your Facebook or Twitter account.
New colours and branding: We've introduced some new brand colours into the design.  The midnight blue and bright yellow, along with the new logo, will be elements you will see a lot more of over time.  The new logo creates a stronger link with our international business brand; MetraWeather.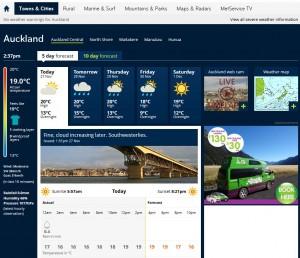 Metservice.com is a continually evolving website; we are always making tweaks and additions. Your feedback has helped to make the website what it is today and we're always striving to make the website a fun and interesting site to use – while ensuring the important information you need is there when you need it.
Please have a good look around!
You can view the beta site here: http://beta.metservice.com/national/home
You can submit feedback here